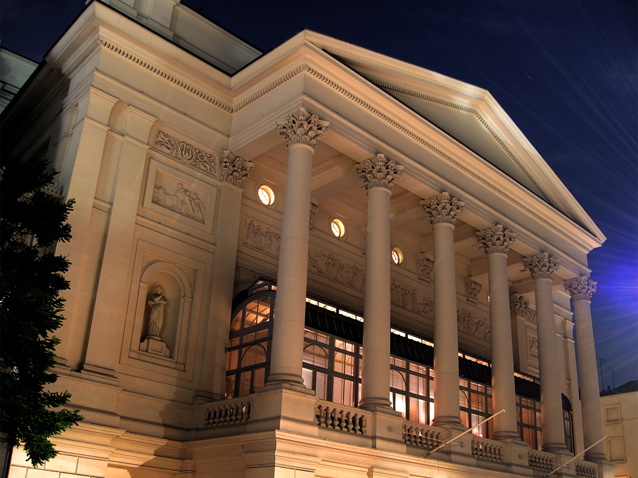 © Peter Suranyi
General Information
Opera house name :

Royal Opera House - Covent Garden.

City, country :

London United kingdom

Localization :45 Floral St, Westminster Open map
Official website URL :http://www.roh.org.uk/
Description
John Rich opened the first Covent Garden on 7 December 1732 with The Way of the World. Handel was the first renowned composer associated with this theatre, with performances of Atlanta, Alcina and Berenice. The theatre burned down on the night of 19 September 1808. The second Covent Garden opened its doors a year later, almost to the day. On 18 September 1809, with a double bill: Shakespeare's Macbeth and a musical divertissement, The Quaker. Weber was asked to write an opera for this second theatre. This was Oberon, which premiered in April 1826, conducted by the composer himself. The following year, Beethoven's Fidelio was staged.
In London in the first part of the 19th century, the Italian opera house was the King's, later called His Majesty's Theatre. The first English performances of Rossini were presented there, as well as works by Bellini and Donizetti and Verdi's Nabucco, Ernani and l Lombardi. Around 1840, His Majesty's company was under the musical direction of Michael Costa; Grisi, Persiani, Mario, Tamburini and Lablache were part of it. Its director, Benjamin Lumley, quarrelled with Costa and the singers about the repertoire, then hired new singers, which led to the departure of all those great artists, who set up a rival company.
As Covent Garden was also standing empty, composer Giuseppe Persani did everything he could to turn Covent Garden into the Royal Italian Opera, and it opened on 6 April 1847 with Rossini's Semiramis. Between 1847 and 1856, Rigoletto, Il Trovatore, Maria di Rohan, La Juive and Benvenuto Cellini, to mention only a few, were staged with artists whose names have become legend, like Grisi, Viardot, Bosio, Alboni, Cruvelli, Mario, Ronconi, Tamberlik, Tarnburini and Graziani.
This second Covent Garden burned down in 1856. The third, and current, Covent Garden opened on 15 May 1858 with a performance of Meyerbeer's Huguenots. A side note: only the first three acts were presented that evening! As Act III was not yet finished at midnight, the theatre manager got up on stage and announced: "It is already the Sabbath." And so the last act was omitted.
From 1858 to 1939, aside from the period during World War I when the theatre was requisitioned, operas were presented every year, from April through July, at Covent Garden, the Royal Italian Theatre. Until the arrival of Sir August Harris, who led the theatre from 1888 to 1896, all operas were given in Italian. It was not until 1892 that the word "Italian" was stricken from its name. Then the works of Wagner and the French repertory went back to their original language. Sir Thomas Beecham, the conductor in 1910, introduced the operas of Richard Strauss to Coven Garden.
In 1920 and from 1924 to 1931, Covent Garden's conductor was Bruno Walter; Beecham came back from 1932 to 1939. Between the two world wars, the Italian repertory was conducted by Vincenzo Bellezza, Tullio Serafin, Gino Marinuzzi and Vittorio Gur. During World War II, no operas were presented, and the theatre was transformed into a "Dance Palace".  Covent Garden reopened in 1946 and became the home of a permanent opera company, the Royal Opera, and that of Sadler's Wells Ballet, the Royal Ballet.
After WWII, the Royal Opera welcomed a succession of great conductors: Karl Rankl (1946-1951), Rafael Kubelik (1955-1958), Georg Solti (1961-1971) and, since 1971, Colin Davis. Many guest conductors like John Pritchard, Otto Klemperer, Joseph Krips, etc., and more recently Claudio Abbado, Carlos Kleiber, etc., contributed to building Covent Garden's prestige. Rankl, assisted by Sir David Webster, literally built the Covent Garden opera company from 1945 to 1970. Kleiber and Kempe put their faith in English artists and helped and encouraged them to perform abroad. Kubelik continued along the same lines and expanded the repertoire. Giulini and Klemperer did Covent Garden a great favour by conducting Don Carlos, La Traviata, Falstaff, The Barber of Seville (Giulini), Fidelio, The Magic Flute and Lohengrin (Kemperer).
Solti's tenure brought charm and excitement to the theatre, including in the repertoire Cosi Fan Tutte, Don Giovanni, Der Ring des Nibelungen, Orfeo, La Forza del Destino and Eugene Onegin. Also noteworthy were the performance of Tosca with Callas, Cioni and Gobbi, sets by Zeffirelli, the creator of Gobbi's Simon Boccanegra, the Norma with Sutherland, Pelléas et Mélisande by Boulez, etc. And we should not forget the performances of English operas like King Priam, Billy Budd, etc. In the Solti period, artistic policy made possible the development of a company whose signers today perform all over the world.
Since then, directors have been encouraging young talents. Colin Davis, who is especially fond of Mozart, Berlioz and Wagner, gave Les Troyens, La Clemenza di Tito, Le Nozze di Figaro and Don Giovanni. He also completed the new Ring, produced by Götz Friedrich who became the principal producer of the Royal Opera. Claudio Abbado conducted Un Ballo in Maschera, staged by Otto Schenk with Ricciarelli, Domingo and Cappuccilli in the principal roles. Britten's Death in Venice and Maxwell Davies' Taverner were added to the repertoire, along with Faust, which hadn't been performed at à Covent Garden since 1938, and it was reprised in 1974. In thirty years, The Royal Opera House has become one of the world's greatest opera houses.
In 1987, Bernard Haitink replaced Colin Davis as musical director. In the 1980s and 1990s, the Royal Opera enhanced its reputation with an imaginative repertoire and award-winning new productions.
In 1997 the opera closed for two-and-a-half years for a major renovation but still presented seven new productions during that time. In 1999, the Royal Opera reopened, and in 2002 Antonio Pappano took the helm as musical director.
The Royal Opera continues to invite great artists like Angela Gheorghiu, Roberto Alagna, Bryn Terfel, Simon Keenlyside and many others. Each season, from September through July, some 150 performances of twenty-odd operas are presented; about half are new productions.