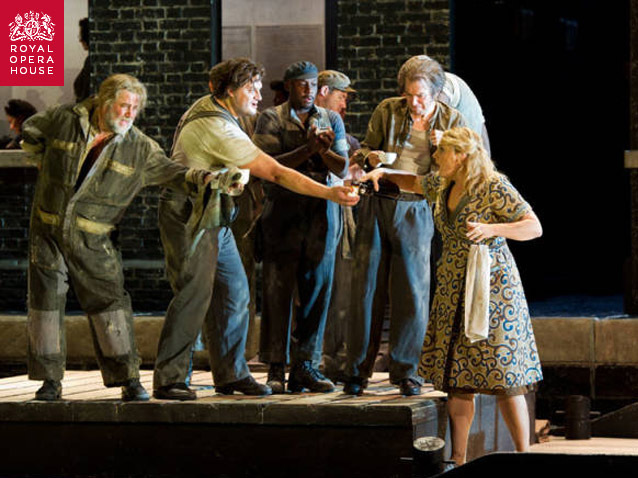 Description
Contrast is the essence of Giacomo Puccini's operatic triptych, Il trittico. The one-act works that form the trilogy – Il tabarro, Suor Angelica and Gianni Schicchi – range from gritty melodrama to life-affirming comedy. While each opera stands alone, the three come together to create a sense of a complete event, rich in textures and musical forms.
Il trittico had its premiere at the Metropolitan Opera, New York, in December 1918. The trilogy was performed in full at Covent Garden in 1920 and again in 1965. Richard Jones's acclaimed production was the first complete performance of Il trittico at Covent Garden in 46 years. Moving from the grimy banks of the Seine to a children's hospital and from there to a garish apartment in 1950s Italy, Jones matches the eclectic range of Puccini's music in a production of great verve and invention.
More information is available on the opera house's official website.
Schedule
February 25, 2016 18:30:00
February 29, 2016 18:30:00
March 03, 2016 18:30:00
March 05, 2016 18:30:00
March 08, 2016 18:30:00
March 15, 2016 18:30:00
Casting
Gwynne Howell
David Kempster
Work's characters list
Director
Conductor
Michele
Giorgetta
Luigi
Tinca
Un venditore di canzonette
Frugola
Due amanti
Due amanti
Suor Angelica
La Zia Principessa
La Badessa
La Suora Zelatrice
La Maestra delle novizie
Suor Genovieffa
La suora infermiera
Le Cercatrici
Gianni Schicchi
Lauretta
Rinuccio
Zita
Gherardo
Nella
Betto di Signa
Simone
Marco
La Ciesca
Maestro Spinelloccio
Ser Amantio di Nicolao
Guccio