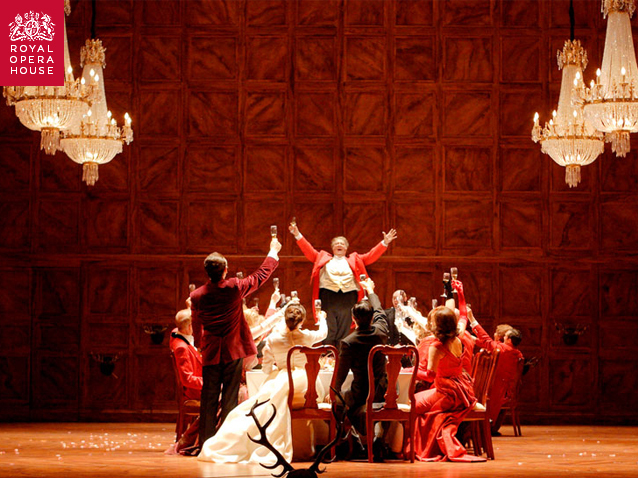 © Royal Opera House Covent Garden
Description
Giuseppe Verdi's final opera tells the tale of a portly knight with an irrepressible appetite for life, love and laughter. Falstaff crowned a career that spanned more than fifty years. Arrigo Boito – with whom Verdi also collaborated on Otello and the revisions for Simon Boccanegra – created a sparkling libretto based on Shakespeare's The Merry Wives of Windsor and Henry IV Parts I and II. Verdi matched the libretto's sprightliness with a score full of quicksilver switches in mood and tempo. Falstaff had its premiere in Milan in 1893 when Verdi was 79 and was instantly hailed as a masterpiece.
Robert Carsen's production is set in 1950s England and draws out the warmth, love of food and comedy at the heart of the opera. Falstaff moves from comic intrigue, as the 'merry wives' outmanoeuvre the scheming men, to tender romance and infectious merriment. Musical highlights include Falstaff's monologue in Act I in which he mocks honour, Fenton's lovestruck sonnet in Act III, the wives' jubilant plotting ensembles and the final – sublime – fugue in praise of laughter.
More information is available on the operahouse's official website.
Schedule
July 06, 2015 19:30:00
July 09, 2015 19:30:00
July 12, 2015 19:00:00
July 15, 2015 19:30:00
July 18, 2015 19:30:00
Work's characters list
Director
Conductor
Alice Ford
Meg Page
Mistress Quickly
Nanetta
Sir John Falstaff
Ford
Fenton
Dr. Cajus
Bardolfo
Pistola