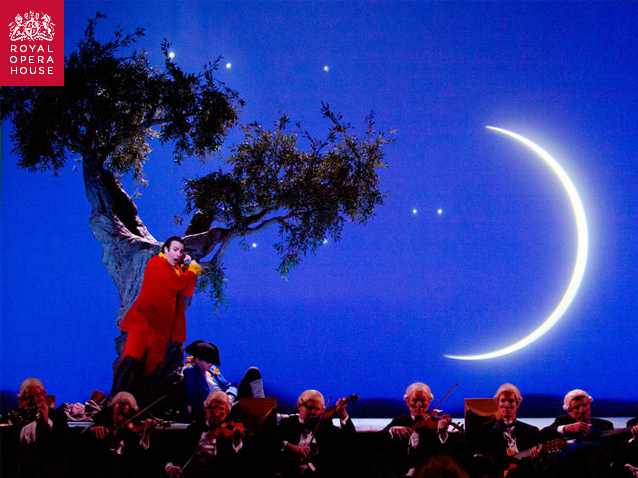 © Royal Opera House Covent Garden
Description
The 23-year-old Gioachino Rossini completed his masterpiece Il barbiere di Siviglia incredibly quickly – legend has it in just 13 days – which Rossini attributed to 'facility and lots of instinct'. He drew on Pierre-Augustin Beaumarchais' play Le Barbier de Seville – part of a dramatic trilogy that also inspired Mozart's Le nozze di Figaro. The opera is characterized by youthful energy and bold wit: qualities brought to the fore in Moshe Leiser and Patrice Caurier's colourful production.
Il barbiere di Siviglia has all the ingredients for comic chaos: an imprisoned young woman, her lecherous guardian and a young noble suitor. Skilfully plotting behind the scenes is Figaro – an irrepressible and inventive character in whom many have seen a resemblance to the young Rossini himself. The score fizzes with musical brilliance, from Figaro's famous entrance aria 'Largo al factotum' to the frenzy of the Act I finale, when the five principal voices pile on top of each other. Within a few decades of its 1816 premiere, Il barbiere di Siviglia had been toured round the world, reaching opera houses in New York, Buenos Aires, Trinidad and Ecuador. It has remained one of the most prominent and popular operas in the repertory.
More information is available on the operahouse's official website.
Schedule
September 19, 2014 19:00:00
September 22, 2014 19:00:00
September 25, 2014 19:00:00
September 29, 2014 19:00:00
October 02, 2014 19:00:00
October 05, 2014 19:00:00
Work's characters list
Director
Director
Conductor
Il Conte d'Almaviva
Figaro
Il Dottor Bartolo
Basilio
Berta
Rosina
Fiorello