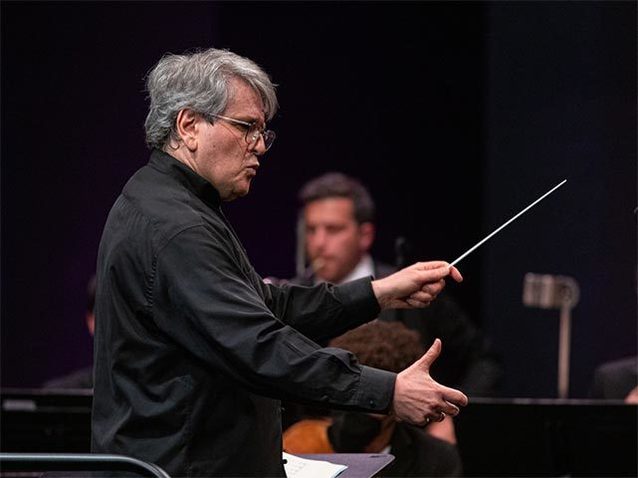 Who doesn't know Antonio Pappano, current Music Director of the Royal Opera House in London and Orchestra dell'Accademia Nazionale di Santa Cecilia in Rome? He was performing in July at the Verbier Festival as a conductor in two symphonic concerts with the Verbier Festival Chamber Orchestra, and as a pianist in a music chamber programme along with other stars. He explains how he sees music and conducting, and reveals the decisions that take place behind-the-scenes to build an opera season.
***
Opera Online : What is music?
Antonio Pappano: Technically, music is air that is alive, air that is resonating in different pitches, but it is also one of the greatest human needs. It is a world of discovery, nostalgia and older feelings; it has a huge resonance forward, backwards and in present time, which is fascinating. Having people coming together in a room to listen to somebody or offering an audience a version of a piece is a healthy societal exercise. This is about sharing, forming a community. Performing and watching a performance are very much of a marriage and it is beautiful to feel it happen.
I feel like you are a music agronomist in that you make orchestras grow, but how do you make the music grow through them?
First, we have to make sure that the 'product' – what we are bringing to life – has legs and foundations. It is like building a house, it has to be sound and healthy. That is the technical part. Then come the beauty and secrets of the music. I like using imagery and poetry when I work with orchestras because musicians are incredibly emotionally intelligent. With only a few words they understand the essence of sound. A little picture can bring an orchestra very far in terms of expression or mood. The conductor is a guide or a driver through his gesture, face and eyes. He knows when he needs to slow down or speed up, and where the journey is actually going, and the musicians feel safe if they know what the journey is. For me, it is very important that the music sounds inevitable. You have to make up your mind as a conductor because you always have people who are depending on you. The most important thing is listening, being able to hear who the protagonist is, who you accompany, how important the accompaniment is, where the energy is. Sometimes the energy has nothing to do with the melody, and if that energy is not feeding the music, then your performance does not communicate the right thing. This is a huge issue in Verdi, Donizetti, Bellini, Rossini, where the accompaniment is probably the simplest thing but unconditionally supports the melody. A melody creates beauty or a temperature of the listening, and I spend a lot of time on the accompaniments in opera, even though they can look boring on the paper, because that is what makes the show in the end.
Does this have anything to do with theatre?
It has everything to do with theatre. I think in the opera world the conductor has to love the words as much as the music. The music certainly has the drive but the words and situations based on the ideas of struggle, loss, love, death or hatred, are to be taken for real. They have to have an organic feeling and be exactly together with what is going on stage.
How do you anticipate the theatrical potential of symphonic works?
I believe that most music, whether it has a programme or not, has a narrative. Even the sonata form, which is the basis for most symphonies of the repertoire, is dramatic. One character is introduced, you get to know him; then you have another character, who should be quite different, in the development section. These two characters discuss, come into conflict, and sometimes the result of this conflict or conversation they have makes them both different. Then the recapitulation comes back, and those characters are both changed. The performer must slightly create a different atmosphere depending on the nature of the conflict. It is a beautiful metaphor for theatre.
You've said once that the opera business is speeding up today. What do you mean by that?
Opera has a been a global business for quite a while. Singers and conductors are travelling a lot. The public is always attracted to the stars, and the stars today are fewer than they were fifty years ago. You get into a situation in which you are working with a few premium star singers who want to rehearse less but sing in more places. In a new production you are lucky to get them for a little bit more time, but still never enough, so you have to trust and find a balance when you run an opera house about how much you can accept. However, stars are stars for a reason: voice, charisma and lure. They also have emotional intelligence, they can adapt very quickly. What I do not like is when this is all about one singer. I am very much into creating the unified whole and this is why I am proud of the projects I have been involved in at Covent Garden over the years. So we fight for it, it does not just happen.
What's the 'recipe' for good work in the opera world?
A stage director has to be musical, a conductor has to be theatrical, and you have to cross over into each other's domain. I love when a stage director starts to work on the music and when I start to work on the staging. And when the singers feel that cross-pollination process, then all of a sudden they are compelled to be a part of that. In the past, all opera conductors used to know about singing and how to coach singers. It is a great shame that this tradition no longer exists. Now young conductors want to 'conduct', but they know less about breath and word language tempo. I think every opera project must start with a conductor, then a stage director and a cast. Singers are very resourceful, they will know what to do as long as the conductor has something to tell them. With Covid long-term planning is not so clear and we have had to make adjustments to the coming seasons. Now we have to build up the audiences again. The interest and need came back with theatres being reopened in a very powerful way, but there is still fear at the moment due to variants. Many question marks remains around the opera economy. It is also a chance to rethink certain things in the classical music business, which has so many habits. I think we must not become rigid, we must remain somehow flexible in terms of repertoire.
How do you choose your season repertoire at the Royal Opera House?
There are many questions that make you choose the repertoire in an opera house. How long has the opera house gone without the piece? Do we have a period that is free for a singer who wants to make a role debut? Is it a piece that I have been dreaming of conducting all my life? Is it that we do not have the chorus in that period so we must choose an opera without a chorus? Or must we do something with the chorus because we have not used them in the last two operas? Have we done the Russian repertoire? In an opera house, the orchestra is playing sometimes very long runs, and at the Royal Opera House there is no rotation of the orchestra. I think it is very important for the growth of the orchestra to give them three or four times a year some repertoire that they have not ever played or played very often.
Why choose one piece more than another?
I am quite eclectic in my choices. When you get to a certain age, you start to wonder if you will get the chance to conduct some works later in your life. Also, there are certain pieces that you want to do over and over again because you can never get them right the first time. I am doing the Ring for the fourth time! There is always a different combination of talent that you have to put together to create a new production. When I was younger I chose pieces that were very sexy for the orchestra, very symphonic or very contemporary. I have always done Italian repertoire, but now I am doing it much more because it is part of me. I think when a music director goes into the most performed repertoire, and finds something new in it, it can be very magical and rewarding. I also have to keep myself fresh. For example, this year I am conducting a new production of Rigoletto – which I have not conducted in 30 years – Le nozze di Figaro, Samson et Dalila for the first time, and Cavalleria rusticana and Pagliacci, which are pieces that I adore.
After stepping down your position of Music Director at the Royal Opera House, you are joining the London Symphony Orchestra as Chief Conductor in September 2024. What is your relationship to London?
I was born just outside London and twenty years ago I came back to take over the opera house. London faces many challenges in terms of Brexit and what it has gone through with the Covid pandemic, but Brexit does not mean it is not an artistic Mecca because it is one of the most important artistic cities in the world. There is a high level of talent and professionalism, and the audience loves music. I feel very strongly the lure of conducting and it is an amazing thing I have been offered with the London Symphony Orchestra. These next years will be key in revealing how we see music, culture, the arts in general, and what coming out of a pandemic will mean in terms of finance, sponsorships and technology. You can talk to me about streaming as much as you want, but I believe nothing can replace live music.
Interview by Thibault Vicq
the 19 of August, 2021
|
Print