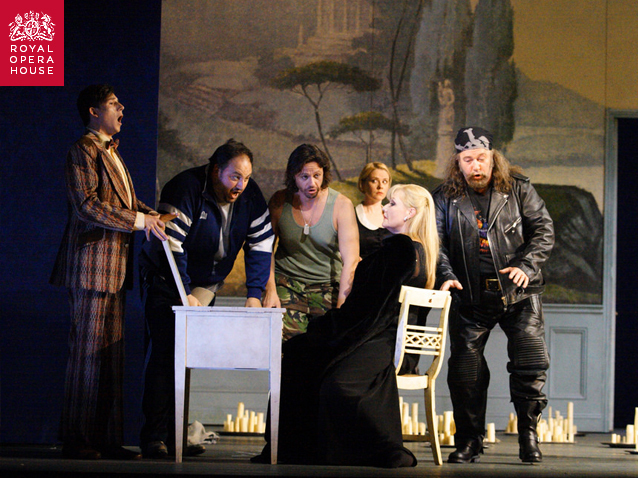 © ROH
Description
Ariadne auf Naxos playfully combines two very different art forms: tragic opera and romantic farce. The result is a richly textured work that examines the role of art in society, and contrasts true love with cheerful promiscuity. Richard Strauss and his librettist Hugo von Hofmannsthal originally conceived the opera as part of a large-scale arrangement of Molière's play Le Bourgeois Gentilhomme. Though the initial run of performances in 1912 was well received, Strauss and Hofmannsthal decided to rework the piece – the Molière material was abandoned in favour of a new operatic Prologue. This second, fully operatic version had its premiere in 1916 and is now a part of the established repertory.
Christof Loy's eye-catching production draws on an eclectic range of styles, from 18th-century elegance to 1980s grunge, in a response to the extraordinary richness of Strauss's score. The opera is filled with passion and colour: there's the intense lyricism of the Composer's paean to music, the richly scored love duet for Ariadne and Bacchus and Zerbinetta's show-stopping aria 'Großmächtige Prinzessin'. Other highlights include Ariadne's lyrical arias and the robust, folkish ensembles for Zerbinetta's comedy troupe.
More information is available on the opera house's official website.
Schedule
September 16, 2015 19:30:00
October 10, 2015 19:30:00
October 13, 2015 19:30:00
Casting
Samuel Johnson
Wynne Evans
Christoph Quest
Work's characters list
Director
Conductor
Zerbinetta
Ariadne
Bacchus
Ein Musiklehrer
Der Komponist
Der Tenor
Ein Tanzmeister
Ein Perückenmacher
Ein Lakai
Primadonna
Harlekin
Scaramuccio
Truffaldino
Brighella
Najade
Dryade
Echo
Der Haushofmeister