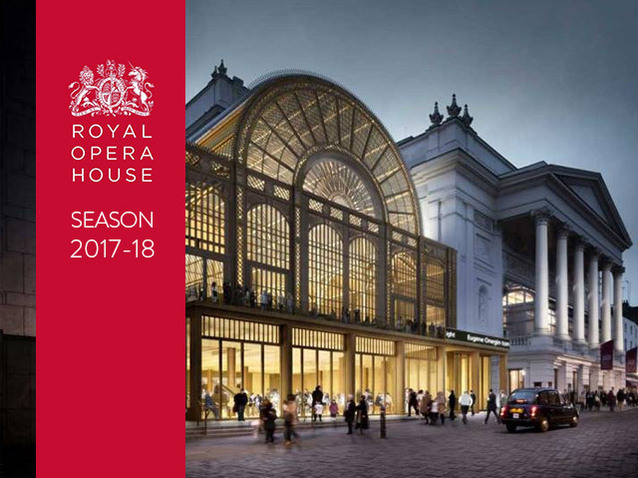 © DR
Although Kasper Holten left the post of Artistic Director of the Royal Opera in March 2017, he played the leading role in programming its 2017/18 season and, with a good blend of new productions and strong revivals, it looks to be a particularly fine one. Some composers whose operas have been neglected in recent seasons get a look-in, while several contemporary composers also have the opportunity to present new works. Add in the fact that many evenings feature some of the world's greatest performers and this is certainly a season to get excited about.
It begins on 11 September 2017 with Richard Jones' greatly anticipated new production of La bohème. Considering that John Copley's previous production for the Royal Opera lasted for 41 years (1974-2015) it is fair to say that expectations are high for this new creation. Jones, however, has an excellent track record across the numerous productions he has directed over his career (including an excellent Die Meistersinger von Nürnberg for Welsh National Opera in 2010), and the opera features the outstanding American tenor Michael Fabiano, who shares the part of Rodolfo with Benjamin Bernheim. The production also enjoys a second run during the season in June 2018.   
Semiramide is a rarely performed Rossini opera, but it did receive a concert performance by Opera Rara at the BBC Proms last year, which certainly helped to ignite interest in the piece. It is therefore exciting to see the Royal Opera stage the work from 19 November in a new production (a co-production with Bavarian State Opera) from David Alden. Alden is better known for his work with English National Opera where he has directed an excellent Peter Grimes alongside a disappointing The Queen of Spades. The cast includes world class mezzo-sopranos Joyce DiDonato and Daniela Barcellona (the latter also appeared in the Proms performance) who together helped to make Rossini's La donna del lago here in 2013 one of the truly great nights at the Royal Opera House.
From 6 February 2018, Barrie Kosky directs a new production of Carmen, in a production first seen at Oper Frankfurt in 2016. Kosky was responsible for Saul at Glyndebourne Festival Opera in 2015 and The Nose at the Royal Opera House last year. Both were successful, but rather offbeat, productions so it may be wise not to speculate too much over what he will deliver. We do know, however, that the production will include music not normally heard in the opera, and will replace the spoken dialogue with a narration. The title role is shared between Anna Goryachova and Gaëlle Arquez across the run.
7 March 2018 heralds in arguably one of the most exciting events in the entire season. Janáček's final opera From the House of the Dead receives its Royal Opera premiere in a new production directed by Krzysztof Warlikowski. Teodor Currentzis conducts and the cast includes such names as Sir Willard White and Johan Reuter.
Wagner fans have much to look forward to in the next year or two. This is because June 2018 sees the introduction of a new production (a co-production with Opera Vlaanderen) of Lohengrin, with the previous 1977 creation having been retired. It boasts an outstanding cast that includes Klaus Florian Vogt, Kristīne Opolais and Christine Goerke, and once again will be directed by David Alden. It will be conducted by Andris Nelsons, former music director of the City of Birmingham Symphony Orchestra, and now at the helm of the Boston Symphony Orchestra. The Royal Opera has also announced that it will be reviving Keith Warner's Der Ring des Nibelungen at the start of the 2018/19 season. The four operas that make up the tetralogy were introduced individually between 2004 and 2006, and then produced as full cycles in 2007 and 2012.
Over the season, several new operas by contemporary composers will enjoy their world premieres: Coraline by Mark-Anthony Turnage (at the Barbican Theatre with the Britten Sinfonia), Lessons in Love and Violence by George Benjamin, and an as yet untitled work by Tansy Davies (at Printworks, London with the London Sinfonietta). All three composers have had previous successes with either the Royal Opera or English National Opera and so hopes are high for each. In June 2018 the Royal Opera will also present Mamzer Bastard in a co-commission with the Guildhall School of Music and Drama. This is a new work by young composer Na'ama Zisser, and it thrillingly unites contemporary idioms with the music of Orthodox Hasidic Judaism.
There are also a number of revivals across the season including three by David McVicar: Rigoletto, Salome and Die Zauberflöte. The first two might mark him out as the director of raunch and gore respectively, but the third constitutes a balanced and measured approach to an opera that with its fantasy elements is not so easy to stage. Stefan Herheim's production of Verdi's French grand opera Les Vêpres siciliennes, which premiered in 2013, is definitely worth a second look, as may be the first revival of Katie Mitchell's Lucia di Lammermoor, even though her take on the work was not without its controversy.
Two other revivals boast particularly outstanding casts. Jonathan Kent's Tosca sees the title role shared between Adrianne Pieczonka, Angela Gheorghiu and Martina Serafin, while the conducting is shared between Dan Ettinger and Plácido Domingo. Phyllida Lloyd's production of Verdi's Macbeth, which was last seen at the Royal Opera House in 2011, features the notable cast of Anna Netrebko, Anna Pirozzi, Željko Lučić and Ildebrando D'Arcangelo, while Sir Antonio Pappano conducts.  
Shostakovich's Lady Macbeth of Mtsensk also returns in April 2018 although it will feel new to many people as Richard Jones' production has not been seen at the Royal Opera House in over ten years. Eva-Maria Westbroek, Sir John Tomlinson and John Daszak (who also performed in English National Opera's 2015 production of the opera) appear, while Pappano conducts. June and July 2018 also see the second revivals of both Kasper Holten's Don Giovanni (2014) and Robert Carsen's Falstaff (2012). One of the revivals to get most excited about, however, may be the double bill of Cavalleria rusticana and Pagliacci in which Damiano Michieletto's impressive production draws great synergies between the two one-act operas. This time around it features Latvian mezzo-soprano Elīna Garanča and, like last time, the Greek baritone Dimitri Platanias.
Away from the main stage, and following on from Handel's Oreste last year, Jette Parker Young Artists perform La Tragedie de Carmen, Peter Brook's radical reworking of Georges Bizet's opera, in the gorgeous Wilton's Music Hall. Back on the main stage on 15 July 2018 will be the Jette Parker Young Artists Summer Performance. There is also a performance of Monteverdi's The Return of Ulysses at the Roundhouse in January 2018, with the Early Opera Company and director John Fulljames. This follows on from a performance of the same composer's Orfeo there in 2015, and Christine Rice and Roderick Williams star. 4.48 Psychosis, Philip Venables' successful operatic take on radical British playwright Sarah Kane's final play, also receives its first revival in spring 2018 at a venue yet to be announced.
The Royal Opera House website contains full details of the booking dates for each production, and on the several operas that will be broadcast live to selected cinemas worldwide across the season. The autumn of 2017 also sees a major exhibition at the Victoria and Albert Museum entitled Opera: Passion, Power and Politics. This is presented in conjunction with the Royal Opera House, and traces the entire history of opera by focusing on seven premieres in seven European cities.
Sam Smith
the 25 of April, 2017
|
Print