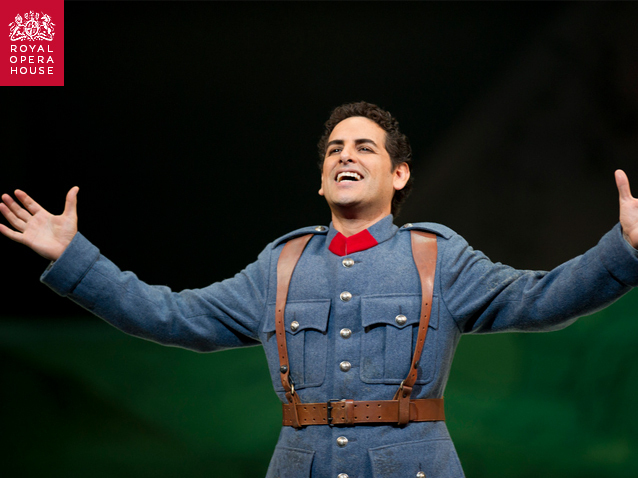 © Covent Garden Royal Opera House
Description
Marie was found on a battlefield as a baby and adopted by a regiment of soldiers. When she falls for Tonio – a civilian – she faces a choice between love and her adopted family.
La Fille du régiment had its premiere at the Opéra-Comique in Paris in 1840. Its combination of comedy, genuine feeling and patriotic sentiment soon made it a national institution, and it was regularly revived on Bastille Day in France. The opera had a long absence from Covent Garden, but in 1966 Joan Sutherland reintroduced it to London. She played the irrepressible heroine, Marie, with Luciano Pavarotti as her lover, Tonio. La Fille returned to the Royal Opera House in 2007 in Laurent Pelly's delightful production, which has since toured the world.
Pelly's production fizzes with exuberant humour. It features wonderfully inventive sets: large maps evoke the mountains of Tyrol, the regiment's camp drowns in laundry and an armoured tank bursts into a drawing room. Gaetano Donizetti's score weaves robust, military melodies with moments of pathos. Musical highlights include the bravura tenor aria 'Pour mon âme', with its vertical leaps to a succession of high Cs, and the delightful duet 'Quoi? vous m'aimez!' in which Tonio expresses his love for Marie.
More information is available on the operahouse's official website.
Schedule
March 03, 2014 19:30:00
March 06, 2014 19:00:00
March 09, 2014 15:00:00
March 12, 2014 14:30:00
March 15, 2014 19:30:00
March 18, 2014 19:30:00
Work's characters list
Conductor
Marie
Marquise de Berkenfield
Duchesse de Crakentorp
Tonio
Tonio
Hortensius
Sulpice