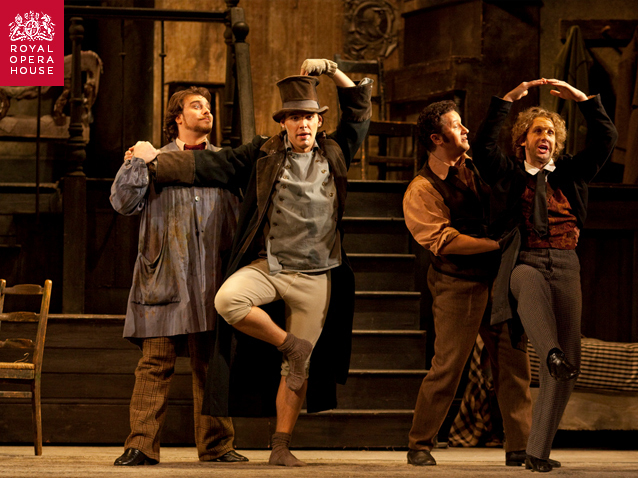 © Covent Garden Royal Opera House
Description
When Rodolfo, a penniless poet, meets Mimì, a seamstress, they fall passionately in love. But their happiness is threatened when Rodolfo learns that Mimì is gravely ill.
La bohème got a lukewarm reception when it had its premiere in 1896, but its fortunes almost immediately changed. Giacomo Puccini's romantic depiction of bohemian Paris, with memorable music and a love story drawn from everyday life, has captivated audiences round the world, making La bohème one of the best-loved of all operas. It was first performed in Covent Garden in 1897 and has had over 500 performances here since.
John Copley's production recreates Paris in the 1830s, from the lively Latin Quarter, where hawkers and traders ply their wares, to a drafty attic where impoverished artists live. Rodolfo and Mimì's love story is given moving expression through Puccini's score, from their first meeting in Act I to their final, poignant scene together in Act IV. These moments of emotional intensity are contrasted with the colourful spectacle of the Café Momus and surrounding streets, which present a cross-section of Parisian society in all its noise and vibrancy.
More information is available on the operahouse's official website.
Schedule
July 09, 2014 19:30:00
July 12, 2014 19:30:00
July 13, 2014 12:00:00
July 15, 2014 19:30:00
July 17, 2014 19:30:00
July 19, 2014 14:00:00
July 19, 2014 19:30:00
Work's characters list
Director
Conductor
Rodolfo
Rodolfo
Mimi
Mimi
Marcello
Marcello
Schaunard
Schaunard
Colline
Colline
Benoit
Alcindoro
Musetta
Musetta