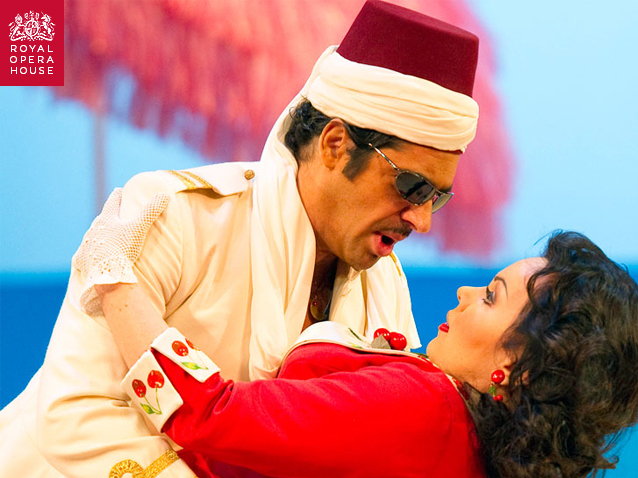 © Royal Opera House Covent Garden
Description
Rossini was just 22 when he wrote Il turco in Italia, his 13th opera and his third for La Scala, Milan. The young composer clearly relished librettist Felice Romani's outrageous farce, which serves up brazen ridiculousness with cynical delight. But the heroine's wildly immoral antics caused some consternation at the opera's premiere on 14 August 1814, and would play a part in Il turco's virtual disappearance from Europe's stages later in the century. The opera wasn't seen again until 1950, in Luchino Visconti's La Scala production, which starred Maria Callas as the incorrigible Fiorilla. The production's triumph secured the opera's position as one of Rossini's most complex and uproarious comedies.
Moshe Leiser and Patrice Caurier's 2005 production – the Royal Opera House's first – evokes the postwar era in which Il turco was rediscovered. Rossini's acerbic absurdities become the ingredients of a glamorous Fellini-esque comedy, set under the baking Neapolitan sun. Bright colours, breathtaking slapstick and irrepressible energy are the perfect accompaniment to Rossini's exhilarating bel canto music, which includes an array of show-stopping arias, duets and the famous quintet 'Oh! guardate che accidente'.
More information is available on the operahouse's official website.
Schedule
April 11, 2015 19:30:00
April 15, 2015 19:30:00
April 18, 2015 19:00:00
April 20, 2015 19:30:00
April 25, 2015 19:00:00
April 27, 2015 19:30:00
Work's characters list
Director
Conductor
Selim
Donna Fiorilla
Don Geronio
Don Narciso
Prosdocimo
Zaida
Albazar