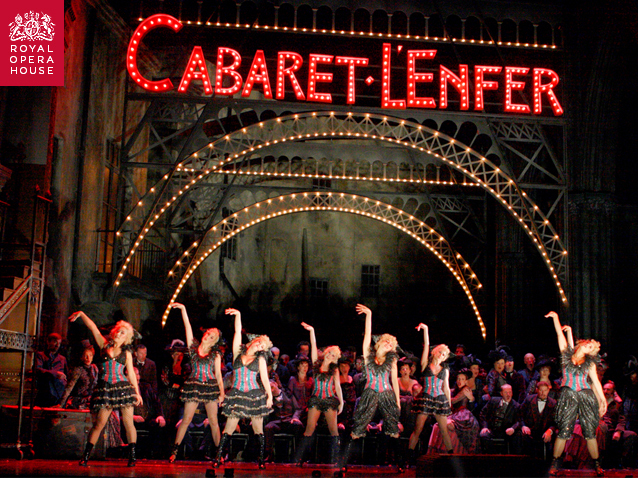 © Covent Garden Royal Opera House
Description
Weary of life and the pursuit of knowledge, the aged Faust contemplates suicide. Méphistophélès promises to satisfy all of his hedonistic demands in exchange for his soul.
Charles-François Gounod's Faust was once one of the most famous and most performed of all operas: at Covent Garden it was heard every season between 1863 and 1911. Jules Barbier and Michel Carré's libretto is a tale of romance, temptation, and the age-old battle between satanic powers and religion. It is based on Carré's play Faust et Marguerite, which in turn is based on Part I of Johann Wolfgang von Goethe's dramatic poem Faust, one of the great works of European literature.
David McVicar's lavish production, first seen in 2004, sets the action in the Paris of Gounod's later years, on the eve of the Franco-Prussian War. Charles Edwards's designs include a memorable Cabaret d'Enfer and an impressive reconstruction of the Church of Saint-Sulpice. They vividly convey the clash between religion and hedonistic entertainment, and provide a powerful backdrop to Gounod's score. Faust contains much-loved musical highlights including the memorable Soldiers' Chorus, Méphistophélès's rowdy 'Song of the Golden Calf', and Marguerite's Jewel Song with its dazzling coloratura. The opera's final scene includes an impassioned trio between Faust, Marguerite and Méphistophélès, as Marguerite struggles to resist temptation and gain salvation.
More information is available on the operahouse's official website.
Schedule
April 04, 2014 19:00:00
April 07, 2014 19:00:00
April 11, 2014 19:00:00
April 14, 2014 19:00:00
April 17, 2014 19:00:00
April 22, 2014 19:00:00
April 25, 2014 19:00:00
Work's characters list
Director
Conductor
Faust
Méphistophélès
Marguerite
Marguerite
Valentin
Wagner
Siébel
Marthe Schwerlein