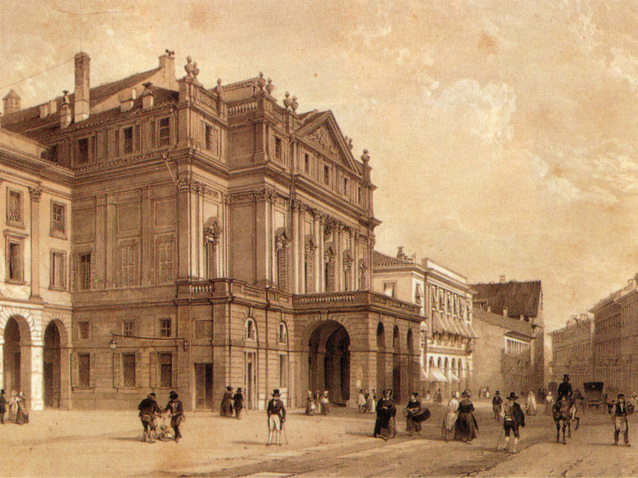 © La Scala
Description
After the fire at the Ducal Theatre in 1776, a new theatre was built on the site of Santa Maria della Scala (from the name Beatrice della Scala, wife of Duke Bernabo Visconti).This is a large, 3,000-seat Italian-style theatre, with an orchestra of boxes whose occupants are also the owners who invest their money in the performances presented there.  It was inaugurated in 1778 with Antonio Salieri's opera, L'Europa riconosciuta.
But La Scala didn't really come into its own until the early 19th century, when it started competing with the Teatro di San Carlo in Naples, a bastion of Italian lyric art.From 1812 to 1830, Rossini and then Bellini each contributed greatly to the hall's development, as did Malibran, hired in 1833 by the enterprising "box owners" group.Verdi's reign began in 1839, and between then and the debut of Falstaffin 1893, the composer conducted eight of his operas at La Scala.
In 1901, Duke Visconti, heading up the "owners' delegation," hired Arturo Toscanini as musical director, despite his already legendary foul temper.It was during this period that La Scala acquired its international reputation, thanks to Toscanini's extraordinary professionalism.As a measure of its fame, beginning in those years the Met would hire only singers who had already performed on the Milanese stage.
After World War I, the privileged private boxes disappeared, and between 1918 and 1921 the theatre underwent a restoration.Toscanini created a permanent orchestra and troop of singers and included the German, French and Russian repertories in the programme.It was under his reign that Richard Strauss came to Milan to direct Salomé.And that was just one great moment among so many others….
With the advent of fascism, La Scala fell into a period of decline.Toscanini left Europe for the United States.He stayed until 1946. Milan was bombed in 1943 by General Harris's squadron.But the theatre was quickly rebuilt according to its original blueprints.And its triumphant inauguration in 1946 thrilled all of Milan and brought back its maestro, Toscanini.
La Scala's great renaissance began in the 1950s.Since then, conductors like C. M. Giulini and C. Abbado, set designers like P. L. Pizzi, directors like G. Strehler, L. Visconti and F. Zeffirelli, singers like Renata Tebaldi, Maria Callas and Mario del Monaco have all worked there regularly.Also during this period, Karajan, then director of the Vienna Opera, proposed an agreement for the exchange of productions, which enabled both theatres to enhance their already prestigious programmes.In the 1970s, Paolo Grassi, the theatre's superintendent, featured a series of world debuts like Au grand soleil d'amour chargéby Luigi Nono, in 1975, which scandalised the Christian Democrats.In 1986, musical direction of La Scala was entrusted to a worthy heir to Toscanini, conductor Riccardo Muti, who took over from Claudio Abbado.La Scala owes him some of its most unforgettable lyric moments.The Marriage of Figaro, staged by Giorgio Strehler, with Lella Cuberli, Barbara Hendricks and Ann Murray delighted the public, as did the masterful and unforgettable Othelloin 1987, staged by Zeffirelli and directed by Carlos Kleiber featuring Mirella Freni, Placido Domingo and Renato Bruson.The undeniable magic of the place, this shimmering red and gold hall with its monumental chandelier, with four floors of boxes looking like a beehive decorated for the holidays, is not due to its beauty alone!
More than two hundred years after its inauguration, between 2002 and 2004, La Scala was completely renovated.On December 7, 2004, when it reopened, La Scala presented a new production of Salieri's Europa riconosciuta(an homage to the first work presented here in 1778), directed by Riccardo Muti; tickets for that inaugural evening sold for 2,000 euros each.
In 2005, Stéphane Lissner became the first non-Italian superintendent and artistic director in the history of La Scala.
On December 7, the day of Saint Ambrose, Milan's patron saint, the opera season begins with a very elegant gala evening.Ticket prices reach extraordinary highs!The opera season comes to an end in early July.A lovely autumn symphony season precedes it, from September through December, interspersed with some ballet programmes.Young people buy season tickets without even knowing the content of the programming, as it is kept like a state secret until the very last moment.And when the programme comes out, every seat has already been sold!