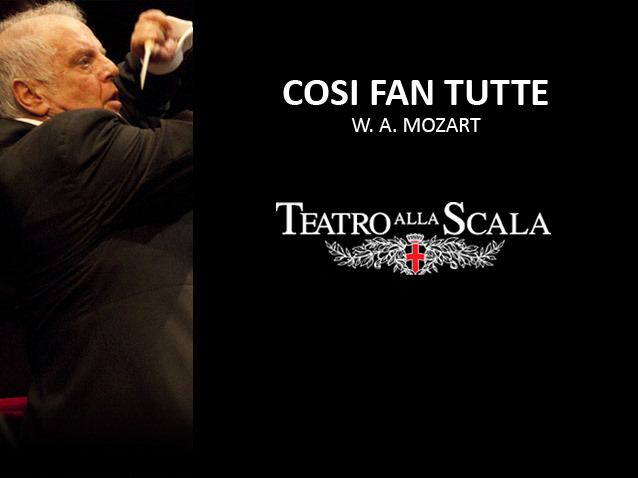 © DR
Description
New production
Is yielding to passion not a supreme form of pleasure that is well known to the female spirit? A dictionary of coquettish mischievousness and elegant double entendres, "Così" is the last Italian opera by the genius from Salzburg, the young father of modern opera. A perfect theatrical instrument, an intellectual game of "couples", "doubles" and "twinnings", the plot's hypothesis demonstrates that in love it is best not to be too gullible. The slightly bitter comedy concludes, however, that infidelity is the "necessità del core" [necessity of the heart] for a woman, an unguilty being that is therefore acquitted. But it is not a mere geometric gamble that refers to disenchantment with female loyalty, but rather the sublime music of Mozart, which is able to simulate feelings and even lie cynically. The opera has more trios and quintets than The marriage of Figaro and the Don Giovanni, and, since mathematics is not a matter of opinions, love is an odd number, and triangles are appreciated, at least in terms of doubts over choices. German director Claus Guth, whose work includes the recent Lohengrin, will set himself to the task with all of his intellectual strength: he has revisited and altered a previous production of his own to essentially make a new one. Daniel Barenboim will be bringing his second Mozart opera to La Scala and will be passing the baton to Karl-Heinz Steffens for some performances. The cast offers the finest talent from stages all over the world: Maria Bengtsson, Rolando Villazón, Michele Pertusi, Adam Plachetka, Serena Malfi, Katija Dragojevic.
More information is available at www.teatroallascala.org
Attend this production with our partner La Fugue - Europera.
Schedule
June 19, 2014 20:00:00
June 21, 2014 20:00:00
June 24, 2014 20:00:00
June 27, 2014 20:00:00
June 30, 2014 20:00:00
July 03, 2014 20:00:00
July 05, 2014 20:00:00
July 08, 2014 20:00:00
July 14, 2014 20:00:00
July 16, 2014 20:00:00
July 18, 2014 20:00:00
Work's characters list
Director
Conductor
Conductor
Fiordiligi
Dorabella
Ferrando
Ferrando
Guglielmo
Guglielmo
Don Alfonso
Despina