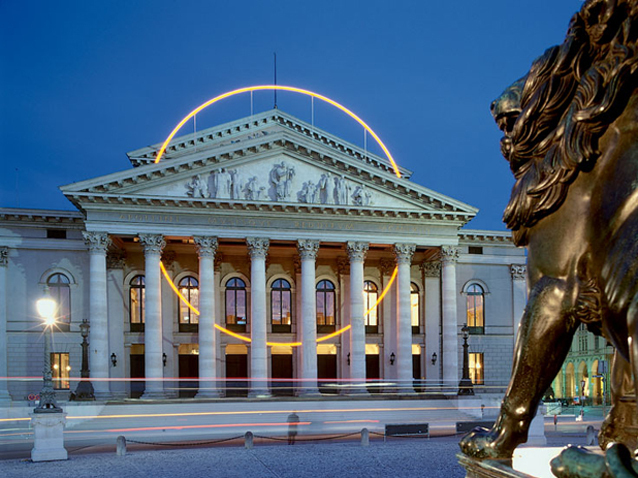 © http://www.stagetec.com
Description
Situated on Max-Joseph Platz in Munich, Germany, the National Theatre of Bavaria (Bayerische Staatsoper) proudly presents the main works of German opera and ballet (the theatre is home to the Bavarian State Opera and the National Ballet Company, or Bayerisches Staatsballett). Since 1901 this venue has also been the setting for the Prinzregententheater, which, like the Bayreuth Festival, focuses its programming on the works of Richard Wagner (with occasional infidelities to the composer).
The building was constructed at the behest of King Maximillian I and designed by Karl von Fischer, taking his inspiration from the architecture of the Odéon Theatre in Paris. The theatre opened in 1818, inaugurating its stage with a production of Die Weihe, by Ferdinand Fränzl, before being ravaged by fire in 1823. It was quickly rebuilt and reopened to the public in 1825. This new theatre, designed by Leo von Klenze, was of Greek Revival inspiration (particularly its portico).
In 1930, the building was modified to accommodate a larger stage and more efficient equipment. But it was once again destroyed by bombs in World War II (1943). Based on Karl von Fischer's plans, architect Gerhard Moritz Grauber reconstructed the original Neoclassical edifice, with a 1,200-seat auditorium (the building is noticeably larger than its predecessor, and only the foyer and its grand staircase are original). The building was inaugurated on 22 November 1963 with a performance of Die Meistersinger von Nürnberg by Richard Wagner.
Every season since then, the Bayerische Staatsoper has featured a wealth of eclectic programming, including many world premieres.