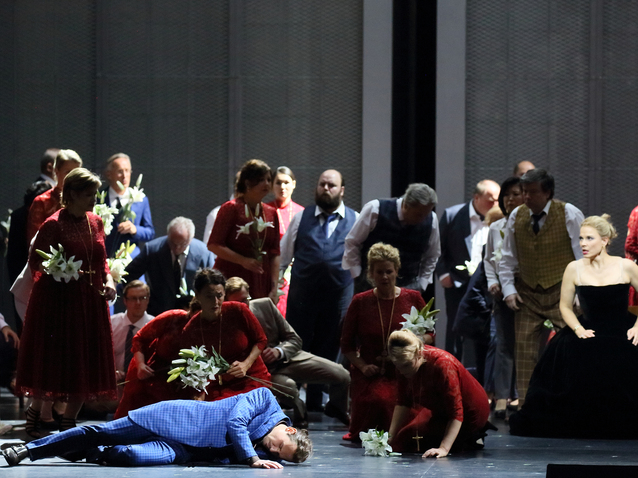 Wide open space on stage as the opera starts. Once more young German director Amélie Niermayer uses the overture for narrating already parts of the story. The new production of the Bavarian State Opera is her first appearance here.
The first encounter of Leonor, the mistress of King Alphonse, and monk Fernand is love at first sight with immediate intimate embracing. Stage designer Alexander Müller Elmau created a dark neutral environment with some moveable metal blocks which are illuminated inside to show the inside of the monastery or royal court. Costume designer Kirsten Dephoff created a modern outfit lacking any support to the story. It is obvious, that Amélie Niermayer comes from drama. Playing, feelings and emotional relations between the different characters are intense, powerful and expressive, close to exaggeration.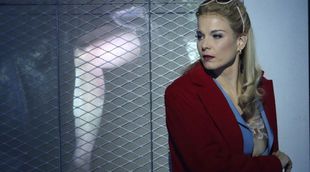 Elina Garanca (La Favorite)
Poor Elina Garanca as Leonor finds herself again and again being thrown on the ground, creeping along asking for pity or forgiving. Set up as a copy of Catherine Deneuve in a long red coat, the attractive mezzo soprano handles her destiny in elegance and fine singing. Her voice has gained darker timbre over the years and warm height. She succeeds to give to the title role an overwhelming female grace and addiction. Together with Matthew Polenzani as her beloved Fernand, they both create an excitement, an electric explosion within her final attempt of getting his love back and his despair on having lost his honour. The American tenor shows a brilliant performance. His voice feels easy and safe in the belcanto of Gaetano Donizetti without forced legati or pressed crescendi. Mariusz Kwiecien has to stage Alphonse XI, a rather strange character surrounded by an even stranger court society in this direction. He makes a fine performance but can not really show his strength. Whereas Mika Kares has to play a very uncontrolled and untypical abbé he just attracts recognition and honour by his tall appearance and mighty bass. He has to throw around chairs or strolls around aimlessly on stage, but regains respect once he opens his mouth.
Karel Mark Chichon teams up with his wife Elena Garanca in a well-tempered musical interpretation. He is avoiding any heavy or loud eruption. He lets the musicians play rather lively in a steady flow. One advantage of the direction is the lack of long interruption for any change of scenes, the quick jump into the last image supported by the full sound of the organ is impressive and brings up goose pickles followed by touching moments full of lyric drama between the loving couple which the maestro lovely follows with the orchestra.
A perfect musical setting and performance of the singers overwrites the unspectacular and rather uninspired partly dull direction and makes this new production a success. Lots of bravi for the performing artists document the musical elaboration of the tragic coincidences and output of this touching love story.
Helmut Pitsch
the 07 of November, 2016
|
Print