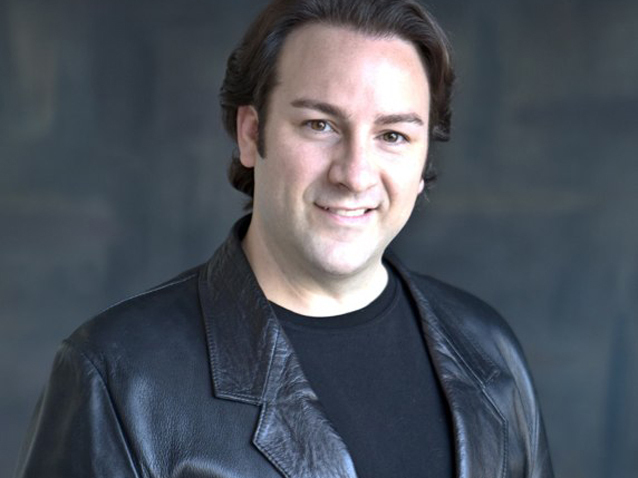 © DR
General Information
Last name:

Osborn

First name:

John

Birth date:

01/01/1973

Nationality:

United states

Tessitura:

Tenor

Contact:Zemsky/Green Artist Managment
104 W. 73rd Street, Suite # 1
New York, NY 10023
Office (212) 579-6700
Agenda Professionnel
Dates
Roles
Places
the 06 of December, 2023
the 12 of December, 2023
the 15 of December, 2023
the 19 of December, 2023
the 23 of December, 2023
the 26 of December, 2023
Biography
An American tenor,  John Osborn was born in Sioux City, Iowa.  That is where he attended elementary and high school, and he was heavily involved in music and athletics.  At several honor choir festivals, he was often chosen as a soloist.  He was also a folkstyle wrestling champion while attending Heelan High School.  He has a Bachelor of Music Degree in Vocal Performance from Simpson College in Indianola, Iowa.  He studied voice with Anne Larson, an accomplished mezzo soprano while at Simpson, and when he was only 21 years old, he was a winner of the Metropolitan Opera National Council Auditions in 1994.  This immediately gave him international attention.  He moved to New York City in the fall of 1994 as an invited member of the Metropolitan Opera Young Artist Development Program.  He continued his vocal studies with Edward Zambara, a bass, who was teaching at The Juilliard School.  He coached many songs, arias and roles under distinguished Met coaches such as Nico Castel, Susan Webb, Robert Cowart, Dennis Giocque, Donna Racik, and Stephen Eldridge.  He appeared in masterclasses with several important artists Hermann Prey, Régine Crespin, Carlo Bergonzi, Eduardo Müller, Barbara Bonney, Sherill Milnes, Ileana Cortrubas, and Regina Resnik, to name a few.  He was also First Prize Winner of the 1996 Operalia Voice Competition of Placido Domingo in Bordeaux, France. 
    His experiences and training have helped launch him into a prominent  international opera career.  Today, we find him singing in important opera houses from San Francisco to Tokyo, and he's making regular appearances with world-renouned orchestras from Seattle to Moscow.  Mr. Osborn in 2012 is the first non-italian to win the Aureliano Pertile Tenor Award in Asti, Italy; and he is also a recipient of the 2011 Petrassi Awards in Rome, Italy.
John Osborn's 2011-2012 season began by performing Arnold Melchtal in GUILLAUME TELL at the Proms in London at Royal Albert Hall in conjunction with his first commercial recording release on EMI Classics of "William Tell Live" in the original French text.  He continued his summer in Stresa, Italy on the banks of Lago Maggiore singing semi-staged performances of LUCIA DI LAMMERMOOR as Edgardo opposite Elena Mosuc as Lucia and with Maestro Gianandrea Noseda conducting. He recorded Pollione in NORMA with the Scintilla Orchestra, along with a star-studded cast including Cecilia Bartoli in the title role, Michele Pertusi as Oroveso, and Sumi Jo as Adalgisa.  Release is expected around the spring of 2013 in conjunction with a new production by Moshe Leiser and Patrice Cournier at the Whitsun Festival in Salzburg, Austria.  A long-awaited debut at Teatro alla Scala in Milan began with his debut in the role of Rodrigo di Dhu in LA DONNA DEL LAGO by Giaocchino Rossini.  Alongside Joyce DiDonato, Juan Diego Florez, and Daniela Barcellona, it was among the highest praised productions of the season.  He continued his debut season at La Scala with performances of Don Ottavio in DON GIOVANNI, placing him as a prominent new performer at this prestigeous theater.  He returned to Opernhaus Zürich in the title role of OTELLO with the world-renouned Cecilia Bartoli as Desdemona and the Scintilla Orchestra, recorded and produced for HD DVD release in 2013. He finished his 2012 season with performances of his last Conte d'Almaviva in IL BARBIERE DI SIVIGLIA with the San Diego Opera.  He has decided to retire the role, along with other Rossini comic operas in order to continue his work in the more serious and heroic Rossini roles, as well as important French lyric roles which he has coming up in the near future.
    Mr. Osborn's 2010-2011 season opened with his debut as Des Grieux in Massenet's MANON in Buenos Aires at the Teatro Colòn. He flew to St. Paul, MN for semi-staged performances of Don Ottavio in Mozart's DON GIOVANNI with St. Paul Symphony and world-renowned conductor Roberto Abbado. His official debut at the Royal Opera House, Covent Garden ensued as Nadir in LES PECHEURS DES PERLES by Bizet in concert performances with Antonio Pappano conducting. Concert performances of GUILLAUME TELL, the french version by Gioacchino Rossini, at the Auditorium in Rome with the Orchestra and Chorus of the Academy of Santa Cecilia, were recorded live with Antonio Pappano, and is now available on EMI Classics as "William Tell". Concert performances of Rossini's OTELLO in Lyon and Paris with conductor Evelino Pidò were highly acclaimed. Again with Pidò, he performed Don Ramiro in CENERENTOLA with the lovely Romanian mezzo soprano Ruxandra Donose in Nice, France. He returned to the Royal Opera House for performances of IL BARBIERE DI SIVIGLIA; Goffredo in ARMIDA at the Metropolitan Opera; Léopold in LA JUIVE with Zürich Opernhaus; and finally, he made his debut as Raoul de Nangis in Meyerbeer's LES HUGUENOTS at La Monnaie/De Munt in Brussels.
    Mr. Osborn's 2009-2010 season started with Léopold in LA JUIVE by Jacques Fromenthal Halévy in Amsterdam, Netherlands; then, he performed Nemorino in L'ELISIR D'AMORE for his debut at Houston Grand Opera; Arnold in GUILLAUME TELL by Rossini with the Netherlands Radio Filharmonic at the Conzertgebauw in Amsterdam; Lindoro in L'ITALIANA IN ALGERI by Rossini in Florence, Italy; Principe Ramiro in LA CENERENTOLA in Zürich, Switzerland with Cecilia Bartoli; OTELLO by Rossini in Lausanne, Switzerland; and he sang Goffredo in ARMIDA by Rossini alongside Renée Fleming and Lawrence Brownlee at The Metropolitan Opera in New York.  This Met production was also viewed by millions around the world in HD Live Broadcasts in movie theaters on May 1st and replayed on May 19th. Now available on DVD with Decca.
    Mr. Osborn's 2008-2009 season consisted of Edgar Aubry in a rarely performed opera called DER VAMPYR by Heinrich Marschner in Bologna, Italy; Conte d'Almaviva in IL BARBIERE DI SIVIGLIA in Vienna, Austria; Dresden, Germany; Lausanne, Switzerland; and Des Moines, Iowa; Arturo Talbo in I PURITANI by Vincenzo Bellini at De Nederlandse Opera; Edgardo in LUCIA DI LAMMERMOOR by Gaetano Donizetti at De Munt "Circque Royale" in Brussels, Belgium.
    2007-2008 season opened in Geneva, Switzerland, with his debut with the Grand Théàtre de Genève in a new production of LES TROYENS as Iopas under the baton of John Nelson.  He was later called in on short notice to sing a Gala performance of LA CENERENTOLA at Opernhaus Zürich with Cecilia Bartoli in celebration of Alexander Pereira, the Artistic Director of the Zürich Opera House's birthday.  Soon after, Mr. Osborn made a very important debut with the Accademia di Santa Cecilia Orchestra in Rome, Italy.  He was asked to sing Arnold in GUILLAUME TELL by Gioacchino Rossini.  Antonio Pappano conducted, alongside Michele Pertusi as Guillaume Tell, and Norah Amsellem as Mathilde.  These performances have catapoulted Mr. Osborn into singing other, more dramatic French roles such as his first Roméo, and he will sing Raoul in LES HUGUENOTS at New York City Opera next year in concert form.  In January of 2008, he made his debut in Bologna, Italy as Orfée in Glück's ORFEE ET EURIDICE at the Teatro Comunale di Bologna.  He soon followed with Duca di Mantua in Verdi's RIGOLETTO at Opera New Jersey, and ultimately had to cancel a Nemorino in Palm Beach to sing Conte d'Almaviva in BARBIERE DI SIVIGLIA at Lyric Opera of Chicago with American stars Nathan Gunn and Joyce DiDonato and Alberto Renzetti conducting .  Then, he went back to Zürich to sing Il Duca in an opera called CLARI, the first of two italian operas written my Jacques Fromenthal Halévy.  It was part of Cecilia Bartoli's Maria Malibran project.  She discovered the full score to this opera while researching the life and career of the first diva, Maria Malibran.  The summer began with Arturo Talbot in Teatro Communal de Mahon in Menorca, Spain; continued with his debut of Roméo in Gounod's ROMEO ET JULIETTE with the Salzburg Festival; and then, back to Zürich to record live performances of CLARI for DVD.  He finished the summer with a Three Tenors of Bel Canto concert with the Orchestra of L'Accademia di Santa Cecilia.
    Mr. Osborn's 2006-2007 season began with Netherlands Opera production of Richard Strauss's CAPRICCIO, opposite his wife, Lynette Tapia, as the Italian Singers.  He performed Almaviva in San Francisco Opera's production of IL BARBIERE DI SIVIGLIA, Maurizio Barbacini conducting; Léopold in LA JUIVE by Halévy with L'Opéra National de Paris, Pierre Audi directing and Daniel Oren conducting; Lindoro in L'ITALIANA IN ALGERI, debut at Teatro Sao Carlo in Lisbon, Portugal with Alberto Renzetti conducting; and his return to Opera Theater of St. Louis as Riccardo in THE PURITANS, an english adaptation of Bellini's opera, in a version where Riccardo and Arturo are both tenors, with Stephen Lord conducting. 
    John Osborn's international career began in 1997 when he was still a member of the Met's Young Artist Development Program.  He was recommended to sing for James Conlin for the role of Fenton in Verdi's FALSTAFF.  He learned the part in a couple of days, flew up to Boston from New York City, sang for Maestro Conlin, and was immediately added to the Oper der Stadt Köln's production in March of that year.  He performed another run of the show in June.  Since then, after finishing the Young Artist Program at the Met, he immediately started working full time as a performing artist in major international opera houses.  First in Montréal, Québec; then, Vancouver, British Columbia; Santiago, Chile; Monte Carlo, Monaco; Vienna and Salzburg, Austria; Naples, Torino, Genova, Bologna, and Rome, Italy; Bordeaux, Toulouse, and Paris, France; Köln, Dresden, and Berlin, Germany; Amsterdam, Netherlands; London, England; Edinburgh, Scottland; Tokyo, Yokohama, Matsumoto, Kyoto, Hiroshima, Nagoya, and Osaka, Japan; Beijing and Shanghai, China; St. Gallen, Geneva, and Zürich, Switzerland; Buenos Aires, Argentina; and Menorca, Spain.
    In the coming months, Mr. Osborn is making his role debut as Hoffmann in two concert performances at Salle Pleyel in Paris, under the direction of Marc Minkowski and the Musiciens du Louvre Grenoble; production debut as Arnold Melchtal in Rossini's GUILLAUME TELL with Netherlands Opera under the stage direction of artistic director Pierre Audi; concert performances of ROMEO ET JULIETTE at Palais des Beaux Arts in Brussels, Evelino Pido conducting; Pollione in his stage debut in NORMA at Whitsun Pentecoste Fest in Salzburg, and again with Salzburger Festspiele; Elvino in LA SONNAMBULA in Bari, Italy; and his role debut as Alfredo Germent in LA TRAVIATA at Arena di Verona.