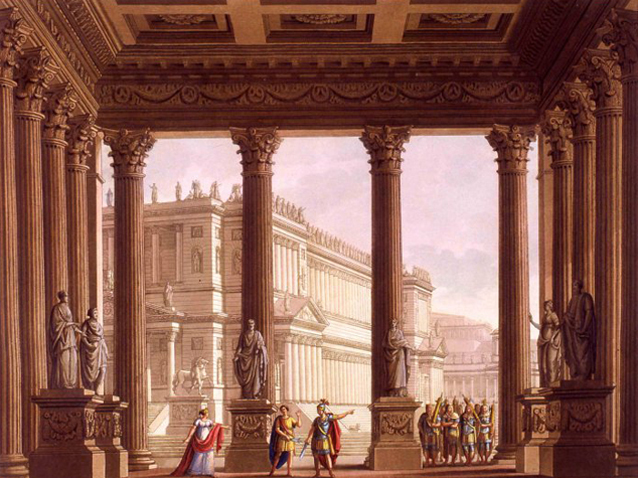 Work description
La Clemenza di Tito is an "opera seria" commissioned of Mozart for the crowning of Leopold II as king of Bohemia. He composed it in record time, at the end of his life, as he was also composing The Magic Flute.
It is the composer's final work, and it contains themes dear to his heart, such as pardon and reconciliation. The limited recitatives, the magical music carried along by admirable humanistic arias and the introduction of deeply moving ensembles, especially at the end of the first and second acts, together contributed to this opera's renown and popularity.
Summary
Titus, emperor of Rome in love with Berenice, is targeted by a plot hatched by the ambitious Vitellia, who wants to marry him.  To achieve her purpose, she makes use of the love for her felt by Sextus, a dear friend of Titus, benevolent and fair, the emperor ends up pardoning all the conspirators.
 
Act 1
The ambitious Vitellia loves Titus who prefers Berenice.
Sextus, madly in love with Vitellia who is manipulating him, agrees to kill his friend Titus.
Titus dutifully gives up Berenice and decides to marry Servilla, Sextus's sister.
Learning of the deep feelings between Servilla and Annius, Titus then undertakes to marry Vitellia, who ignores this choice and pushes Sextus to the brink of no return. The Capitol is ablaze, but Titus escapes death.
Act 2
Sextus is arrested; to protect Vitellia, he alone takes the blame for the plot in front of the Senate and Titus, who sentence him to death. The remorseful Vitellia gives up her dreams of power and admits her treason.
The magnanimous Titus, refusing to reign by terror, pardons one and all to the cheers of his subjects.