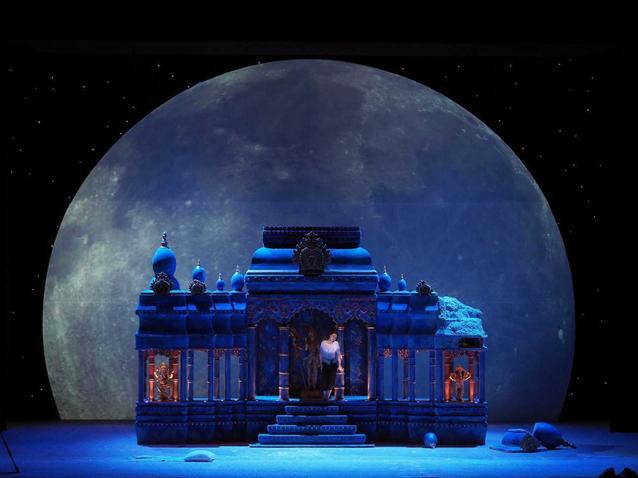 © A. Bofill
Christina Scheppelmann, artistic director at Liceu, commented on the text in the programme of Les pêcheurs de perles, that the opera's plot is 'naive and old fashioned', and considered that 'it is hard for this story to be emotionally touching'. Later, in regards to the work of stage director Lotte de Beer, who situates her version of this opera in a reality show, Scheppelmann wrote that Beer's work manages to 'make the story work from today's perspective and for a variety of audiences'.
It is truly surprising that the artistic director of an opera theatre, which this season has presented other titles such as I puritani, L'italiana in Algeri or Rodelinda, considers the plot of Les pêcheurs de perles 'naïve and old fashioned', as if the above cited pieces were a prodigy of novelty and modernity. If we add the fact that most of the time adapting plot operas for a 'variety of audiences' means to infantilise, trivialise or simply betray them, the prospect of attending a performance of the Pêcheurs de perles turned into a reality show wasn't very exciting.
However, in theatre and therefore in opera, a supreme law rules: beyond theories, philosophy and any good or bad intentions, the ultimate truth is always claimed on stage when the curtain opens; it is there where things either work or don't.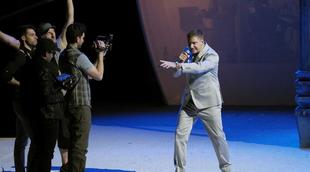 Fernando Radó (Nourabad) ; © A. Bofill
Lotte de Beer risked a lot in this version of Les pêcheurs de perles, but it was clear quite quickly that beyond the extravagance of the reality show there was great theatrical intelligence. The relationships between the characters flew with absolute theatrical 'truth', the conflicts had authentic dramatic intensity, the thematic essence wasn't distorted at all and, moreover, the production was visually attractive, well lighted and the actors' direction was elaborate and accurate. There was certainly a little provocative youthful frivolity in this proposal which, applied to an opera such as Les pêcheurs, became hygienic and oxygenating.
Not everything was perfect. The positioning of the choir in cubes at the end of the stage acting as audience of the show, was dramatically effective and attractive, but musically disastrous. In that position, the choir couldn't possibly sing well. To have Leïla, the protagonist, doing contortionist exercises during her first and most demanding aria, didn't seem like a good idea either and the singer's performance was affected by it.
Musically, the performance reached a globally correct level. Conductor Yves Abel did a good job in getting a good and very 'French' sound from the orchestra, colourful and delicate. The choir did very well as well, despite the horrible conditions in which they had to sing, in a title which hadn't been featured at Liceu for over 50 years, and hence wasn't in their repertoire.
Amongst the soloists stood out Ekaterina Bakanova, who debuted in Spain in staged opera and who will be singing at Festival de Peralada and at Teatro Real in Madrid in the near future. Her Leïla, started with some struggles but grew in confidence and certainty as the performance progressed. Her duets with the tenor and baritone as well as her later solo appearances were a lot more convincing and she obtained the most notorious applause at the end.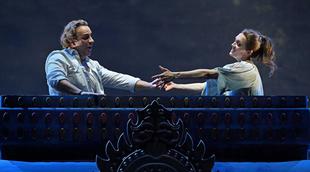 John Osborn (Nadir) and Ekaterina Bakanova (Leila) ; © A. Bofill
More was expected of John Osborn, a tenor who had given an excellent performance in the Benvenuto Cellini in the 15-16 season. His Nadir was only correct. In his 'Je crois entendre encore', the role's great brilliance aria, he attacked the sound with an infinite gentleness and his singing was soft, delicate, maybe even too much. However, he didn't reach the final high note well, which he had to correct. It was only an instant, but it was enough to lose the opportunity. It is cruel to judge a whole performance because of one note that wasn't well attacked, but such is opera's law. The composer put it there for it to crown the aria with brilliance; the audience had heard it many times on record and was waiting for it; and the singer has prepared it and on stage – again the ultimate truth of the stage – has to deliver it and deliver it impeccably. Dura lex, sed lex. 
Baritone Michael Adams, debuting at Liceu, did a Zurga with good lyrical line and pleasant voice, but more presence and vocal intensity was awaited in such an important character, the antagonist who sacrifices himself for love and loyalty.
Fernando Radó did very well as Nourabad, the inflexible priest, guardian of the law and the proper customs.
In order to honour sociology and statistics – which aren't necessarily the truth – it is worth adding that at the end there was a modest applause for the singers and a great booing for the production. However, and this is only an opinion – therefore, neither the truth – this time the audience was wrong.
The risky bet of Les pêcheurs is a good one and a winner.
Xavier Pujol
the 16 of May, 2019
|
Print