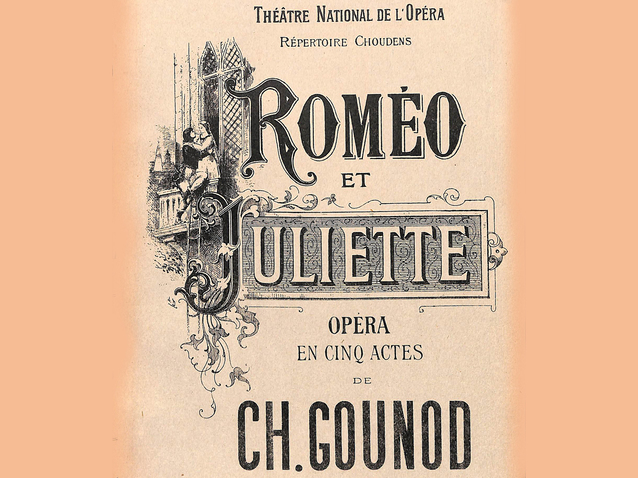 © DR
General informations
Composer:Charles Gounod
Librettist:

Michel Carré

Creation date:

1867

Creation place:

France

Acts number:

5

Original language:

French

Opera House of original production:Théatre du Châtelet
Work description
And what if Gounod's Romeo et Juliette was simply the best adaptation of Shakespeare's play ever written for opera? Of course, Jules Barbier and Michel Carré, the composer's faithful librettists, eliminated some of the minor characters, simplified the plot, and complied with the conventions of romantic opera, but they also marvellously focused the attention on the two lovers. In that area, Gounod filled their duets with magical phrasing, shining the spotlight on each phase of their love: love at first sight, burning passion, awakening after a restless night, ultimate embraces before death. The opera has the best tenor and soprano roles in the entire repertoire, which build and are consumed by a score featuring subtle shades of warmth and poetry – Gounod's work is in keeping with the universal quality of the myth.
Summary
Despite the fatal rivalry between the Capulet and Montague families, Romeo and Juliette fall in love at first sight during a ball. Going against their families' wishes, the young couple secretly marries. But the rivalries that oppose the two families are as vehement as ever. Tybalt, Juliette's cousin, kills Mercutio, Romeo's friend, leaving the latter no other choice than to seek revenge and kill Tybalt in turn. Romeo is banished, but Juliette understands and pardons his actions. In order to avoid the arranged marriage her father has planned, Juliette takes a powerful drug that will make it appear she is dead. When he discovers Juliette's body in her tomb, Romeo believes she is truly dead and poisons himself. The young woman awakes and, seeing that Romeo is dying, stabs herself. The lovers sing a final duet before dying in each others arms.
Act 1
After a Prologue describing the hatred between the Capulet and Montague families, the curtain rises on the Capulet house. A ball is being given in honour of Juliette's sixteenth birthday. The latter declares she is not ready to marry Count Paris, her betrothed. Juliette wants to live. That's all!
Excerpt : « Je veux vivre »
Act 2
Romeo Montague, who has entered the Capulet house during the ball, meets Juliette for the first time. Indifferent to the rivalry that opposes their two families, the two fall in love at first sight. Romeo sings of his love in a brilliant aria.
Act 3
Romeo and Juliette exchange vows of love and are secretly married by Friar Laurent. They are now husband and wife before God. But the two families continue to quarrel and Tybalt, Juliette's cousin, duels with Mercutio, Romeo's friend, and kills him. One crime leads to another. Romeo strikes Tybalt dead. Each clan mourns its dead and the Duke of Verona orders Romeo to be banished.
Act 4
Before leaving Verona, Romeo joins Juliette for a final night together. They sing a long love duet before Romeo departs.
Act 5
While Capulet, Juliette's father, prepares his daughter's wedding, Friar Laurent gives the young woman a powerful drug, which will make her appear as if she were dead. When the wedding party arrives, Juliette collapses – everyone believes she is dead... In her tomb, Romeo comes to find Juliette, who is still fast asleep. Desperate at the sight of her lifeless body, he takes a real poison. Juliette awakens to find Romeo dying and stabs herself. An ultimate duet reunites them at the gates of death.