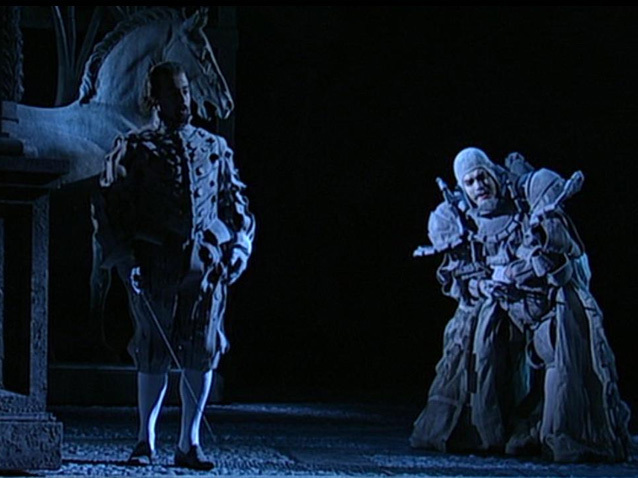 General informations
Composer:Wolfgang Amadeus Mozart
Librettist:Lorenzo da Ponte
Creation date:

1787

Creation place:

Czech republic

Acts number:

2

Reference:

K.527

Original language:

Italian

Opera House of original production:

Théâtre Tyl

Original orchestration:

2/2/2/2-2/2/3- timp-strings sur la scène:2 hautbois, 2 cors, quintette à cordes(N°13)2 trombones (récit. no 22)2 hautbois, 2 clarinettes, 2 bassons,2 cors, violoncelle (no 24)
Work description
Underlying his audacity and unrelenting passion for women, it is God and society that Don Giovanni rails against and defies.This is the cause of his downfall and swift punishment. Mozart's opera – a drama giocoso or joyous drama – expresses all this with unrepressed power. Lorenzo da Ponte's brilliant libretto is an adaptation of the play by Tirso de Molina, which also inspired Molière's Don Juan. However, it is Mozart's music, starting with the overture, that gives the work its metaphysical dimension, making the work much more than a simple story. Don Giovanni is the quintessential example of Mozart's genius, where the best and worst of human nature are on display, where the tragic and the grotesque, the sublime and the ridiculous are combined in the pursuit of the most spiritual and earthly desires. All of this comes together in the most beautiful music ever written,to the point that Richard Wagner would claim Don Giovanni is "the opera of all operas".
Summary
The city of Seville, Spain.A licentious nobleman, Don Giovanni, disguises himself in order to seduce Donna Anna, who is engaged to marry Don Ottavio. Anna chases him off and is protected by her father, the Commendatore. During a duel, Don Giovanni kills the old man, before running off, without the slightest remorse, to chase after other women, with his faithful servant, Leporello, by his side, a reluctant accomplice in his outrageous schemes. Donna Elvira and Zerlina are among his victims. After slipping away from his pursuers –and delighting in his impunity – Don Giovanni burns in Hell, dragged down into the Underworld by the ghostly statue of the Commendatore who has come to avenge his daughter and set the world right.
Act 1
Don Giovanni lives only for pleasure. After sexually assaulting Donna Anna, and killing her father, the Commendatore, during a duel, he encounters Donna Elvira, a former conquest. Elvira accuses him of deceiving her, but Don Giovanni hurries away, leaving his servant, Leporello to respond to her accusations. Leporello reads a long list of his master's lovers in a recitative called the "catalogue". Yet, does this describe the real nature of the carnivorous Don Giovanni?
After his altercation with Elvira, Don Giovanni comes across a village wedding. Zerlina is about to marry Masetto. Don Giovanni cannot pass up the opportunityand quickly takes care of the future husband, threatening him if he does not leave immediately, while promising all sorts of things to the young and naive Zerlina, who hesitates at first, but then agrees to follow him.
There is dancing and merriment at the festivities organised by Don Giovanni.However, danger looms: Donna Anna has recognised him as her attacker and father's killer and Elvira and Zerlina seem determined to get revenge. But Don Giovanni does not care! The ball offers an opportunity for new conquests and the dancers spin as the wine flows:
Act 2
Not only has Don Giovanni escaped from his pursuers, but he has made Leporello take his place and wear his costume, thus exposing him to the wrath of his enemies.Elvira, who is still in love with Don Giovanni, prays for divine intervention, while Anna begs her fiancé, Don Ottavio, to allow her some time before their marriage so she can mourn her father.
During a banquet organised in his home, Don Giovanni indulges in gluttony and is ruder than usual with Leporello.He is surprised when there is a knock at the door.It is the statue of the Commendatore, which Don Giovanni dared invite to dinner after their encounter in the graveyard several hours earlier.It appears that the sinner's time has come.The ghost-like figure seizes him with his icy hand and exhorts him to abandon his villainous ways – but Don Giovanni refuses.The statue sinks into the ground, dragging Don Giovanni down into the fires of Hell with him, during a terrifying final scene.