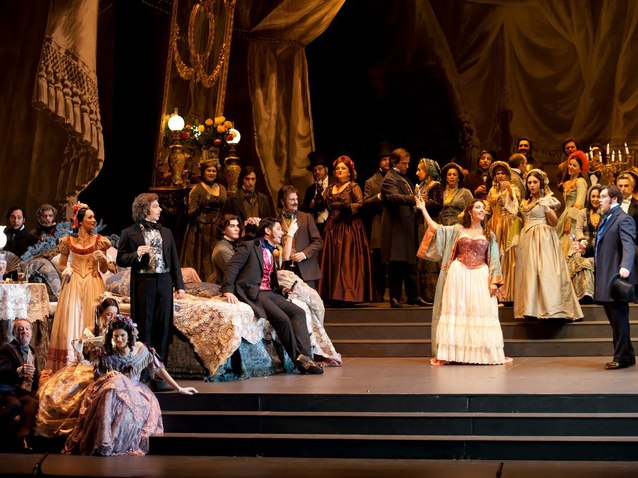 © DR
General informations
Composer:Giuseppe Verdi
Librettist:Francesco Maria Piave
Creation date:

1853

Creation place:

Italy

Acts number:

3

Original language:

Italian

Opera House of original production:Teatro La Fenice.
Original orchestration:

2/2/2/2- 4/2/3- timp, percu,- 2 harps- strings

Publishers:

Ricordi
Work description
La Traviata is probably one of Verdi's most popular works and perhaps one of the world's favourite operas. First, there is the libretto, which is delightfully melodramatic. Secondly, the music is simple and effective, admirably designed in its effects and theatrical in the most positive sense of the word. Finally, there are its themes, which were very popular in the 19th century, redemption through true love and fate, linked in this case to the image of a courtesan, a woman gone astray – a theme that introduces an eminently modern and romantic note to the drama. Violetta is a heroin straight out of a novel. What is moving about La Traviata is this focus on a single character, who carries the weight of the world on her shoulders, the raw power of her singing, her obsessive presence, her death for the sake of love and her agony written in the music.
Act 1
The intrigue starts with a party at Violetta's house, where a joyous crowd has gathered. A young man, who is new to the company, is introduced. He raises his glass and offers a toast to Violetta, a toast that is in fact a thinly veiled declaration of love…
Excerpt : « Libiamo »
When the last guests have left, Violetta finds herself alone. She admits that she finds Alfredo touching and explores her feelings…
Act 2
Violetta has given her heart to Alfredo and left Paris for a quieter existence. Now she lives in the country, happily by his side. But an unexpected visitor will soon put an end to this domestic bliss: Alfredo's father…
Violetta, torn with agony, is not strong enough to fight the cruel laws of social convention. A generous soul, she accepts to sacrifice her love for the future of a pure young girl, Alfredo's sister, knowing that in doing so she will soon die...
Act 3
Violetta has sacrificed herself and lost everything: her love, honour and Alfredo, who, understanding nothing, publicly denounces her. Her health also deteriorates. She finds herself alone, abandoned by all. Her only consolation lies in rereading the letter Germont has sent her, where he says he has revealed her sacrifice to Alfredo and he will soon come to see her. Her entire past comes flooding back...
Yet, echoing the words she has sung before: it is too late for Violetta. The emotion at seeing Alfredo once more, the inevitable progress of her illness...suddenly it all overwhelms her. The sound of the violins soars as Violetta sings the theme of their first encounter – E strano – and, as if in a trance, her voice rises to the heavens, towards the end of suffering and the beginning of joy – Gioia! is the last word she utters, before collapsing, dead.