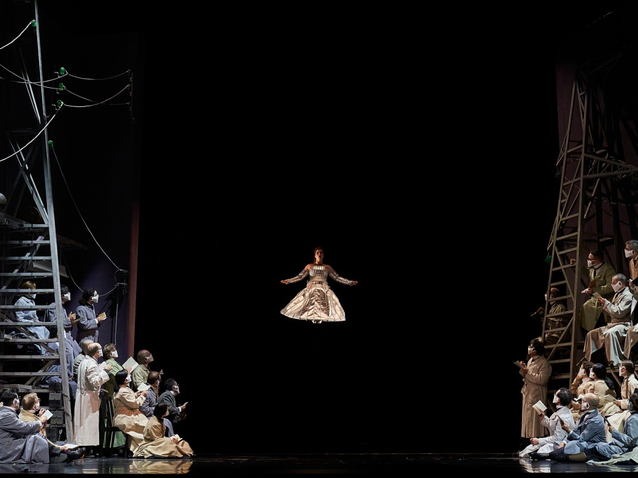 These aren't good times for new productions, theatres' pockets are empty and everyone makes do as they can.
For the performances of Les contes d'Hoffmann, Liceu had to rescue from the storage the production directed by Laurent Pelly, accredited Offenbach specialist. This same production was shown in Barcelona in 2013 and in a way it was already a re-elaboration of the work Pelly himself had done ten years prior for the Lausanne opera house with the same team (scenography by Chantal Thomas and dramaturgy by Agathe Mélinand).
Pelly's Hoffmann isn't new, but it is good. It is visually dark, oppressive, with blues and greys dominating, and deliberately references the troubling works by Belgian symbolist painter Leon Spilliaert (1881 – 1946).
The production, rather than looking at the jolly and lively Offenbach, is more orienteered towards E.T.A. Hoffmann, author of the fantastical texts which decisively influenced most of the 19th century's horror literature. Beyond narrating the impossibility of the poet's quest for love, it goes further to present Hoffmann as a paradigm of sorts of the artist as a needed neurotic.
Placing such a long piece in the described visual context could have resulted in a tedious and boring performance. Pelly resolves this with great skill through great scenic dynamism, with turning panels in constant movement, thus achieving an easy and agile narrative from the prologue, through to the three central acts and the epilogue.
Musically, this recycled Hoffmann achieved very high levels, especially in the voices. First of all, it is worth highlighting the great work from bass Alexander Vinogradov in the quadruple role of Lindorf, Coppélius, Docteur Miracle and Dapertutto, the four evil embodiments of the piece. This was a long and difficult role, which Vinogradov interpreted with a robust and assertive voice and a sophisticated stage presence; impressively Mephistophelian without going into caricature – as can often happen.
North American tenor, John Osborn was also great in the role of Hoffmann. This extenuating role requires resilience and easy top notes, and Osborn managed this and delivered in both solo and ensemble interventions with total confidence.
Ermonela Jaho was excellent as Antonia, the most difficult and demanding female role in the piece. She sang with intense expressiveness and dramatically filled the character well. Olga Pudova showed ease for coloratura in the rewarding role of Olympia and shone in the spectacular high notes Offenbach wrote for it. Nino Surguladze also did well in the role of the courtesan Giulietta. Elena Sancho Pereg delivered well and without any problems the role of Stella, the least remarkable of the female characters. The magnificent work of mezzosoprano Marina Viotti also deserves a special mention in the double role of La Muse and Nicklausse, a less splendid role than the tenor or bass, as it often remains in the background, but very long and demanding too.
The choir was ok, but despite the numerous interventions it had, in this occasion it didn't shine. The remaining secondary roles were very good. The orchestral sound was sufficient but didn't go beyond this.
Conductor Riccardo Frizza's very professional work ensured orchestral precision with meticulous detail in the entries and also balanced the orchestra with the voices as well as the voices amongst themselves with notable efficacy. His version of Les contes d'Hoffmann is quite solid.
Xavier Pujol
(Barcelona, 25th January 2021)
Les contes d'Hoffmann by Jacques Offenbach. Elena Sancho Pereg, soprano, Olga Pudova, soprano. Ermonela Jaho, soprano. Nino Surguladze, mezzosoprano. Marina Viotti, mezzosoprano. Laura Vila, mezzosoprano. John Osborn, tenor. Aleksander Vinogradov, bass. Francisco Vas, tenor. Alexey Bogdanov, baritone. Carlos Daza, baritone. Orchestra of Gran Teatre del Liceu. Choir of Gran Teatre del Liceu. Riccardo Frizza, conductor. Laurent Pelly, stage director and costumes. Agathe Mélinand, dramaturgy and libretto version. Chantal Thomas, scenography. Joël Adam, lighting. Production by Gran Teatre del Liceu, Opéra National de Lyon, San Francisco Opera, Deutsche Oper Berlin.
the 28 of January, 2021
|
Print