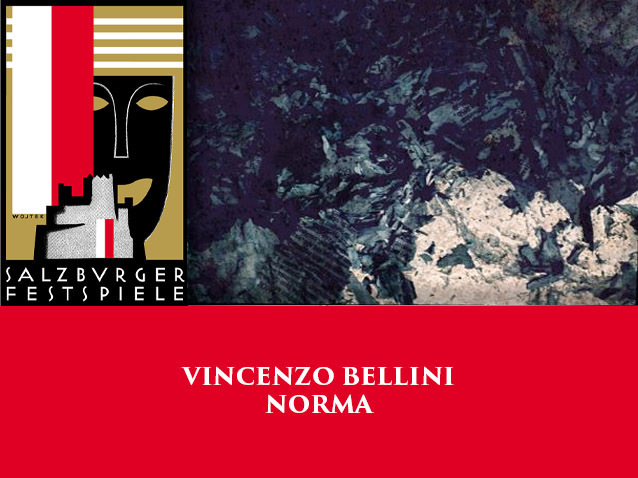 © Copyright all right reserved
Description
Revival of the production from the 2013 Whitsun Festival
'Bellini was, I believe, the last composer of opera fully to recognize that song was not just a means to a dramatic end but a magical power.' This statement by the musicologist David Kimbell describes a specific characteristic of Vincenzo Bellini's music that constantly fascinates us, particularly in Norma, his undisputed masterpiece. However, it should not be forgotten that it is this opera above all others which not only contains 'melodie lunghe lunghe lunghe' (as Verdi admiringly called them), but also has tremendous dramatic force.
Arthur Schopenhauer admired the 'truly tragic effect of the catastrophe' that emerges 'so purely motivated and clearly expressed' in the finale of Norma, while Alfred Einstein opined that 'anyone who comes away from a performance of Norma and is not filled to overflowing with the last pages of this act does not know what music is'.
The two creators of Norma drew on various literary models. However, at decisive points they diverge from their sources. In contrast to Alexandre Soumet's drama Norma ou L'Infanticide, on which the libretto is mainly based, the eponymous heroine of the opera is not portrayed as a second Medea. Although she intends to kill the two children she has with Pollione as an act of revenge after he abandons her, she ultimately finds herself incapable of performing the deed. Thus a realistic and touching portrait of a loving wife and mother emerges, of a woman who goes through all the highs and lows of emotion before she takes the final, superhuman step of sacrificing herself.
One of the most famous arias in the history of opera is Norma's prayer to the moon goddess, 'Casta Diva'. Like many other passages in the score, this scene can only unfold its charm if it is not misunderstood as a mere occasion for a virtuoso display of florid ornamentation. Although the expansive vocal line, the atmospherically complex interplay between protagonist, orchestra and chorus and the stylistically perfect entry of the coloratura meld suggestively into a perfect whole, the intention behind Bellini's art is not merely to be 'beautiful'; it is always subservient to expression, giving us an understanding of a figure on the stage who is often in thrall to extremes of emotion.
For co-directors Moshe Leiser and Patrice Caurier it is not a question of illustrating the construct of a fictional mythical character. Norma is the charismatic leader of a group of people who are waging a war of resistance against a superior occupying force. In succumbing to her passion for Pollione, the leader of the occupiers, she has betrayed her own people, but by ultimately admitting her guilt and sacrificing her own life she preserves her dignity. The story of this outstanding woman is being transplanted from a fantastical Gaul into a concrete historical epoch, thus making her tragic conflict comprehensible and touchingly immediate.
Konrad Kuhn
Translated by Sophie Kidd
More information is available on the opera house's official website.
Schedule
July 31, 2015 19:00:00
August 03, 2015 19:00:00
August 06, 2015 19:00:00
August 08, 2015 19:00:00
Work's characters list
Director
Director
Conductor
Pollione
Flavio
Oroveso
Norma
Adalgisa
Clotilde