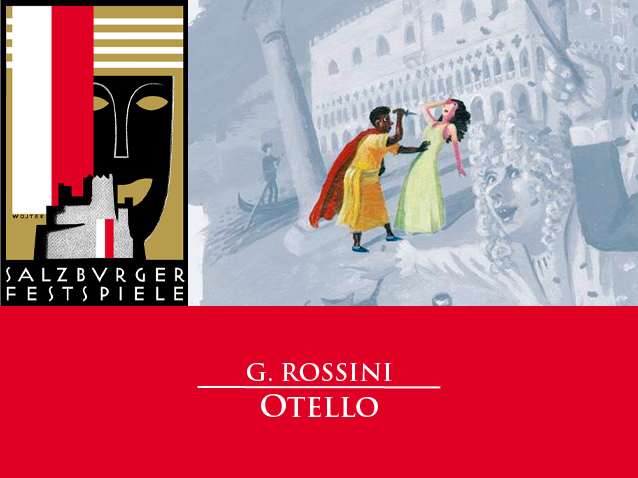 © Salzburger Festspiele - Jens Rassmus
Description
In cooperation with the Zurich Opera House and the Théâtre des Champs-Élysées
At the end of 1816, about nine months after Il Barbiere di Siviglia and six weeks before La Cenerentola, Rossini's opera Otello was given its first performance. It was such an impressive work that it stunned the famous Shakespearean actor Edmund Kean, and even fifty years later scared the great Giuseppe Verdi who was considering to write his own Otello. It is a huge challenge for the soloists – as it includes four difficult tenor roles and is therefore only rarely performed, but it is appropriate here as probably the most interesting representative of the genre "serious Rossini opera."
Unlike the later version by Verdi and Boito, which follows Shakespeare's text more precisely, Rossini's opera can be regarded as authentic to the effect that it treats the plot about love and jealousy as well as dealing with important Venetian themes such as the omnipresent racism, the political dimension – represented by the Doge and state ministers – and even the difficult father-daughter relationship. Desdemona is shown as a self-assured woman who resists the authority of her father and social conventions, and whose tragedy is reflected in the legendary final act with the song of the gondolier, the song of the willow, as well as in her prayer and death.
A rare opportunity to see this very interesting work on stage in a production by Moshe Leiser and Patrice Caurier. Jean-Christophe Spinosi conducts the virtuoso Ensemble Matheus, performing on period instruments to recreate the sound world of Rossini's time.
More information is available on the Salzburg Festival's offcial website.
Attend this production with our partner, La Fugue - Europera.
Schedule
June 09, 2014 16:00:00
Work's characters list
Conductor
Otello
Iago
Desdemona
Emilia
Roderigo
Elmiro
Doge