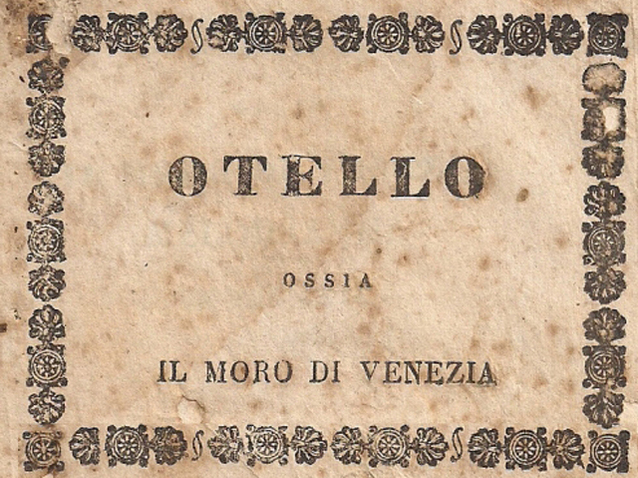 © DR
General informations
Composer:Gioacchino Rossini
Librettist:

Francesco Maria

Creation date:

1916

Creation place:

Italy

Acts number:

3

Original language:

Italian

Opera House of original production:Teatro Mercadante
Work description
Rossini's Otello, one of his last operas, was very freely and rather poorly inspired by Shakespeare's play in order to keep from horrifying and shocking public sensibilities. In this rather watered-down view, perfidy and jealousy are carried along by powerful and deeply expressive music. Otello, with its volcanic score "full of fire" according to Stendhal, received an enthusiastic reception for its belcanto qualities, its consistency and the power and emotion it expresses through the torment of love and Desdemona's painful renunciation, precursors to the torments of Bellini's heroines. The third act alone is regarded as an absolute masterpiece.
Summary
Otello is a drama of jealousy and human passions. The various jealousies include that of Iago, jealous of Otello's success and power; that of Rodrigo, in love with Desdemona; and that of the authoritarian senator Elmiro, blinded by wrath. But the blindest rancour is that of Otello towards Desdemona, which will prove fatal both to the young woman and to him.
Act 1
In Venice, Otello (tenor), vanquisher of the Turks, is hailed by the people.. He has secretly wed Desdemona (soprano), against the advice of her father, senator Elmiro (Baritone-bass), who prefers Rodrigo (tenor), the doge's son. Iago (tenor) and Rodrigo plot together to do the Moor in. Facing her father, Desdemona hesitates between duty and passion, when Otello bursts in and reminds her of her vow of eternal love. Hearing this vow, Elmiro curses her in front of the stunned assembly.
Act 2
Desdemona, shattered, confides in Emilia (soprano), her confidant, that she wants to return to her husband as quickly as possible.
The wicked Iago, who has intercepted a love letter from Desdémona to Otello, convinces Otello that she has been unfaithful to him. Made with jealousy, he wants revenge.
Rodrigo's arrival heightens Otello's wrath; he is challenging Rodrigo to a duel when Desdemona arrives. Both of them accuse her of infidelity. Otello wins the duel and Desdemona begs her father in vain to pardon her.
Act 3
In her room, Desdemona senses her approaching death and begs heaven to return her husband, banished from Venice, to her. She falls asleep before Otello shows up, armed with a knife. Awakened, she screams her innocence; Otello stabs her.
Elmiro and Rodrigo enter, informing him of the betrayal by Iago, who has just died. As Elmiro finally consents to give him his daughter, Otello, desperate over the enormity of his action, kills himself.