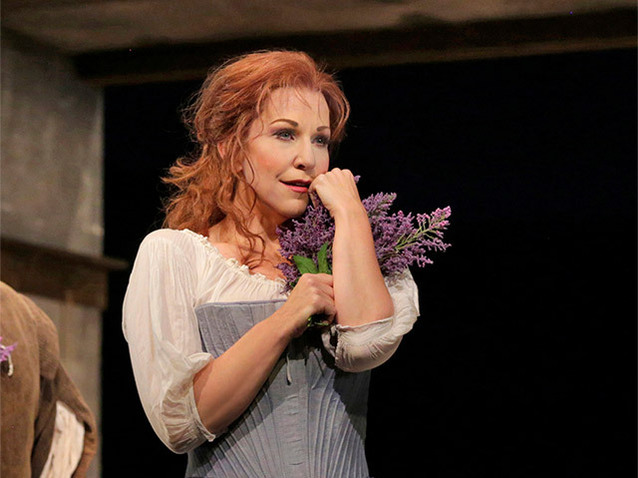 © DR
Strangely, it is the first run ever of La Donna del Lago at the Met, almost two hundred years after it received its premiere. One could argue that this operais rarely put on stage notably because it is an opera for very rare singers with natural Rossini voices able to reach every corner of a 3800 seats concert hall. However, the piece has been capitalizing some interest for the past five years thanks to two superstars who added some of the most difficult arias of this opera to their recital repertoire: Juan Diego Flórez and Joyce DiDonato. The Met reunited these two for a new production by Paul Curran and you could sense the excitement and see lots of familiar faces from the New York Opera circles in the house the night of the premiere. The audience clapped for both Flórez and DiDonato in the first minutes of the opera when they appeared on stage – yes, I mentioned excitement.
16th century Scotland is at war as the highlander clans are contesting the Scots monarchy. Elena (Joyce DiDonato) is secretly in love with Malcolm (Daniela Barcellona), a highlander soldier. Her father (Oren Gradus), authority figure amongst the highlanders and former tutor of the King, betrothed her to Rodrigo (John Osborn), their main leader. To make this situation a bit more complicated, Uberto who is the king of Scotland dressed as a soldier for most of the two acts (Juan Diego Flórez) falls in love with Elena at the beginning of the opera, while he visits her incognito.
Flórez and DiDonato both delivered what was expected of them – which was alreadya lot – and even more. Joyce DiDonato was perfect all night. She went through this impossible role with disconcerting ease, resonant nuances and beautiful legato. You could sense each line had been well thought of: the right energy was put in every single one of them. The duets with Juan Diego Flórez at the beginning of the first act were mesmerizing. Flórez was also fantastic and proved once again that he is the best Rossini tenor of his generation. His voice had great agility and opened up nicely in the high range, producing crystal clear and resonant high-Cs and Ds. He never seemed uncomfortable with Uberto's challenging part. John Osborn, as Uberto's rival Rodrigo, did not suffer from the comparison with Flórez. The role of Rodrigo is nearly impossible to sing as well but he still went for it bravely even if he seemed sometimes less at serene in the (very) high range, in his first aria ("Eccomi a voi") and in the impressive "tenor duel" ("Qual pena in me già desta"). His ring is at the opposite of Flórez's colorwise: it is softer, more grounded; having these two equally beautiful voices opposing themselves just felt right. Oren Gradus seemed a bit vocally constrained and got swallowed up a few times by the Metropolitan Orchestra and an energetic Michele Mariotti in the pit.
Rodrigo loses the duel. Uberto kills him, which leaves him with one rival left: Malcolm, sung by Daniela Barcellona, another specialist of her own role. Mrs. Barcelonna was also impressive: she acts as a solid and strong Malcolm. Her full voice captivated an audience that contained itself until it exploded in applause at the end of "Ah! si pera: ormai la morte!". Ultimately, Elena chooses Malcolm, the tough soldier, and not Uberto, the dashing, rich king. Because of the stage direction, the costumes and – let's be honest – Flórez's looks, this production makes Uberto / The King look like the character you should root for. Malcolm, far from being presented as the premier handsome soldier, looks as bulky and rough as his fellow highlanders. But Elena says it herself at the beginning of the first act: she is a simple woman. So be it.
The Met has been quite adventurous with its new productions since Peter Gelb took office, which is why it was surprising to see such traditional sets and costumes and such a static staging. Absolutely no risks are taken in this production. The costumes are historical: kilts and checked drapes for the most part but not for Uberto who gets to wear dashing leather / armor outfits. The set design is quite disappointing: two large black walls surround the scene on each side with three tall arches to let singers in and out. Unfortunately, these arches seem to swallow a lot of the sound produced on stage. In the back, video projections on a large curved screen show us a Scottish landscape where the sun rises slowly. The projection was not on focus the night of the premiere — probably an unwanted effect, but still disappointing. Moreover, in the early age of digital projection in opera staging this video already looked outdated. Most of the action takes place on a reclined piece of land made out of a dirt texture and some greens. This large piece can split in its middle to leave some space for the different sets. At the beginning of the first act, it opens to let Elena's house come from under the stage. In the first scene of the second act, it accommodates heads on spikes all over when Uberto sings his aria, "Oh fiamma soave". These heads surely symbolize the brutality of the awful civil war but also creates an awkward surrounding for this aria. Later on, the two parts open to reveal a bright red rectangle symbolizing the king's apartments, which also falls a bit short. The background screen finally disappears at the end of the opera to make space for an ornamented king's throne, only opulent and luminous set of this rather dark and deliberately dry production. Fortunately enough, Flórez's high notes and Joyce DiDonato's legato are known for echoing in your mind for days after heard.
Thibault Courtois
La Donna del Lago - Metropolitan Opera (February 16th)
the 23 of February, 2015
|
Print