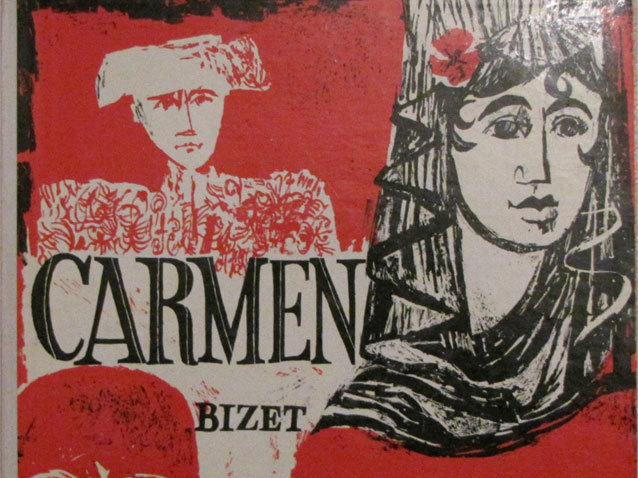 © DR
General informations
Composer:Georges Bizet
Librettist:

Henri Meilhac

Creation date:

1875

Creation place:

France

Acts number:

4

Original language:

French

Opera House of original production:Opéra-Comique.
Original orchestration:

2/2/2/2- 4/2/3- timp, percu,- 2 harps- strings

Publishers:

Choudens
Work description
By imagining, from the opening notes, music of breathtaking clarity and tragic power, Georges Bizet transformed Prosper Mérimée's Carmen into a sparkling and seductive femme fatale. The arias, duets, choruses and dances of this opéra comique - symbol of French Romanticism and one of the world's most popular operas - are not only heady, but represent a theatre full of life, where love is born and dies under the leaden sky of Seville, tinted by the garish colours of its ferias. From the very beginning there is a pervasive scent of spices and hot coals, a fascination with forbidden love and harbingers of an outcome that can only lead to bloodshed. For more than a century, French opera has been symbolised by the face of Carmen, a victim and predator, gypsy and barefoot princess, a free-spirited, modern woman.
Summary
Seville, Spain. Arrested after a scuffle, Carmen, a fiery gypsy, seduces the corporal Don José, Micaëla's fiancé, and promises her love if he lets her escape. Don José releases Carmen, and is jailed in turn for allowing her to flee. He finds her two months later among a band of smugglers. To win her love, José has become a deserter and, obsessed by his passion, he followers her, devoured by his jealousy. Carmen finally rejects Don José and Micaëla convinces him to return home, to the bedside of his dying mother. Carmen and Don José meet for the last time in the arena of Seville. While she waits for her new lover, the toreador Escamillo, José confronts Carmen, hoping to convince her to come away with him.  Desperate, Don José begs and threatens her, but she refuses to give in. He stabs her to death, before confessing his crime to the crowd.
Act 1
In Seville, in front of the barracks, Don José, Corporal of Dragoons and fiancé of Micaëla, a village maiden, is accosted by Carmen, who tears a flower from her bodice and throws it him after signing the Habanera:
Excerpt : « L'amour est un oiseau rebelle »
After a fight at the cigar factory, Carmen is arrested and Don José is in charge of guarding her. To escape, Carmen seduces him, promising José he will be her lover. Don José is sent to jail for letting her escape – but is determined to see her again.
Act 2
Two months go by. In Lilas Pastia's tavern, where the smugglers meet, Carmen waits for Don José, who has been freed. Meanwhile the arrogant toreador Escamillo is biding his time, waiting for his turn to be Carmen's lover.
Excerpt : « Votre toast, je peux vous la rendre »
Don-José is torn between his sense of duty and his infatuation with Carmen. She starts to dance for him, but then mocks him, claiming she does not love him. Don José falls at her feet and confesses his love.
Excerpt : « La fleur que tu m'avais jetée »
Act 3
Don José has joined the smugglers, which is the only we he can stay with Carmen, with whom he is increasingly possessive.Carmen realises she is in danger, because Don José's jealousy has become stifling.Micaëla has set out to find Don José.
Excerpt : « Je dis que rien ne m'épouvante »
Act 4
Carmen has broken off her relationship with Don José and now is in love with Escamillo.But she is aware that her fate is linked to Don José's destructive love.He is there, looking for his former mistress.Desperate since Carmen has left him, Don José begs her to return, but the gypsy will not give in:free she was born, and free she shall die!Furious at her indifference, Don José is filled with rage.He threatens her one last time, and then stabs her. C'est moi qui l'ai tuée, ma Carmen adorée…he confesses as he allows himself to be arrested.
Excerpt : « C'est toi ? C'est moi ! »