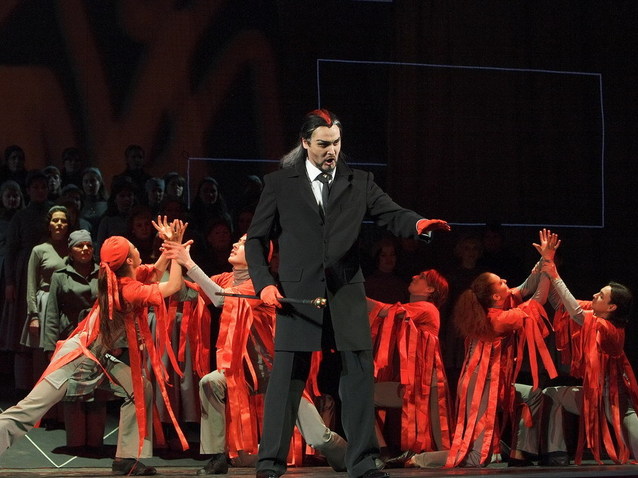 © DR
Work description
The music of Faust is a veritable treasure trove.Brilliant melodies embellish each scene, making this series of colourful tableaux a festival of "hits" – the "Jewel Song", "Soldier's chorus", etc.It is not surprising that Faust established the reputation of Charles Gounod and remains, with Carmen, one of the most widely produced French operas in the world. It is also characterised by richly expressive music, full of melodious caresses in the duets of Faust and Marguerite, of vibrancy and colour in the crowd scenes. As for Méphistophélès, he is a great and cynical sorcerer, who sets the rules of a game that is friendly at first, but degenerates into an infernal saga. Thus, the drama of Goethe has been cannibalised in favour of a romantic tragedy according to the canons of French opera.
Summary
Germany, in the Middle Ages. Doctor Faust is an aging scholar who is tired of life and fantasizes about ending it all. Suddenly, Mephistophélès, the Devil himself, appears before him. He makes a pact with Faust, guaranteeing him eternal youth in exchange for his soul. Fascinated by an image of Marguerite that the Devil has produced to convince him, Faust goes off to seduce her. She offers little resistance to his sumptuous gifts and romantic ways. Méphistophélès, of course, does not fail to follow him and anticipate his every desire. Seduced and abandoned by Faust, Marguerite kills the child born of their union. Imprisoned for her crime, she gives her life to save her soul and succeeds despite the efforts of the Devil to make her - like Faust - his creature.
Act 1
Tired of living, Doctor Faust wants to end it all. When he asks for infernal guidance, Méphistophélès appears, a sword at his side, a feather in his cap, and offers the scholar eternal youth in exchange for his soul. Méphistophélès tempts him with an image of Marguerite and Faust immediately accepts the pact. A young man once more, he tries to attract Marguerite's attention at a church festival, with his diabolical alter ego at his side, who sings to the glory the Golden Calf.
Act 2
Marguerite is courted by an adolescent boy, Siébel, and watched over by her overprotective brother, Valentin.But Faust can count on Méphistophélès to help him woo her: he leaves an exquisite jewel box at Marguerite's doorstep and then goes to wait in the garden. He seems to be deeply moved and charmed by the young woman.
Act 3
Marguerite is not indifferent to the young man she met at the festival:but who is he? She sings a melancholy ballad about the King of Thulé, before stumbling, astonished, on the jewels Faust has left for her. She hesitates before trying them on and admiring herself in the mirror. The necklace and earrings transform the modest young girl into a queen. She sings the famous "Jewel Song".
Act 4
Time has passed. Marguerite has been seduced and abandoned by Faust, leaving her with a child. Her only hope now lies with God. Marguerite goes to church to pray, but is stopped by Mephistophélès, who promises her she will go to Hell. It is not certain the Marguerite's brother Valentin can help her. He is unaware of what has transpired and has just returned from the war. Valentin's company sings a rousing military march, the famous Soldier's chorus.
Act 5
The final scene takes place in a prison, where Marguerite is being held after killing her child.She hallucinates.Encouraged by Mephistophélès, Faust tries to help her escape, but it is too late.Marguerite calls upon the angels, repulses her lover, and faints.Her soul has been saved – but Faust must follow Mephistophélès down to Hell.