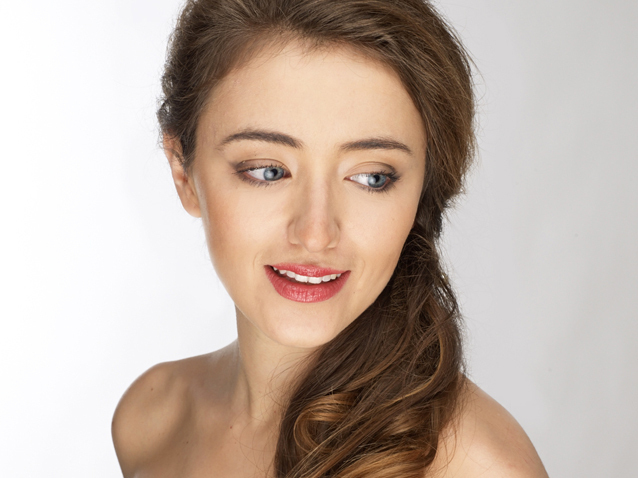 © DR
Agenda Professionnel
Dates
Roles
Places
the 24 of March, 2023
the 26 of March, 2023
the 28 of March, 2023
the 30 of March, 2023
the 16 of April, 2023
the 18 of April, 2023
the 30 of April, 2023
Biography
Giulia Semenzato concluded her Opera Voice Diploma at Conservatorio "Benedetto Marcello"  in Venice where she has studied with Silvia da Ros, Giancarlo Pasquetto and Silva Stella. Currently specializing in Baroque music at Schola Cantorum in Basel with Rosa Dominguez, she also attended masterclass and courses with Margareth  Honig, Paul Triepels, Christopher Robson, Cinzia Forte, Vivica Genaux, Gemma Bertagnolli, Roberto Pasquetto, M.K.Kiehr, Ana Rodrigo, E.Giussani, C.Miatello, P.Vaccari, F.Bertazzo Hart, A.London (Jazz).
Winner of the International Competition "Toti dal Monte" 2012 in Treviso with the role of Elisetta in Cimarosa's Matrimonio Segreto, she consequently debut  in Teatro di Treviso (2012), Teatro di Ferrara, Teatro di Rovigo (2013), Lucca and Ravenna (2014). She recently qualified as second place at the CESTI Singing Competition of Innsbrück 2014; she won the "Premio Farinelli" at Concorso Lirico Città di  Bologna 2013; second place at Concorso Barocco Fatima III  2013.
Winner at Concorso Città di Bologna as best baroque singer (Premio Farinelli); Second place at concorso Fatima III 2013 in Vicenza, In 2013 she sang Gloria by Vivaldi together with Sara Mingardo, directed by N.Valentini and a repertoire by Hasse with Junges Podium Dresden-Venedig (Vicenza, Padova, Venezia, Dresden, Berlin). In 2014 she sang some new rediscovered Cantatas by Stradella under the direction of René Jacobs at Fondazione Cini in Venice.
She took part to other producions as: Sandrina in Piccinni's "La Cecchina" (Teatro Donizetti di Bergamo 2011, Teatro Malibran 2010); Maria in Nino Rota's "I due timidi" (Teatro Malibran 2011); Maria in Berstein's "West Side Story" with Orchestra JFutura (2011); Zerlina in Mozart's Don Giovanni for Biennale Musica di Venezia (2010); Nicole in the contemporary opera "Il falso tradimento" by P.Semenzato (2012) . She was soloist for 2 years of the project "Orchestra barocca di Villa Contarini" directed by A.Bernardini and R.Goodman. Furthermore she sang in many other music festivals and events as:  Festival Grandezze e Meraviglie di Modena, Bologna Festival, "Il Carnevale dei ragazzi" della Biennale di Venezia, Asolo Musica, Sebino Festival, Festival MarzoOrganistico di Noale; in other theaters as Teatro Olimpico, Nuovo Teatro Comunale di Vicenza, Pantheon di Roma, Teatro Comunale di Treviso, Teatro Sociale di Trento, Teatro di Castelfranco, di Pieve di Soligo, L' aquila.
In july 2013 She took part to  the  Academie of the Festival Aix-en-Provence where she worked with J.M.Haimes and N. de Figuereido; she will perform in the main role of  Elena in "Elena" by F.Cavalli  in Theatre Opera de Lille, Lisbon, Renne, Angers, Nantes with the orchestra "Cappella Mediterranea" directed by L. Alarcon.
In July 2014 she sang the title role in opera Eritrea by F.Cavalli under S.Montanari at Teatro La Fenice.
Between the recent and next engagments we cite : Messiah with La Verdi Barocca in Milan with Juben Jais, Célia in Lucia Silla at Teatro alla Scala with Marc Minkowski and Marschall Pinkowski,  Abra in Juditha Triumphans at Teatro la Fenice with Alessandro de Marchi, a tour with Fabio Biondi singing Caldara, Proserpina in a new production of Luigi Rossi's Orfeo with Raphaël Pichon at the Opéra National de Lorraine in  Nancy and Versailles Opera Royal…
Giulia graduated in Law  (Bachelor) at Univerity of Udine (2012).