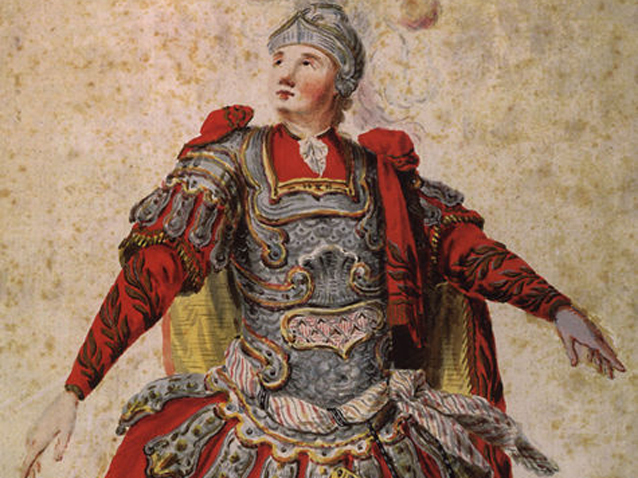 General informations
Composer:Wolfgang Amadeus Mozart
Librettist:

Giambattista Varesco

Creation date:

1781

Creation place:

Germany

Acts number:

3

Reference:

K.366

Original language:

Italian

Opera House of original production:

Cuvilliés-Theater

Original orchestration:

2fl, picc,2 ob, 2cl, 2fg,4cors, 2tp,3tbn,-timp-strings
Work description
"One of those works that even a first-class genius like Mozart manages only once in his lifetime."  That is how Alfred Einstein defined Idomeneo, King of Crete, Mozart's third venture into the "opera seria" genre, demolishing its traditional boundaries to open the way to lyric drama.After Mithridate (1770) and Lucio Silla (1772), blending youthful earnestness with mature mastery, Mozart uses – while profoundly changing – the elements of a genre based on arias that come one after another with no real concern for dramatic progression.The hero bound by an oath that forces him to sacrifice a loved one, a popular theme in the 18th century, offered him wonderful resources.As is demonstrated by the voluminous correspondence exchanged with his father during the brief and exciting genesis of this work, Mozart constantly sought to modify the original libretto, which he found disappointing, instilling in it a new theatrical dynamic through his musical innovations.The presence in Munich of the famous Mannheim Orchestra, considered the best in Europe at the time, contributed to the development of an exceptional symphonic richness.From the Overture on, the orchestra establishes itself as protagonist.The importance and expressive power of the choirs, inspired by Gluck's lyric tragedy, discovered in Paris, foreshadow The Magic Flute.Ilia and Idamante pave the way for Pamina and Tamino, while Electra, the dark fury, is given extraordinary prominence through the daring writing that characterises this forerunner to the Queen of the Night.Idomeneo, conceived to order for the famous tenor Anton Raaf, continues to attract great singers like Pavarotti and Domingo.This innovative opera was Mozart's first great success featuring the abdication of a king in favour of his son just as he was freeing himself from his father's protection.There have been three versions of the work:an initial score preceding the performance; the score used in 1981 at the Munich premiere, with deletions, and a version created at a revival in Vienna in 1786.
Summary
After the fall of Troy, King Idomeneo can finally dream of returning to his homeland after a long absence, during which his son Idamante ensured the continuity of his reign and guarded Trojan prisoners, including Ilia, King Priam's daughter.  To escape from a terrible storm that is keeping him from reaching Crete, Idomeneo promises Neptune to sacrifice the first living being he encounters upon landing.Unfortunately, it is his own son who greets him in his native land.By offering her own life in exchange for that of Idamante, whom she loves and who loves her, Illia manages to get Neptune to yield and to deliver Idomeneo from his fateful vow.
Act 1
Illia, daughter of King Priam, is held prisoner at the court of the King of Crete, Idomeneo, whose imminent return is announced after the end of the Trojan War. The young princess is distressed by her feelings for her enemy and jailer, Idamante, son of Idomeneo. Her passion is reciprocated. Idamante decides to free his Trojan prisoners to celebrate the long-awaited return of his father, provoking the jealous fury of Electra, daughter of Agamemnon, who came to Crete after her mother's murder by Orestes. Electra loves Idamante passionately and is fiercely jealous of her rival, Illia. For his part, hoping to escape a furious storm threatening his fleet, Idomeneo promises Neptune to sacrifice the first mortal he encounters on the shore. But when he lands safe and sound, it is his own son Idamante coming to meet him. Frightened, Idomeneo pushes him away and flees.
Act 2
Idomeneo reveals to his confidant, Arbace, the terrible vow hanging over his son. They decide to send Idamante away, asking him to accompany Electra to Greece. The young man despairs at the idea of abandoning Illia, his father and his homeland, while Electra is delighted to be able to reconquer the one she loves. But as they are about to depart, a terrible monster rises out of the waves. Neptune has foiled Idomeneo's ruse; Idomeneo offers himself in sacrifice as the frightened Cretans flee.
Act 3
Idamante and Ilia acknowledge their mutual passion. They are surprised by Electra and Idomeneo, who begs his son to leave. The angry people and the High Priest want to know the name of the one stirring up the gods' wrath. Idomeneo admits that he promised his son's life to Neptune. After defeating the sea monster, Idamante comes to offer himself as sacrifice. Just as Idomeneo is about to strike the fatal blow, Illia steps in and offers to die in his place. The voice of Neptune's oracle then resounds, demanding that Idomeneo renounce the throne in favour of his son, who will reign with Illia as his wife. Electra disappears, gripped by rage. Idomeneo fulfils the god's wish, and peace returns to his soul.