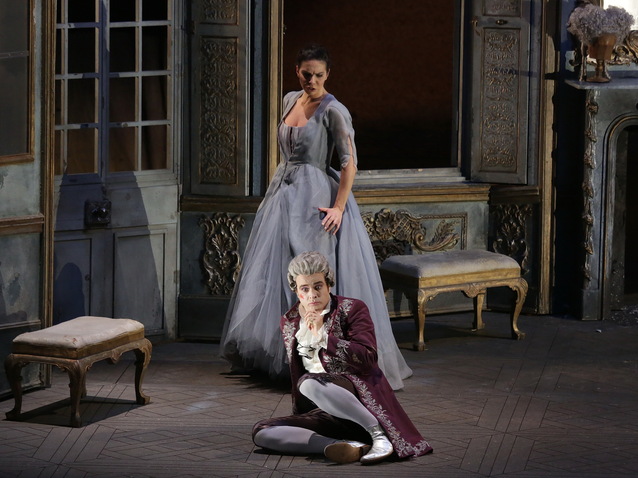 © Brescia/Amisano - Teatro alla Scala
It takes a special production to ensure listeners do not get helplessly lost in the messy operatic overgrowth of La finta giardinieria. Written by Mozart at the age of 18, the score possesses little of the trailblazing innovation that would characterise his mature operas. Conventional arias are joined together with tiresome stretches of recitative, in a dreary musical terrain that only occasionally lights up to flashes of musical genius. The story centres on Sandrina, a noblewoman disguised as a gardener, and her search for Belfiore, her lover, that one year earlier had almost-fatally stabbed her and fled. The characters are reunited and go mad, believing themselves to be Greek gods. If this absurd, rambling plot is to maintain our interest over the more-than-three hours that most performances clock up, directorial sleight of hand is required.
The latest person to have a go was Frederic Wake-Walker, the English director that in 2014 directed La finta giardinieria at Glyndebourne. La Scala Superintendent Alexander Pereira had been suitably impressed by what he saw there to commission a new Le nozze di Figaro from Wake Walker two years later, but the director's Milan debut was a flop and the production mercilessly booed on the opening night. Wake-Walker was given another bite at the cherry, however, when his Glyndebourne production of Finta was scheduled for a La Scala revival.
He fared much better this time round. Antony McDonald's elegant period costumes and decadent rococo sets cast a luxurious atmosphere, and Wake-Walker explores the central story of characters searching for their true identities with clarity. Arminda's preposterously melodramatic baroque poses illustrate her mannered artificiality in contrast with the uninhibited movements of Sandrina, who, despite being in disguise, is presented as the only authentic character. Peeling back to a state of nature becomes a key metaphor, as Serpetta removes layer after layer of clothing during an aria and, in the final act, the whole set disintegrates before our eyes, revealing the image of a garden behind. Cutting or repositioning a number of arias contributes to the overall sense of flow.
And yet the production never entirely convinced. While technically admirable, this is a deflated Finta. Tragic elements are overplayed in what ought to be a fizzy comedy, Wake-Walker opting for some odd directorial decisions such as to have Serpetta sing her minxy last aria from behind a black veil. For all of its logical coherence, the characters never come to life. It all feels more like a rigorous but vacant dramatic exercise than a Mozartian study of human emotion.
Disappointing vocal performances on the opening night did not help matters. Tenor Kresimir Spicer was a characterful Podestà, but his singing sounded pushed and unfocussed at times. An indisposed Hanna-Elisabeth Müller acted onstage as Julie Martin du Theil, drafted in at the last minute, sang from the wings. The Swiss-French soprano struggled on valiantly in circumstances that were clearly far from ideal. That did not make her perilously insecure delivery any more enjoyable.
It was difficult to take Lucia Cirillo's overwrought Ramiro seriously, and while Anett Fritsch had plenty of chutzpah as Arminda she sounded ungrounded vocally. In contrast, Bernard Richter sang with an attractive burnished tone but lacked charisma as Belfiore.
The only flickers of authentic Mozartian sentiment and humanity came from two of the smaller roles. Mattia Olivieri was a zealous Nardo, raising pulses in his maddened rally against the folly of love. Giulia Semenzato was a physically-imposing Serpetta and streamed through her arias in a voice that was focussed, supple and expressive. Diego Fasolis conducted La Scala's orchestra on period instruments in this latest instalment of the early music project launched at the Milan house three years ago. This was a performance shot through with classic Fasolian qualities: driving rhythms, beautifully spun lines and an exhilarating sense of spontaneity. Such engaging playing alone was almost enough to make up for an otherwise drab affair.
James Imam
Milano, 8 October 2018
the 12 of October, 2018
|
Print