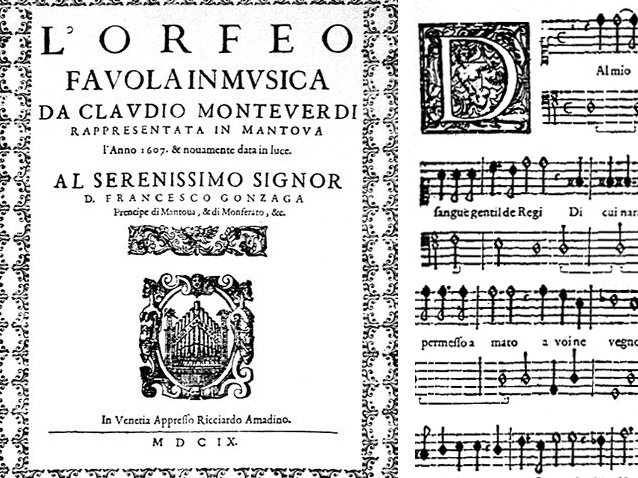 General informations
Composer:Claudio Monteverdi
Librettist:Alessandro Striggio
Creation date:

1607

Creation place:

Italy

Acts number:

5

Original language:

Italian

Opera House of original production:

Teatro di Corte dei Gonzaga
Work description
This is an exceptional work. First, because it is a masterpiece, but also because it is the world's first opera. From the outset, L'Orfeo is a perfect combination of theatre and music, representing an ideal for most opera composers. In a city of Florence shaped by Renaissance culture and just opening to the 17th century, Claudio Monteverdi was able to bring together, in a new dramatic form, all the musical means at his disposal. The end result is breathtaking, with arias that are either sung or recited, dances infused with music, rustic ensembles, moving choral lamentations and an orchestra dedicated to supporting the drama, depicting everything Orfeo describes, tells or suggests: a pastoral scene, the celestial vault, the gates of Hades… Finally, the work runs the full gamut of emotions: joy, fright, sadness, hope, light-heartedness – all the passions Orpheus transcends as he rises to the heavens. Music, as the Prologue explains, has the power "to draw the souls of men up to the heavens".
Summary
While shepherds and nymphs celebrate Orfeo and Euridice's love, Orfeo asks the Sun to bless their union. Filled with happiness, he sings to the trees, the gods, and even moves the stones to tears. Suddenly, La Messaggera appears bearing bad news. Euridice has been killed by a snakebite. Broken-hearted, Orfeo decides to follow his love into the Underworld. Guided by Speranza, he reaches the gates of Hades. Caronte is not moved by his singing and prevents him from crossing the River Styx. But when Caronte falls asleep, Orfeo sneaks into the Underworld. To reward his bravery, King Plutone releases Euridice, but on one condition. Orfeo must not look at her as he leads her back to the world. Orfeo and Euridice are not reunited for long. As soon as they are on their way, Orfeo gives in to temptation and looks back at Euridice, losing her forever. Wracked with despair, he decides never to love again, before his father, Apollo, takes him into the heavens where he can contemplate Euridice's likeness forever.
Act 1
On the enchanted fields of Thrace, shepherds and nymphs rejoice at the news Orfeo and Euridice are to wed. Orfeo, lyre in hand, invites the sun – the "Rose of the Heavens" – to witness their happiness.
Act 2
Orfeo and Euridice have sung of their happiness and, thanks to the music and singing, Orfeo has even moved the stones to tears. Suddenly the idyllic scene takes a tragic turn when La Messaggera enters, cloaked in black, bringing terrible news: Euridice has been killed by a fatal snakebite.
Act 3
Determined to use the power of music to petition Plutone, the King of the Underworld, Orfeo takes off in search of Euridice in order to bring her back to life. After being guided to the gates of Hades by Speranza (Hope), he encounters Caronte, ferryman on the River Styx, who bars his way. Orfeo uses his singing to move him, but without success. However, when Caronte falls asleep he manages to sneak into the Underworld.
Excerpt: « O tu, ch'inanzi morte… Possente spirto »
Act 4
In the Underworld, Prosperina, Queen of Hades, is moved by Orfeo's love and determination. She convinces her husband, King Plutone, to release Euridice. He agrees, on one condition: as Orfeo leads Eurydice back to the world, he must not look at her.
Act 5
In the end, Orfeo overcomes Hades, but is then overcome by his own passion. Orfeo turns around to see Euridice during his journey, causing her to disappear forever. Having lost all hope, Orfeo laments his loss. Never will he love again…But suddenly his father, the god Apollo, descends from the heavens and invites him to leave the world and join him.From the heavens Orfeo will be able to contemplate Euridice's likeness in the stars forever.