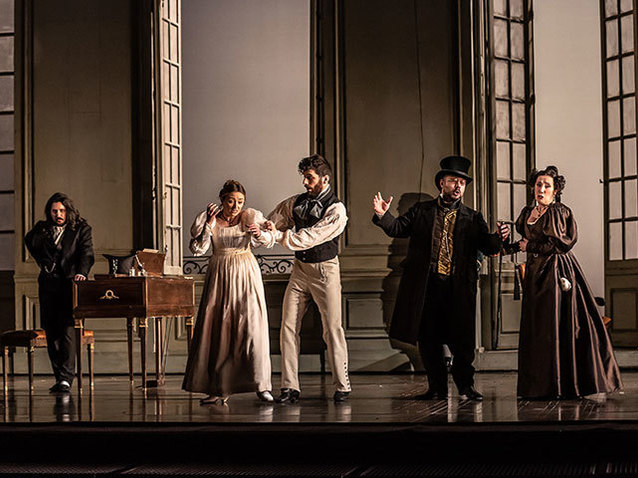 The Marriage of Figaro of 1786 is one of three operas on which Mozart collaborated with the librettist Lorenzo Da Ponte (the others being Don Giovanni and Così fan tutte). It is based on the second of Pierre-Augustin Caron de Beaumarchais' trilogy of Figaro plays, while the first was later to be immortalised by Rossini in The Barber of Seville. It centres on the day on which Figaro, valet to Count Almaviva, tries to wed Susanna, maid to the Countess. The womanising Count is intending to restore the droit du seigneur, an abolished feudal law that allows a lord to enjoy any female servant first on her wedding night, because he craves Susanna. Figaro and Susanna thus set out to outwit him as a youth named Cherubino causes havoc with his own promiscuous ways, the Countess feels completely unloved and neglected by the Count, and an ageing woman named Marcellina insists that Figaro marry her unless he can pay off his debt. It does have a happy ending, notwithstanding the fact it seems doubtful the Count will really change his ways, and it remains one of the most frequently performed operas in the world today.
Premiering in 2006 to commemorate the 250th anniversary of Mozart's birth, David McVicar's production for the Royal Opera now feels almost as much of a mainstay of the operatic repertoire as Mozart's masterpiece itself. McVicar updates the action from the 1780s to 1830s revolution-scarred Europe, with the palace standing in a state of decay. Its plaster-cracked interiors, courtesy of Tanya McCallin, may act as a metaphor for the Count's own wearying relationship with his wife, but the Spartan furnishings and bare walls suggest that the Almaviva dynasty has imploded and is living on borrowed time. The high walls do not exactly swamp the performers, but there is a sense in which everyone is scuttling around a place that is about to be overwhelmed by outside forces. Such external powers may be represented by the sunlight that floods through the vast windows, with Paule Constable's lighting designs making the pale yellow hues feel remarkably realistic. In this way, although there is an element in which Figaro is turning the world upside down as he outwits his master, it may also be that he is an integral part of this traditional set-up and will not so much overthrow, as fall with, it.
The world the Count currently inhabits is certainly rendered in great detail. Servants and maids scuttle around the hall during the Overture, getting up to all sorts of mischief and only upping their pace of work when the housekeeper is in sight. They subsequently appear in scenes as they go about their normal business, or listen in on conversations, and bring an extra visual dimension to the evening while never proving excessively distracting.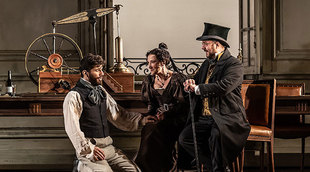 Riccardo Fassi, Monica Bacelli, Gianluca Buratto - The Marriage of Figaro (c) Clive Barda, Royal Opera 2022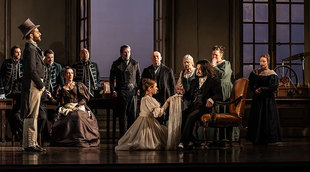 The Marriage of Figaro (c) Clive Barda, Royal Opera 2022
Every time this production is revived, the principals tend to introduce new touches or apply their own style to actions that already exist, and that is certainly the case with the current crop. Around half of them are Italian, which means they are singing in their native tongue, and this does help bring a natural feel and sense of authenticity to the proceedings. The result is a highly pleasing revival, conducted superbly by Sir Antonio Pappano, that has quite a different ambience to many of its predecessors. It has less of a heavyweight feel to it, with the lightness of touch applied to the movement producing its own dividends. Some of the jokes do not hit as hard, or possess the same level of bite, as they have done before, but there is often a greater level of slickness to them so that they prevail as part of a smooth overall performance. This is a revival that very much invites us to come in and encounter the characters, as opposed to them bursting out to meet us, and that creates a highly intimate and engaging environment in its own right.
The principals are uniformly strong, which also aids the smoothness of the evening as there are no elements that feel as if they drag it down. Riccardo Fassi has just the right sense of blustery swagger as Figaro with his bass proving smooth and secure all evening, and certainly strong when it needs to be. The same might be said of baritone Germán Enrique Alcántara who makes the Count just a tad less brutish than in many portrayals. Cutting a dashing figure, he can still be thuggish and fall back on his position when he needs to, but he clearly likes to think he is desirable and that women would naturally fall for his charm.
Giulia Semenzato as Susanna combines a sweet voice with some astutely observed gestures to create a character who goes about achieving things in a quiet, methodical way, yet who always remains sympathetic. Federica Lombardi is a wondrous Countess with both the fragility and resolve she suggests in 'Dove sono' making the aria extremely moving and her characterisation nigh on perfect. Hanna Hipp is an excellent Cherubino, capturing his boyish persona so well that the character indeed looks awkward when dressed as a girl, and delivering a spine tingling performance of 'Voi che sapete che cosa è amor'. Gianluca Buratto also stands out as Dr Bartolo for both the power and alacrity shown in 'La vendetta'. There is superb support from Gregory Bonfatti as Don Basilio, Monica Bacelli as Marcellina, Jeremy White as Antonio and Alasdair Elliott as Don Curzio while Helen Withers, replacing Alexandra Lowe as Barbarina on the night I attended, gives a beautiful performance of 'L'ho perduta' as she really makes the minor key in which it is written count. Christopher Willis conducts on 25 and 27 January.
By Sam Smith
The Marriage of Figaro | 9 - 27 January 2022 | Royal Opera House, Covent Garden
the 13 of January, 2022
|
Print