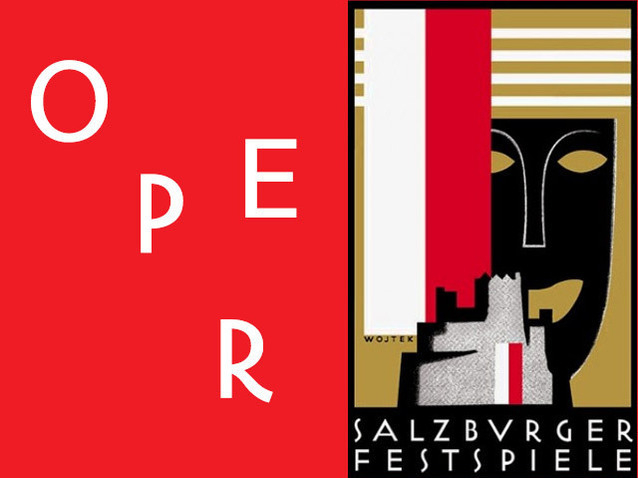 © DR
Alexander Pereira has already left, and Markus Hinterhäuser has not yet arrived:the Salzburg Festival, between two seasoned directors, is going through a two-year transition.  This first year between the two directors, which is also a return to financial reason after the sumptuousness of Pereira's brief term, is seeing a sea change in terms of opera:although the revivals of previously done productions had been prohibited by Pereira, this year admirers of great voices are getting a second chance to see some of the most successful shows from the past few years.
That is the case for Verdi's Il Trovatore, more than half a century after the previous production produced and directed by Herbert von Karajan:the staging by Alvis Hermanis, halfway between modernity in terms of the concept and the splendour of Renaissance costumes, did not necessarily win everyone over last year, but you only need to say the name Anna Netrebko to ensure that seats will sell out fast.Netrebko, who has Austrian citizenship, has been one of the Festival's queens for years now:regardless of who the director is, every edition includes a production staged for and around her.This year she is back with Plácido Domingo, in his baritone guise:last year he was only able to sing at the first two performances, so public expectations will be high.
Another queen of the Festival, Cecilia Bartoli, is bringing with her a revival of Bellini's Norma, created just for her at the Pentecost Festival, which she has directed here at Salzburg since 2012, and already presented in 2013; as always, the effective, modern staging by Moshe Leiser and Patrice Caurier is made to order.For musical interpretation, the singer was behind a musicological effort on the score that offers new and exciting perspectives, with the challenge fully accepted by Giovanni Antonini: no one is going to forget the dazzling intuitions of Maria Callas because of it, but anyone who loves this work would be well advised not to overlook this reinterpretation.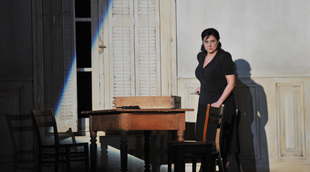 Cecilia Bartoli is not the type of singer modern audiences are used to hearing as Norma. La Scintilla isn't the sort of orchestra we're used to, either, and the Biondi/Minasi edition of the score used for this production includes surprises even for experienced Bellini aficionados. It's daring to re-interpret the music of such a popular opera, but this project has clearly been painstakingly researched and carefully put together. In the hands of a superbly talented cast and a thoughtful directing team, this Salzburg Festival production convinces. - See more
Finally, Der Rosenkavalier, the festival's signature work, returns to the stage of the festival's Great Hall, where it was first introduced in 1960: widely hailed as the greatest success of the summer of 2014, the balanced production by Hans Neuenfels is this time turned over to Franz Welser-Möst, with a cast headed up by Krassimira Stoyanova and Sophie Koch.
But, of course, however brilliant they may be, a festival like Salzburg cannot rely solely on revivals.These new productions – in contrast with Alexander Pereira's practice - are not co-produced with outside opera companies:they may be revived, but they will not be seen anywhere but in Salzburg.For Pentecost this year, Cecilia Bartoli is taking on a French work, Gluck's, with the same director duo, and the show will be returning each year to the summer festival.It is admirable that the heroine of the evening does not give in to the temptation to shine amongst the lesser luminaries:her Pylade will be Rolando Villazón, back from his past wanderings, and her Oreste is one of today's finest baritones, Christopher Maltman.
Jonas Kaufmann is going back to the Germanic repertoire, with a role he has sung often before, from the Palais Garnier to the Munich Opera:in this Fidelio placed in the hands of stage director Claus Guth, he will be singing with Canadian Adrianne Pieczonka, as well as Ludovic Tézier. In the pit, Franz Welser-Möst will bring out the opulent colours of the Vienna Philharmonic; with Mozart and Strauss this year, Welser-Möst will be focusing on the greatest classics of his repertoire.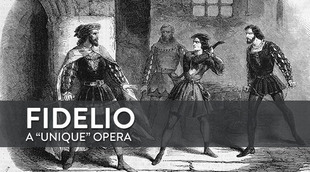 Fidelio is the only opera composed by Ludwig van Beethoven. No score was so frequently reworked by the composer who, with his customary obstinacy, managed to make his work a success by defying events, censorship and failure. "This opera will earn me a martyr's crown," Beethoven said of this hymn to freedom and marital fidelity. Another unique aspect:this unique lyric work celebrates the victory of an exceptional woman who embodies courage and moral strength in the face of arbitrary despotism. See more...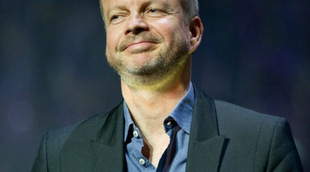 Beginning 4 August, the Salzburg Festival give a new production of Fidelio, the unique opera of Beethoven, with Adrianne Pieczonka and Jonas Kaufmann in the lead roles. A new production directed by Claus Guth, whom is praised for the accuracy and the theatrical dimension of its adaptations. We analyze the work of this effective storytellers in opera. - See more
Since Gerard Mortier took over direction of the festival in 1992, a "modern" opera, or the creation or revival of a recent opera, has been one of the cornerstones of the festival's programming:Even before he took up his post, Alexander Pereira had commissioned his first opera from György Kurtág, based on Beckett Endgame:first announced for 2013 and then for this year, it will not be seen until 2016 if all goes well, for the composer's ninetieth birthday.He therefore decided to replace it with one of Wolfgang Rihm's first successes, The Conquest of Mexico, dating from 1991; Rihm, who is undoubtedly one of the most productive composers of operas, is interested not so much in the "big story" of the conquistadors but rather in a mental universe, that of the conqueror and the conquered, for which Rihm took inspiration from the lively prose of Antonin Artaud.Although contemporary, this opera is not wanting for famous singing stars, as the work's two main roles will be played by Bo Skovhus and Angela Denoke.
Mozart is of course present in his own native city: The Marriage of Figaro was the biggest success of the Mozart/Da Ponte trilogy created between 2006 and 2009 by Claus Guth; it is not surprising that it was staged last in the trilogy presented since 2013 by Sven-Eric Bechtold, a member of the festival's interim executive board (the trilogy will be reprised next year).Directed by Dan Ettinger, a close friend of Daniel Barenboim, the performance will be dominated by two true aristocrats of the stage, Luca Pisaroni and Genia Kühmeier.If that isn't enough, you will have to go on a Saturday or Sunday morning to the Mozarteum for the traditional Mozart Matinées – there you will find some of his symphonic masterpieces as well as fine singing, with Bejun Mehta and Anett Fritsch; the lively and warmly earthy Mozart of the Mozarteum Orchestra is one of the best things offered each year during the Salzburg summer.
Still on the opera side, but without the sumptuous theatre, the Festival is presenting some operas in the concert version, as it always does.Aside from Thomas Hengelbrock's plans for Purcell's Dido and Aeneas, the big repertoire is being featured this year:First Verdi with the rare Ernani, conducted by a conductor who sees himself as third violin as Karajan's heir.
The work can get by without a stage set, and Riccardo Muti's tastes in this area are no longer very up to date:the theatre will therefore be music only, with an orchestra of young musicians trained by Muti, and equally young voices: Francesco Meli will be going from Trovatore to Ernani at the end of August, and he will appear with a Muti protégée, Korean-born Vittoria Ji Won Yeo.On the other hand, the Festival is featuring Massenet's Werther for the first time on the bill: Piotr Beczala and Elīna Garanča, directed by Alejo Pérez, will undoubtedly make the trip worthwhile for many in the audience.
But Salzburg is not just opera:they also singer lieder and melody, with Christian Gerhaher, Maria Agresta, Elīna Garanča, Matthias Goerne and Juan Diego Flórez; there is also sacred music, this year with guests from India as well as some great moments in Western sacred music, like Hayden's Creation with Marc Minkowski and a mass and the oratorio Lazarus by Schubert.Beyond the well-trodden paths, you will absolutely want to keep an eye out for the recital given by Anna Prohaska in the Kollegienkirche, close to the main halls:not only will you discover a somewhat rare repertory from the Baroque era but also a true craftswoman, for whom each word is carefully considered so as to move the audience.On the orchestra side, there is of course the Vienna Philharmonic which, when not in the pit, occupies the stage of the Festival's main hall.It is known that this orchestra is quite happy to turn to its own past, and this year it is debuting a cycle dedicated to the many works it has been responsible for creating since it was founded in 1842; these include Brahms, Mahler and Richard Strauss, along with a rarity like The Frescoes of Petrarch by Bohuslav Martinů.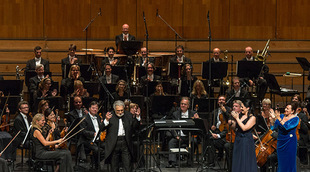 Plácido Domingo's long reign as operatic royalty shows no sign of ending. In a concert celebrating forty years at the Salzburg Festival, he and his friends wowed an appreciative crowd with a well-chosen and expressively delivered program. - See more...
Nor is France underrepresented in this concert-filled season:aside from Werther and Iphigénie, and aside from Marc Minkowski who conducts here every year, the festival is devoting a very substantial retrospective of today's most famous French composer, Pierre Boulez, with performers like Daniel Barenboim and Sylvain Cambreling, as well as the Ensemble Intercontemporain.A contemporary touch in a festival that is not just the world's most prestigious, or the most expensive, but also the richest in terms of the diversity of what is offered to audiences.
the 06 of August, 2015