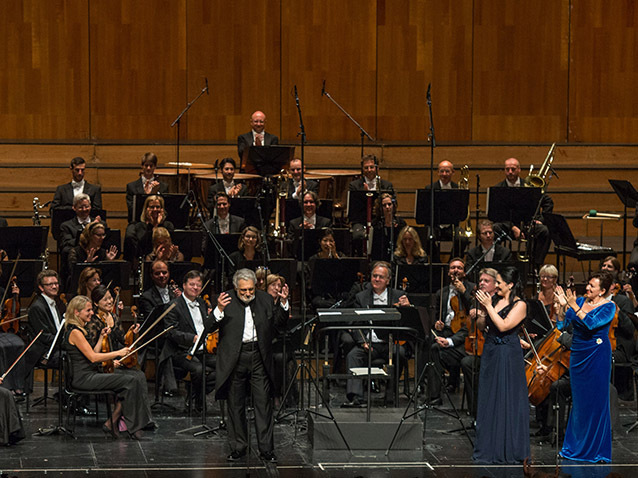 © DR
Plácido Domingo's long reign as operatic royalty shows no sign of ending. In a concert celebrating forty years at the Salzburg Festival, he and his friends wowed an appreciative crowd with a well-chosen and expressively delivered program.
Especially for a concert performance, the drama received an unusual amount of attention. The show opened with an atmospheric, icy prologue from the second act of Giordano's Siberia, played by the fabulous Munich Radio Orchestra. The strings energetically sawed away until the music mellowed into sweetness. Then, a pause. The suspense built (and conductor Gianandrea Noseda looked puzzled) as the evening's star took his time to saunter onstage. He justified the thunderous applause that greeted his entrance with his first aria, 'Nemico della patria' from Andrea Chénier. He used the space, pacing and gesticulating in ways that were communicative but still natural. He also showed a wide range of vocal textures, spitting some words out and barely whispering others. A hint of a wobble was noticeable at both end of his range, but for the most part his sound was strong and pure.
Domingo's switch to baritone repertoire isn't always convincing in the context of fully staged operas. Here, with the freedom to pick individual scenes and arias, he seemed at home with his new fach. He has gravitated towards fatherly roles, and he sang Germont, Boccanegra, and the Doge with lyricism and feeling. But his most exciting piece came from a role he recently debuted, Verdi's Macbeth ('Perfidi! All'anglo contro me v'unite!... Pietà, rispetto, amore'). Extreme dynamic choices provided great dramatic contrasts, but Domingo shone most because of the scene's psychological complexity, which he handled with nuance.
He clearly chose his collaborators for their dramatic as well as vocal abilities, but not all were quite as subtle as Domingo. Rolando Villazón delivered a melodramatic 'Èla solita storia del pastore' from L'arlesiana with such a tragic air it was funny. His overacting also led him to introduce many unpleasant aspirates into his sound. His voice was in great shape, though, with sweet and light top notes. His acting was more on point for his final duet with Domingo, 'In un coupè… O Mimì, tu piùnon torni'. The two lovestruck artists' banter at the beginning of the scene was especially comical because Domingo kept trying to enter on Villazón's parts (hard-to-shake memories of his tenor days as Rodolfo, perhaps). Their voices didn't blend particularly well in the louder moments, but they had lovely onstage rapport, and it was indescribably sweet when Villazón rested his head on Domingo's shoulder at the end of the piece.
Three sopranos with beautiful and distinctive sounds each sang a solo aria and a duet with Domingo. Maria Agresta showed flawless legato and a rich, glowing tone with glorious top notes during 'Tu che di gel sei cinta' and as Lucrezia in a scene from I due Foscari. Her sound has a tad too much edge to mesh well with Domingo's. Krassimira Stoyanova's tone matched his the best, and their voices floated perfectly together at the end of their scene from Simon Boccanegra. Stoyranova also delivered a stunning 'Pace, pace, mio Dio' full of sudden and surprising dynamic contrasts and a consistently shimmering, strong core sound. Her onstage dramatic style was more internal than the other singers', but her voice was hugely expressive. Ana Maria Martínez didn't initially impress as Violetta, with a covered sound that lacked warmth and depth. However, her voice opened up as the scene went on to reveal lovely spin and shine. Her solo 'Ernani!... Ernani, involami' showed off skilled crescendos and descrescendos and precise, smooth coloratura.
Conductor Gianendrea Noseda had the unenviable task of dealing with singers who always had their backs to him. He managed remarkably, and the orchestra and singers were nearly always well-coordinated. Only on rare occasions (such as in the Boccanegra duet) did the orchestra get a tad overenthusiastic and prevent the singing from being audible. Tempo choices were also solid, with a too-lugubrious Don Carlo scene being the only notable misstep. The instrumental pieces were particularly exciting and showed off the orchestra's strengths. In the Forza del destino overture, the brass, strings, winds, and harps each made the most of their chances to shine. The Luisa Miller overture had a clear overall dramatic arc and was delivered with energy and precision. A special mention goes to the cellists for their excellent plucking and to the percussion for sheer enthusiasm. But the strings proved themselves the stars of the orchestra in an intensely lyrical intermezzo from Manon Lescaut.
The program's tight focus on Verdi and those who attempted to succeed him gave the evening historical and musical continuity while still allowing for a range of styles. All singers' Italian diction was sadly mushy (especially for an all-Italian program!), but texts were provided in the program so it was possible to follow along. In the end, the largest disappointment was the lack of encores—we got only the traditional 'Brindisi', with Domingo returning to his tenor roots to sing some of Alfredo's bits. It was a wonderfully ebullient performance, with the audience encouraged to sing the choruses and even the director stepping in for a line ('È il mio destin così'). In apology for not offering more encores, Domingo explained that he needed to take it easy because he has been singing in Salzburg for 40 years and 'would like to sing for many more'. May his wish come true!
Ilana Walder
the 31 of July, 2015
|
Print