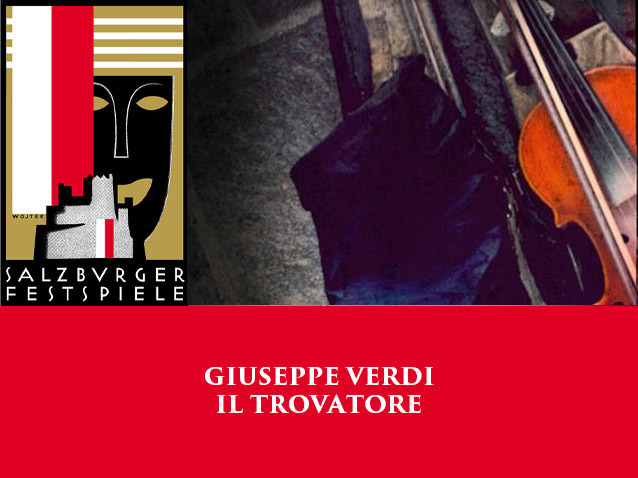 Description
Revival
Unaware that they are brothers, two men engage in mortal combat; fate interweaves this story with that of two strong women. In his Trovatore, Verdi depicts emotional extremes with disconcerting sound-worlds, vocal brilliance and opulent tableaux – all in aid of a plot that could not be darker. The suggestive effects of his music, oscillating between unfathomable horror and unearthly beauty, brought Verdi worldwide popularity.
The scenes are arranged according to a sense of strict geometry. Central to them all are large-scale narratives that evoke the distant past and provide a background for Verdi's examination of the elemental emotions of love, jealousy, hatred and revenge, emotions to which the protagonists all fall victim, so blindly are they in thrall to their passions: Leonora prefers to die for the sake of her love; Azucena is consumed by a desire for vengeance that triggers the action of the drama and motivates each of her actions; Manrico is so overcome by jealousy that he accuses the dying Leonora of being unfaithful; and the Count, ignorant of the true circumstances, kills his own brother out of his feelings of hatred.
Director Alvis Hermanis, who could not imagine taking the story of the Troubadour out of its historical context, has set his production in a museum – a place where the past has a special life and reality of its own. He is particularly fascinated by the people who work as tourist guides or museum attendants in such places: 'It is interesting to observe them, and we can only imagine what is going on in their heads. It isn't unusual to see how much they identify with the paintings in their care and the people portrayed in them, almost identifying with the subjects when describing the pictures, or even falling in love with them. Our production of Il trovatore begins at the end of a day in a museum at an unspecified location. With the exception of Manrico, all the characters in the plot are employed in this museum. We initially experience them as they go about their daily work, until the museum closes and night falls. Their realities begin to merge. Do the pictures come to life, or is it the protagonists who are dreaming their way back into the past?
In my opinion, paintings still carry on their surfaces the reality of the time in which they were created, even if, as in the case of the paintings in "our" museum, they are marked by the passage of 500 years. A museum space functions like a time machine, bringing the past back to life and arousing in us feelings of nostalgia for a history that is disappearing. And just as Verdi focuses increasingly on the emotional scale and demonstrates the close connection between love and death, the actual plot is no longer relevant – space and time are dissolved.'
Ronny Dietrich
Translated by Toby Alleyne-Gee
More information is available on the opera house's official website.
Schedule
August 08, 2015 19:30:00
August 11, 2015 20:00:00
August 14, 2015 20:30:00
August 17, 2015 20:00:00
Work's characters list
Director
Conductor
Il conte di Luna
Leonora
Azucena
Ines
Manrico
Ferrando