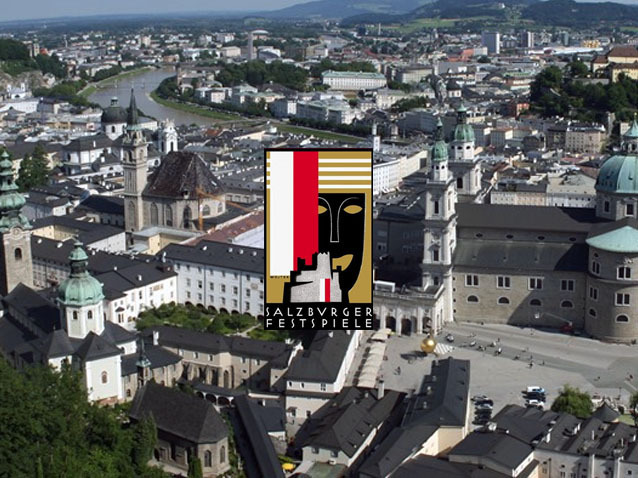 © DR
For the Salzburg Festival, 2016 will be the second and final year of transition from Alexander Pereira, who left to go to La Scala, and Markus Hinterhäuser, appointed to restore some of the dynamism that was stifled by the constant changes in direction over the past fifteen years.The opera programme appears to be quite a cautious one, limiting artistic risk-taking as much as possible: a good portion of the people of Salzburg will certainly be there, and there will be no shortage of stars. Mozart is being featured, with a reprise of the "da Ponte trilogy" staged by interim director Sven-Eric Bechtolf, with no fewer than six performances of each opera: Bechtolf's production is fairly trivial, but you will be able to hear Luca Pisaroni, Anna Prohaska and Michael Volle, and Frenchman Alain Altinoglu will conduct the Vienna Philharmonic in Don Giovanni.
As it does every year, the festival will also reprise the staging for the Pentecost Festival by Cecilia Bartoli.After Norma and Giulio Cesare, the Roman mezzo made a choice much further removed from her usual repertoire: it's West Side Story, the most famous musical ever, which will be played for the first time at the Festival.Bartoli herself will be Maria, lyric tenor Norman Reinhardt will be Tony, and a favourite of Salzburg audiences will be in charge of the orchestra:Gustavo Dudamel will conduct his Simón Bolívar Orchestra.The price for seats – up to €430 – is certainly a first for this work, but the Salzburg public have seen others and will certainly fill the hall.
In terms of what's new, the mandatory contemporary opera will be a debut:after The Tempest, which was staged at, among others, the Royal Opera, the Met and Vienna, Thomas Adès will adapt Luis Buñuel's Exterminating Angel, in a production by Tom Cairns.In addition to the curiosity value of this debut, it's worth seeing simply for the best casting of the Festival:Of the 19 announced roles, we may note, among others, Anne Sofie von Otter, Sally Matthews, Charles Workman, John Tomlinson and Thomas Allen.
Aside from this debut, there are just two new productions on the Festival's bill.The Festival had never yet scheduled Gounod's Faust, which, truth be told, is not really within the Festival's tradition.Of course we remember his Roméo et Juliette planned in 2008 for Anna Netrebko and Rolando Villazón:only the latter was present in 2008; Netrebko would not sing it until 2010 with Piotr Beczala. Beczala is back again for this Faust, but Maria Agresta will be Marguerite (Anna Netrebko, who was to make her debut as Marguerite at the Royal Opera in 2014, withdrew from the role). Decorator Reinhard von der Thannen, a close associate of Hans Neuenfels, has been chosen to stage the production.More expected as part of the Salzburg tradition but far more rare on today's stages, Richard Strauss's Die Liebe der Danae which debuted in Salzburg in 1952, after the composer's death, and eight years after cancellation of its first performance (replaced by a simple dress rehearsal) in the context of the imminent collapse of the Nazi Empire.This timelessly ambitious work, written for the most part before the war (and hence before Capriccio), poses virtually insurmountable difficulties for its performers:we therefore need to wish for steady nerves for Krassimira Stoyanova (a celebrated Maréchale in Der Rosenkavalier the past two summers) and Tomasz Konieczny who, under the direction of Franz Welser-Möst and the staging by Alvis Hermanis, will be Danae and Jupiter.
But the Festival also has an old and lively tradition of concert-version opera performances, and fans of great voices will be particularly pampered this year.Her admirers will be able to hear Anna Netrebko at three performances of Puccini's Manon Lescaut. For Plácido Domingo, the Festival is offering a unique evening with Massenet's Thaïs, alongside Sonya Yoncheva.The one true rarity of the summer is Il Templario, an opera in Italian by Otto Nicolai, whose only well-known piece is his German comic opera, The Merry Wives of Windsor, first performed in Turin in 1840, at the height of the bel canto era (the same year as the debuts of La fille du régiment and La favorite!), Il Templario should be a festival of voices, with Joyce di Donato and Juan Diego Flórez sharing the top billing.In the orchestra pit, under the baton of Andrés Orozco-Estrada, the Vienna Philharmonic will happily pay homage to this somewhat forgotten composer who, in 1842, founded the orchestra.
As always, these Salzburg concerts also provide an inexhaustible choice of chances to hear great voices.This is true of the significant sacred-music programming, including g a very stimulating series featuring musicians from the court of the archbishop of Salzburg, Michael Haydn, Mozart and Biber.It's also true, of course, of the series of recitals, with Liederabende by Christian Gerhaher, Matthias Goerne and Thomas Hampson, and with Italian melodies by Rolando Villázon or baroque cantatas by Bejun Mehta; on the contemporary side, we can also be on the lookout for the Kafka-Fragmente by György Kurtág, an astonishing work for violin and soprano, which brings to life every facet of Kafka's work, including his often misunderstood humour.
But the voice is also featured in the many orchestra concerts that constitute the backbone of the Festival:Mathias Goerne will sing Mahler with the Viennese, Anja Harteros will sing Strauss's last four Lieder with Cleveland; but there will also be the draw of new voices at the start of the festival, in Hayden's Creation: if they haven't already done so, audiences will discover young soprano Hanna-Elisabeth Müller, who delighted Munich audiences last summer with Anja Harteros in Arabella.
And, as ever in Salzburg, you will need to act fast if you want seats: all orders received before 7 January will be processed first; those received after that date will have little chance of seeing the performances most in demand.
Dominique Adrian
the 15 of December, 2015