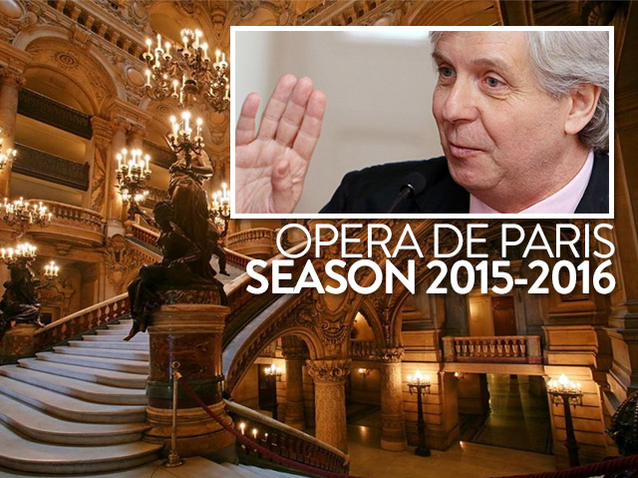 © DR
Everyone had high hopes when Stéphane Lissner took over at the helm of the Paris Opera:and they haven't been disappointed!Since serious budget constraints have impacted this theatre's budget, it is difficult to understand how this tireless man can offer the public such an appealing season with so many performances, so jammed with new productions, so inventive in terms of theatrical renewal, so seductive with their combined great voices!
But if we start with the voices, knowing that they are one of the leading factors in attracting audiences, it's quite simple: all the stars are there, all those magic throats that drive the fans wild, all those tenors, sopranos and baritones that opera lovers worldwide dream of, you can hear them this season at the Paris Opera!On the tenor side, Jonas Kaufmann as well as Roberto Alagna, Piotr Beczala, Marcelo Alvarez, Michael Fabiano, Bryan Hymel and Alexandrs Antonenko !For he baritones, Bryn Terfel, Ludovic Tézier, Bo Skovhus, Stéphane Degout or… Placido Domingo (as Germont, the father in La Traviata).For the sopranos, Anna Netrebko, Sonya Yoncheva, Olga Peretyatko, Barbara Hannigan, Ermolela Jaho, Adrianna Pieczonka, Pretty Yende, Julie Fuchs, Aleksandra Kurzak, Julia Kleiter, Sondra Radvanovsky and … Anja Harteros (it's incredible for such a worldwide star, but she will be making her debut at the Paris Opera!).Mezzos won't be left out, with Elina Garança, Ekaterina Gubanova, Anita Rachvelishvili and Sophie Koch.Not to mention the great Russian bass, Ildar Abdrazakov… who will also be making his debut at the Paris Opera!...A shower, a downpour of stars, many of whom have never before been invited to the Paris Opera:one gets the feeling that the Paris Opera has opened up to all those voices we were waiting for …. but used to go elsewhere to hear!
But the other attraction of Stéphane Lissner's first (real) season is of course the theatrical renewal:he had been expected to tackle that, and here again he did not disappoint.This is true both in his revival policy (with performances by Bob Wilson, Robert Carsen, Laurent Pelly, Olivier Py, Damiano Michieletto and Herbert Wernicke) and in the new productions where he will introduce the modern inventiveness of Italian Romeo Castellucci (for Moïse et Aaron), Latvian Alvis Hermanis (for La Damnation de Faust), German Claus Guth (for Rigoletto), Norwegian Stefan Herheim (for DieMeistersinger) or Spaniard Calixte Bieito (for Lear) – none of whom have ever worked at the Paris Opera.And he's also proposing new shows to directors who have already displayed their imaginative talents in recent years, from Dmitri Tcherniakov to Krysztof Warlikowski by way of Alex Ollé (from La Fura dels Baus).
In short, contemporary theatre, with its flash, its visions, its prejudices and intensity will light up the Paris Opera's programmes:in 2015, the institution is really getting into the 21st century!Of course, there will undoubtedly be controversies giving rise to debate and confrontation, because not everything new is necessarily a success.There may be some waste – but there will be life!
Consideration will be given to the replacement of conductors – such consideration occurred of course with Philippe Jordan, the musical director of the Paris Opera, whom we will have the pleasure of seeing again directing the key productions, from Moïse et Aaron to La Damnation de Faust and from Die Meistersinger to Der Rosenkavalier. But we'll also be welcoming back Esa-Pekka Salonen, discovering two German conductors still seldom heard in France, Patrick Lange and Ingo Metzmacher, and the presence in force of the Italians (Stéphane Lissner just spent ten years at Milan's La Scala where he tried out these conductors waiting to be discovered…), Fabio Luisi, Nicola Luisotti, Daniele Rustioni, Daniele Callegari, Michele Mariotti, Giacomo Sagripanti, Donato Renzetti, but on the French side we'll also have the pleasure of rediscovering Marc Minkowskior Alain Altinoglu who form the New Wave of French and international conductors. 
We might add that La Damnation de Faust is "the start of a Berlioz cycle" or that 20th century opera is represented both by a "classic", Moses und Aaron by Schoenberg, and a "sure value", Aribert Reimann's Lear (1978): Stéphane Lissner paid attention to balance – but what people will remember best from this brilliant season is the "permanent festival" aspect of this sumptuous programming, with vocal stars who will remind older audiences of the famous "Liebermann era" and, supported by the necessary musical excellence that must be the foundation of a house like the Paris Opera, the assurance of a visual and theatrical renewal that will have people talking between acts, and after.The new director did not botch his entrance.His only problem is that he has set the bar so high that it will be difficult for him to keep things at this pace next year.
Alain Duault
the 06 of February, 2015
|
Print