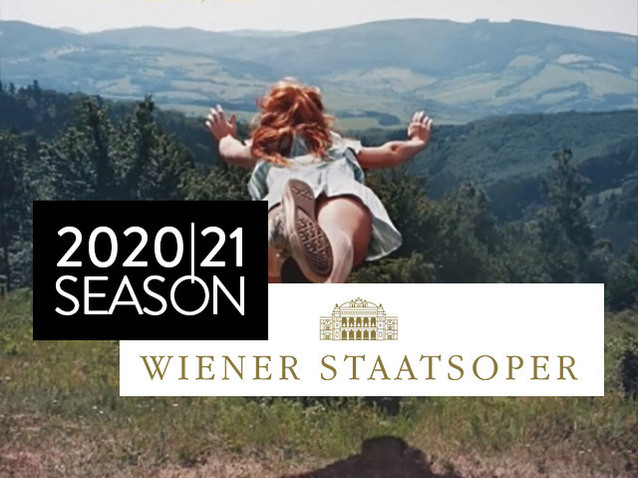 © DR
After ten years at the head of the Wiener Staatsoper, Dominique Meyer has this year taken over the direction of La Scala in Milan. He leaves his position to Bogdan Roscic, 52, whose name we recognise for having been the president of the Sony Classical label, specifically recruited by the Austrian government to "breathe new life into the Viennese institution". The new musical director will be Philippe Jordan, who arrives after years in the service of the Paris Opera, and who will be conducting several of next season's productions.
The Vienna State Opera today unveils its 2020-2021 season. And while this season still relies heavily on repertoire works, the selected works are intended to "bridge the gap between tradition and more contemporary compositions" (including 20th century works that have become classics) and will be championed by the "important directors of our time" - most of them making their debut at the Vienna State Opera.
Bogdan Roscic thus reveals ten new productions or "premieres", co-productions sometimes already performed in other opera houses, but never yet presented in Vienna. The season is due to open next September with Madama Butterfly and the visually impressive staging by director Anthony Minghella (first performed in 2005, and recently revived by the English National Opera in London), whose title role will be given to Asmik Grigorian and to be conducted by Philippe Jordan.
Among the premieres are also Calixto Bieito's Carmen (with Anita Rachvelishvili, Charles Castronovo and Erwin Schrott); Simon Stone's La traviata already seen in Paris, here with Pretty Yende and Frédéric Antoun; Macbeth directed by Barrie Kosky, premiered in Zurich in 2016 (with Luca Salsi and Anna Netrebko); or Eugene Onegin by Dmitri TCherniakov imported from the Bolshoi; but also The Coronation of Poppea, which Jan Lauwers directed for the Salzburg Festival in 2018 (again with Kate Lindsey as Nerone, but Slávka Zámečniková as Poppea, instead of Sonya Yoncheva). We also like to remember Frank Castorf's Faust, conducted by Bertrand de Billy with Juan Diego Flórez, Nicole Car and Adam Palka.
And while this next season will undoubtedly appeal to Viennese audiences, some productions are already arousing real curiosity. In April 2021, the Wiener Staatsoper will offer a new production of Parsifal, entrusted to the Russian director and filmmaker Kirill Serebrennikov (prosecuted and under house arrest in his home country), conducted by Philippe Jordan and championed on stage by an exceptional cast, including Jonas Kaufmann in the title role alongside Elīna Garanča in the role of Kundry and Ludovic Tézier as Amfortas, among others.
The Viennese institution's foray into a decidedly contemporary repertoire is also worthy of note with its presentation of Das Verratene Meer, the ninth opera of Hans Werner Henze, conducted here by Simone Young.
As is usually the case in Vienna, there is no shortage of reruns, in terms of both casting and conductor. Otto Schenk's unmissable Der Rosenkavalier thus makes a return with Krassimira Stoyanova and Piotr Beczała on stage and Philippe Jordan in the pit, and who will also conduct The Marriage of Figaro in Jean-Pierre Ponnelle's historic production. Margarethe Wallmann's Tosca (created in 1958), is revived here with Sonya Yoncheva and Roberto Alagna. To which we can add Elektra, directed by the legendary Harry Kupfer and conducted by Franz Welser-Möst, with Camilla Nylund and Doris Soffel. Also Rusalka by Sven-Eric Bechtolf with Piotr Beczala and Kristine Opolais, and Don Carlos (the French version of the work), in Peter Konwitschny's production with notably Ildar Abdrazakov, Jonas Kaufmann and Malin Byström, and conducted by Bertrand de Billy.
It is also part of the mission of the Vienna Opera to make the lyrical art accessible to young audiences and next season is no exception, with the devising of adapted and condensed versions of The Abduction from the Seraglio and The Barber of Seville (performed in German).
It is clear that this coming Viennese season is particularly rich and clearly intends to renew the institution's lyrical offer (at least in terms of theatre). But in the current climate, doubt inevitably hangs over the possibility of performing - no one can yet say if the opera houses will be able to reopen their doors to the public by September, and even less whether the public will be inclined to attend theatre shows. Especially since in order to comply with the social distancing measures currently in force, the Vienna Opera should limit its capacity so that only one seat in six is occupied. A choice that would significantly reduce the profitability of the performances. However, in the Austrian press, Bogdan Roščić considers that "if the house can play, it must play", even if it means considering performances in a reduced format - involving fewer performers on stage, fewer musicians in the pit, and a smaller audience in the hall. While the new Viennese director says there are still "too many unknowns in the equation" to make decisions right now, he nevertheless believes that "it is feasible" even if it will probably require "a few adjustments". We will hang on to his optimism.
Until then, details of the 2020-2021 Vienna Opera season will be available on the establishment's website.
the 29 of April, 2020
|
Print