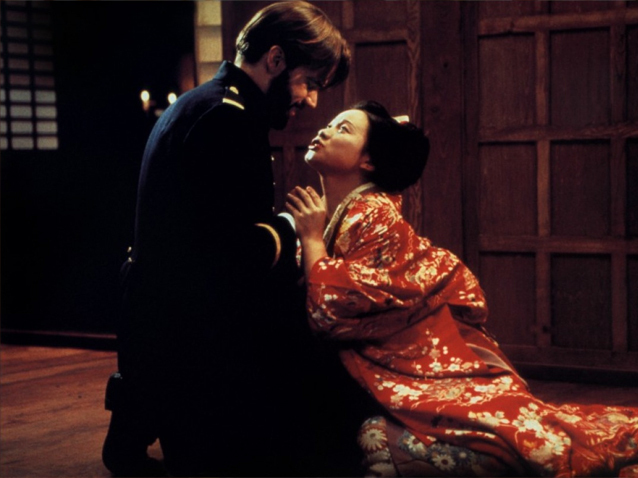 © DR
General informations
Composer:Giacomo Puccini
Librettist:

Giusepe Giacosa

Creation date:

1904

Creation place:

Italy

Acts number:

3

Original language:

Italian

Opera House of original production:Teatro alla Scala.
Work description
The Japanese term for "butterfly" is "Cio Cio San". That is also the name of the heroine of the opera, "Butterfly" being the nickname given her by the American officer Pinkerton, her sad one-night lover. In a period – the early 20th century – when the Far East was much in vogue, Giacomo Puccini plunges delightedly and eagerly into the play by David Belasco, whose dramatic can vas he virtually forced upon his librettists Giacosa and Illica. As an intuitive and perfectionist man of the theatre, he wants every word to be just so, to make the best impression. While he may slip discreet allusions to Japanese customs and folklore into his music, Puccini primarily paints a devastatingly accurate and sensitive portrait of a woman. More than a hundred years after it was created, this drama of love and waiting remains one of the most popular operas in the repertory and still elicits tears from the audience. "My Butterfly remains the most sincere and expressive opera I've ever conceived of," he said one day. It is easy to believe him.
Summary
The action takes place in Nagasaki Bay, Japan, around 1900. The American officer Pinkerton finds his future wife, Cio-Cio San – called Madame Butterfly -– a 15-year-old geisha whose family disapproves of the marriage. Sharpless, the U.S. consul, advises Pinkerton against the union. However, on their wedding night, Pinkerton stirs the girl's heart; she responds to his love timidly at first but then givers herself passionately to him. Three years pass. Back home in the United States, Pinkerton has sent no word to Butterfly, who waits for his return, persuaded that the officer will come back to her…and discover that she has had a child by him. Sharpless, who knows that Pinkerton has made himself a new life in his country and has married another, asks Butterfly what she would do if he never returned. She would kill herself, the geisha answers. That is the fatal act she will commit when she discovers the truth, upon the delayed but much-anticipated return of Pinkerton, who comes to meet his son in the company of his American wife.
Act 1
In Japan, near Nagasaki, matchmaker Goro is showing the American officer Pinkerton his new home. He introduces him to Suzuki, the servant of his future wife. Sharpless, the U.S. consul, warns Pinkerton against marrying Cio-Cio San, a 15-year-old geisha who radiates happiness at the idea of this marriage.
As the invited guests gather for the wedding, Butterfly shows Pinkerton the sword her father used to commit hara-kiri. At the conclusion of the ceremony, the Bonze, her uncle, disowns her. Butterfly's shocked family withdraw. A long love duet brings together the new bride and groom.
Act 2
Three years have passed; Pinkerton has long since returned to America, and Butterfly, with no news from him, waits and waits. She is convinced he will return.
Butterfly rejects the advances of the wealthy Prince Yamadori: she is still married, she says. Sharpless, who knows that Pinkerton has meanwhile married in the United States, tries to reason with her. When he asks her what she would do were Pinkerton not to return, Butterfly replies that she would kill herself. Suddenly a canon echoes in the port, greeting the arrival of a ship. Butterfly recognises Pinkerton's ship; she has flower petals sprinkled all over the house and prepares herself to welcome him worthily – and lovingly.
Act 3
After a sleepless night, Butterfly falls asleep just as Pinkerton arrives with Sharpless. Seeing the flowers, Pinkerton is unsettled and flees. Going to look for him, Butterfly comes upon his new wife: she agrees to turn over her son on the condition that Pinkerton himself comes to see her. Once alone, Butterfly hands the child an American flag, then commits hara-kiri with her father's sword, collapsing in front of the just-returned Pinkerton.