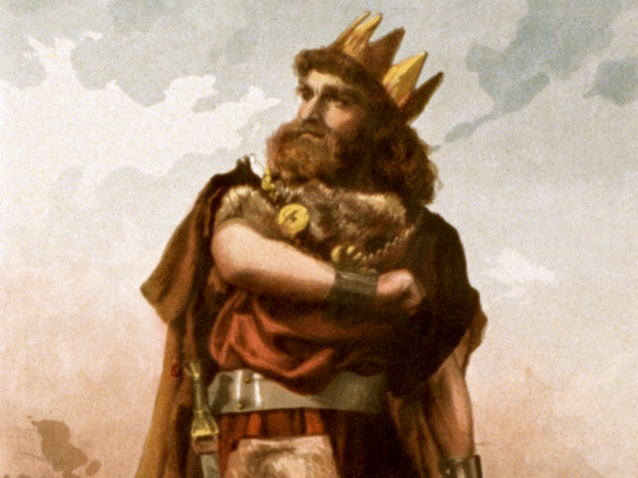 General informations
Composer:Giuseppe Verdi
Librettist:Francesco Maria Piave
Creation date:

1847

Creation place:

Italy

Acts number:

4

Original language:

Italian

Opera House of original production:

Teatro della Pergola
Work description
Macbeth belongs to that period of intense creativity that Verdi himself called his "years in the galleys". After Nabucco's formidable success in 1842, the maestro went on to create 16 operas in 10 years, working non-stop to meet his many commissions from opera directors who wanted to meet the expectations of enthusiastic audiences. Amid this abundant production, which includes works of very uneven quality, Macbeth holds a very special place indeed: it is one of his most daring projects, with the maestro for the first time taking on the challenge of adapting a Shakespearean drama, the famous Macbeth, which he considered "one of the greatest creations of Man".
Verdi spent his whole life dreaming of writing a King Lear, and his famous last two operas, Otello (1887) and Falstaff (1893), were also inspired by the English playwright, whom he venerated in a way. The composer's correspondence with Piave, his customary librettist, shows what an essential part he played in writing the libretto, making constant recommendations about the style and its necessary dramatic efficacy: "Please write short verses; the shorter they are, the more impact they will have". The result of this work was one of the most successful theatrical experiences ever.
The libretto strips down Shakespeare's text. The action is tightened, the number of characters is greatly reduced, and Lady Macbeth takes on an importance that she did not have in Shakespeare's drama. To play this almost diabolical role, which remains one of the most impressive he ever wrote, Verdi wanted a performer with a "harsh, stifled, dark" voice:"  The famous sleepwalking scene (Act 4, scene 4) at which Maria Callas excelled shows the constant search for a vocal style perfectly suited to the character's turmoil and virulence. Rarely have we seen such violence unleashed on an opera stage. The trio of witches is the only female presence, aside from that of Macbeth's evil wife.
To accompany the couple in their criminal venture, which is like an ineluctable descent into hell, Verdi composed music "full of furore and noise" to match Shakespeare's world. The work was a triumph as soon as it premiered: Verdi was called back to the stage some thirty times.
In 1865, Verdi revised Macbeth for its premiere in French at the Théâtre Lyrique in Paris. It is this version, back-translated into Italian, that has become standard today.
Summary
Returning victorious from combat, Macbeth and his friend Banco run into three witches who predict the future. Macbeth will become King of Scotland and Banco will be the first in a line of kings. Lady Macbeth, spurred by these predictions, which she fervently hopes will come true, pushes her husband to assassinate King Duncan and take over the throne. Then she encourages him to kill Banco who, however, manages to ensure that his son escapes. Then comes Macduff's turn; he is a new obstacle whose elimination is planned after the murder of his wife and children. The homicidal frenzy of Lady Macbeth and her power-hungry husband leads them on a bloody path that will end tragically, their torment caused by their increasing guilt and the terror inspired by the awful revelations of the witches on the moor.
Act 1
In a wood, at night, Macbeth and Banquo, two of King Duncan's generals, come upon three witches who provide them with enigmatic revelations. They greet Macbeth as Lord of Cawdor and King of Scotland and promise Banquo that he will father a line of kings, without becoming king himself. The two men are even more disturbed when messengers arrive announcing that the king has just named Macbeth Lord of Cawdor. In his castle where the king has come to spend the night, the ambitious Lady Macbeth thinks the time has come for the witches' prophecy to be fulfilled. Macbeth lets his wife convince him, encouraging him to assassinate the king to take his crown. Macbeth fulfils his part of the deal but is overcome by the horror of his crime. Lady Macbeth accuses him of cowardice and seizes the bloody knife he used to kill the king. She becomes an accomplice to the crime when she hides the weapon to implicate the guards. Macduff, a Scottish nobleman, and Banquo discover the assassinated king. All of them curse the perpetrator of this crime.
Act 2
Macbeth has become King of Scotland while Malcolm, King Duncan's son, has had to flee after being accused of murdering his own father. Lady Macbeth now wants her husband to get rid of Banquo and his son in order to forestall the witches' prediction. Banco is assassinated in turn, but his son manages to flee. At a banquet with the entire court present, Macbeth sees Banco's ghost appear. Lady Macbeth is unable to keep up appearances. Macbeth's strange attitude and incoherent remarks arouse suspicion among those in attendance. Macduff thinks it prudent to leave the country, which now seems to him to be "ruled by a cursed hand".
Act 3
In a dark cave, the witches prepare for their sabbath. Macbeth arrives to question them further. First, three apparitions come to reassure Macbeth by telling him that no man or woman can hurt him, and that there is nothing to fear so long as Birnam Wood does not march against him. But suddenly terror grips him when he sees a procession of eight kings followed by Banquo holding a mirror. Macbeth faints. When he awakens, his wife is by his side instilling in him the desire to kill again to survive. Macduff's wife and children will have to die.
Act 4
At the Scotland-England border, the Scottish exiles mourn their dead, innocent victims of the fury of Macbeth pushed to kill by his terrifying wife. Macduff is determined to avenge the death of his wife and children. The legitimate heir to the throne after his father was assassinated, Malcolm arrives at the head of a troop of soldiers. He orders each one to cut a branch from Birnam Wood to hide behind while advancing towards Macbeth's castle. In a frightening fit of sleepwalking, Lady Macbeth admits to the horrible crimes she and her husband have committed. Macbeth barely reacts when he is informed of the death of his wife, but he is devastated when he is told that Birnam Wood is advancing on him. During the ensuing fighting, Macbeth is killed by Macduff who reveals to him that he was not born of his mother but rather that he was "torn from her breast". All the prophecies have been fulfilled. Malcolm is proclaimed king.