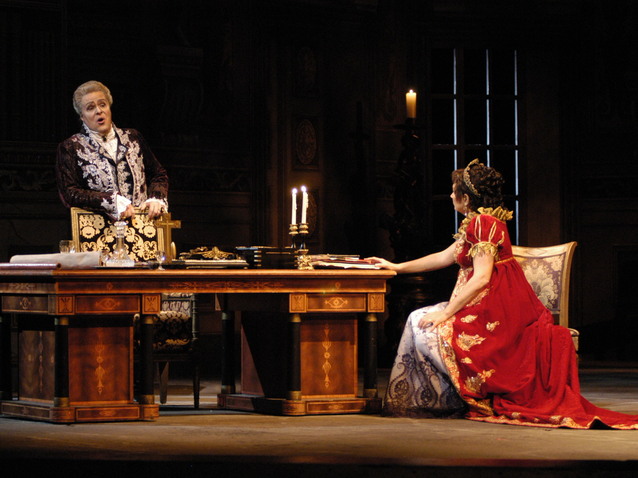 © DR
Work description
Can a diva be the heroine of an opera? The beautiful and sanguine Tosca is perhaps the most striking character penned by Puccini, inspired by a role Sarah Bernhardt created for the theatre. With the city of Rome as a backdrop, the opera tells a realistic story of passion and politics, overshadowed, from the moment the curtain rises, by Scarpia, the terrifying chief of police whose toxic personality gradually poisons the atmosphere of this oppressive huis clos. Tosca offers two hours of action and passion, captured in a torrent of lyricism and luxuriant orchestration and a libretto that is as effective as a motion picture scenario. Art, love, religion, sadism, conspiracies… all the ingredients of a perfect melodrama mingle and resonate with strength and contemporary realism.
Summary
Rome, 1880. While working on the church of Sant'Andrea della Valle, the painter Mario Cavaradossi, lover of the (jealous) Tosca, agrees to assist a political prisoner, Cesare Angelotti, in his efforts to escape. The chief of police, Scarpia, whose political ambitions thinly disguise his unparalleled cruelty, is on Angelotti's trail and quickly discovers Cavaradossi's involvement. The only way to achieve his evil ends is to manipulate the beautiful Tosca, the object of all his fantasies. Cavaradossi is arrested and Scarpia comes close to having his way with Tosca, before she stabs him to death. But the perverse machinations of Scarpia outlive him: after a brief glimmer of hope, Mario dies, executed, while Tosca, fleeing her pursuers, jumps off the top of the Castel Sant'Angelo to her death.
Act 1
Angelotti, an escaped political prisoner, has hidden in the church of Sant'Andrea della Valle where Mario Cavaradossi is working on a portrait of Mary Magdalene, whose features contrast with those of his lover, the singer Floria Tosca
Excerpt : « Recondita armonia »
Tosca is jealous and suspects someone is in the church. Yet she cannot remain angry and asks Mario to meet her that evening. As soon as she leaves the chapel and Angelotti is safely out of sight, the sound of canons signals the prisoner's escape. Scarpia is sure that Angelotti has been in the church and, moreover, he is suspicious of Cavaradossi's republican sympathies. Above all, Scarpia dreams of possessing the beautiful Tosca. His reverie is broken as a procession enters singing the Te Deum.
Excerpt : « Te Deum »
Act 2
In the Palazzo Farnese, Scarpia has Mario tortured in order to find Angelotti's hiding place. But it is Tosca who gives in and reveals the secret. Scarpia promises her she can save Mario from execution if she gives herself to him. She sings a fervent prayer…
Excerpt : « Vissi d'arte »
Act 3
Tosca has stabbed Scarpia to death, after obtaining a safe-conduct that she hopes will allow her and Mario to flee. The latter, held in the Castel Sant'Angelo, sings of happier days...
Excerpt : « E lucevan le stelle »
Tosca explains to Mario that he must feign his death, according to Scarpia's plan. But the plan turns out to be a trap: the bullets are real and Mario collapses! Tosca is devastated. As the soldiers rush in to arrest her, she runs to the parapet. "Scarpia must answer to God!" she cries, as she throws herself over the edge.
Excerpt : « Presto, su! Mario, Mario! »