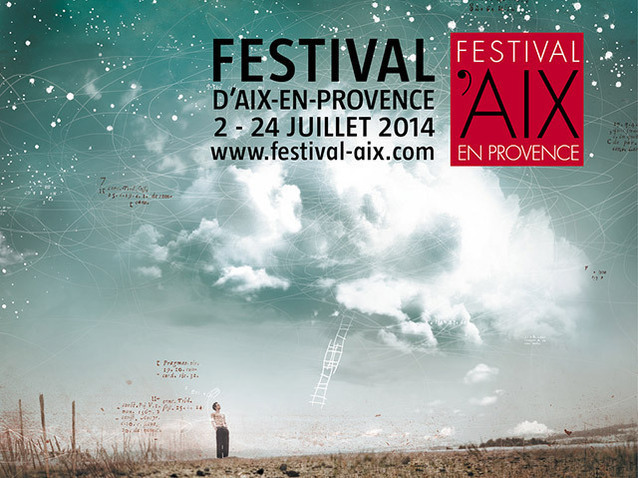 © DR
Traditionally dedicated primarily to Mozart, the Festival d'Aix-en-Provence has gradually expanded its programming to establish itself as one of the key international events for opera lovers – and as such in 2013 the Festival boasted some 84,600 spectators (for a 99.5% seat occupancy rate for opera), many of them young people attracted by a reduced-price ticket policy. 
Still under the direction of Bernard Foccroulle, the sixty-sixth edition of the Festival held July 2-24, 2014,is continuing with the same openness and diversity of previous editions, with this year noteworthy for its even more eclectic programme.The director is looking to coordinate "music, poetry, theatre and the visual arts" as "disciplines that contribute to the magic of opera" in a programme featuring the international debut of four new works.
Bernard Foccroulle will be presenting a new production of Handel's opera Ariodante.Staged by Richard Jones, it will be conducted by Andrea Marcon who heads up the Freiburger Barockorchester (in residence for three years in Aix) and brings together on the stage Sarah Connolly, Patricia Petibon, Sandrine Piauand Sonia Prina. 
Another world premiere is the production by New York director Christopher Alden (whose modern adaptations of the classics are regularly applauded) of Rossini's Il Turco in Italia.Conducted by Marc Minkowskiheading up the Musiciens du Louvre-Grenoble ensemble, it will bring together such singers as Olga Peretyatko, Adrian Sâmpetrean, Lawrence Brownlee and Pietro Spagnoli. 
There will also be Winterreise, the Schubert cycle featuring 24 melodies for voice and piano based on the melancholy poems of Wilhelm Müller.The production being presented for the Festival promises a certain uniqueness and boasts a decidedly multimedia approach:interpreted by baritone Matthias Goerne, it relies above all on video animations, montages and other visual effects composed by South African artist William Kentridge. 
Finally, in Trauernacht, British director Katie Mitchell compiles a series of cantatas by J.S. Bach from among the 200 he composed throughout his life.Returning to Aix, she is using the composer's work to "produce a theatrical creation that explores the spiritual power of the dialogues imagined by Bach between Man and God".And Trauernacht is conducted by Raphaël Pichon, an acknowledged specialist in Bach and baroque music, heading up the Académie Européenne de Musique.
Also included will be Mozart's Magic Flute staged by Simon McBurney.The production was previously presented in December 2013 at the English National Opera (co-producer of this version), but its unanimously hailed quality led the Festival to put it back on the program.Pablo Heras-Casado (for the first time in Aix) is conducting the Freiburger Barockorchester with a cast bringing together Topi Lehtipuu, Mari Eriksmoen(in the role of Pamina), Albina Shagimuratova(as the Queen of the Night) and Thomas Oliemans.
More information is available at : http://www.festival-aix.com
the 24 of March, 2014