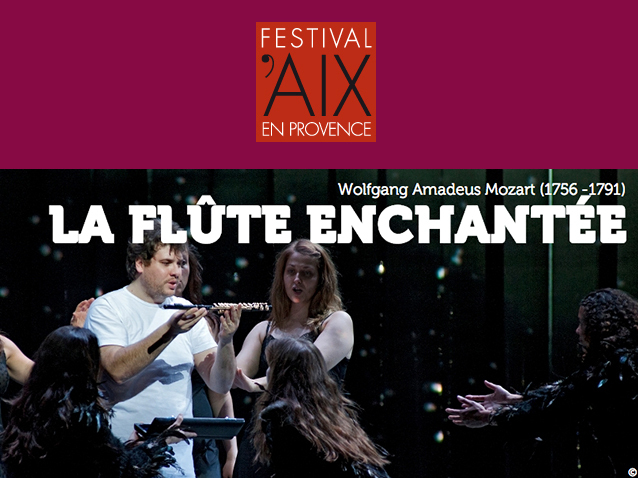 © Festival d'Aix en Provence
Description
New production of the Festival d'Aix-en-Provence
In coproduction with De Nederlandse Opera and English National Opera
It is the story of Tamino, a young foreign prince, who, at the urging of the Queen of the Night, braves Sarastro's kingdom and undergoes terrible ordeals for the love of Pamina. It is also the story of Papageno, the comic bird-catcher who longs only to eat, drink – and find his Papagena! The Magic Flute, Mozart's last opera, is also his most extraordinary, with its mixture of genres and styles, ranging from fantastic tale to philosophical fable, from Viennese comedy to grand opera. Mozart's last masterpiece is the key work for any event with a Mozartian flavour such as the Festival d'Aix-en-Provence; it will be given in Simon McBurney's intriguing production. The British director uses technology imaginatively to recreate the magic of pantomime, while his in-depth reading of the libretto reveals how it achieves universal relevance through its combination of different elements.
More information is available on the festival's official website.
Attend this production with our partner La Fugue - Europera.
Schedule
July 02, 2014 19:00:00
July 04, 2014 19:00:00
July 06, 2014 19:00:00
July 09, 2014 19:00:00
July 11, 2014 19:00:00
July 14, 2014 17:00:00
July 17, 2014 19:00:00
July 19, 2014 17:00:00
July 20, 2014 19:00:00
July 23, 2014 19:00:00
Casting
Maarten Koningsberger
Silvia De la Muela
Work's characters list
Director
Conductor
Sarastro
Tamino
Sprecher
Die Königin der Nacht
Pamina
Papageno
Papageno
Papagena
Monostatos
Erster Geharnischter
Zweiter Geharnischter
Erste Dame
Zweite Dame
Dritte Dame
Erster Priester
Zweiter Priester