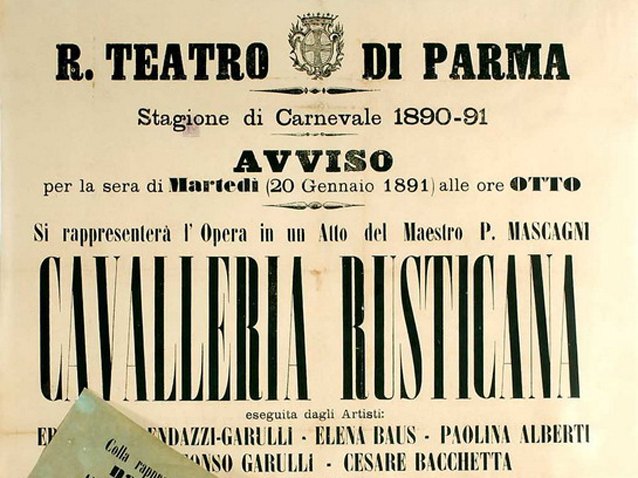 Work description
This opera is generally considered to be the first official example of musical verismo. The libretto was inspired by a short, intense novella by Sicilian novelist Giovanni Verga, leader of the Italian literary movement known as verismo. As a pupil of Ponchielli's, the young Mascagni was just an obscure music teacher when his opera, staged in Rome with great success, made him famous worldwide. Verdi himself, after hearing the work, is said to have stated: "I can die in peace." Cavalleria Rusticana, which could be translated as "rustic cavalry", is characterised by the extreme simplicity of its plot in which fits of jealousy clash with the exaltation of honour. Mascagni was able to retain all the power of a bloody news story. The simple, energetic music effectively elicits emotion. Cavalleria Rusticana is the most frequently staged together with another verismo work, Pagliacci, composed in 1892 by Ruggero Leoncavallo. These works, linked by dramatic construction and style, are uniquely associated with one another in the history of opera, often being referred to by the abbreviation "Cav/Pag".
Summary
It is Easter morning in a Sicilian village.  A sad, anxious girl, Santuzza, is looking for her lover Turridu, who betrayed her and went back to his former fiancée, Lola, who had meanwhile married the wealthy Alfio when he returned from the army. Santuzza tries in vain to win back her lover. Mad with jealousy, she tells Alfio, the cuckolded husband, about Lola and Turridu. At that point, Turridu's fate is sealed. Alfio provokes him to a duel. After saying goodbye to his mother, Turridu leaves for his fatal meeting.
Act 1
It is Easter morning in the square of a Sicilian village. After a long orchestral prelude expressing Santuzza's despair, from off stage we hear a "sicilienne" sung by Turiddu, praising Lola's beauty and proclaiming his willingness to die for her. The curtain rises, revealing the square that is slowly filling up with men and women gathering to attend mass. We see the church and the home of Turridu's mother, the innkeeper Mamma Lucia. Santuzza appears: a young peasant woman tormented by sadness and anxiety. She goes up to Mamma Lucia to ask her where her son is. Lucia affirms that Turridu left the evening before to fetch wine from the city, but Santuzza knows that the young man spent the night in the village. Their conversation is interrupted by the carter Alfio, who arrives singing about the small joys of his simple life. Alfio confirms that he saw Turridu the night before, near his own home. Everyone gathers to form a procession that enters the church singing the Easter hymn in a great burst of religious fervour. Santuzza and Lucia remain alone. The girl then tells the story of her betrayed love (Voi lo sapete, o mamma….). Santuzza's ballad contains the exposition of the drama that's about to unfold. Turridu had previously courted Lola but, when he returned from the army, he found her married to the carter Alfio. He then consoled himself in the arms of Santuzza, he loves him madly. But coquettish Lola wanted her former lover back and did not hesitate to cheat on her husband Alfio, who is the only one unaware of the adultery. Mama Lucia is shattered by this threatening revelation. Finally Turridu arrives, whom Santuzza tries to win back; but a loud quarrel erupts between the two lovers. Drunk with despair, Santuzza curses Turridu and goes to denounce him to Alfio, who swears to take revenge. All the threads of the tragedy are now knotted. A grand symphonic intermezzo announces the tragic denouement.
The men of the village meet the Mamma Lucia's inn. Turridu holds Lola and raises a toast, inviting Alfio to join in, but the latter refuses disdainfully. The two men kiss one another in keeping with Sicilian custom before a duel; Turridu bites Alfio's ear as he hugs him. Turridu knows he must know say goodbye to his mother. He asks her to take care of poor Santuzza before re-joining his rival for the fatal duel. Mad with anguish, Santuzza watches him go off and throws herself into Mamma Lucia's arms. A terrible shriek breaks the silence: "They've killed comrade Turridu!" Mamma Lucia and Santuzza collapse, devastated by grief.