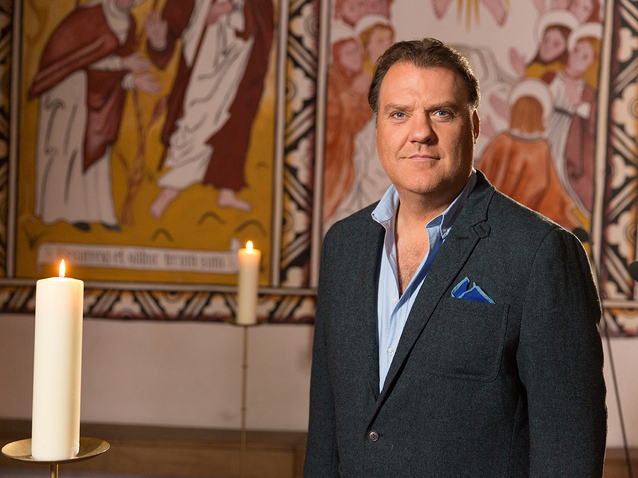 At London's Royal Opera House, the Welsh bass-baritone Bryn Terfel has just completed the run of his debut role as the title character of ''Boris Godunov,'' the Russian composer Modest Mussorgsky's only completed opera. ''It's one of the most iconic pieces written and has been described as a masterpiece,'' says Terfel.
The production, by the English director Richard Jones, is a new one, and the score is the original completed in 1869, to which the Imperial Theater demanded extensive revisions from the composer. ''We're going back to the essence,'' says Terfel, ''the genesis of the piece – the seven scenes that were originally written in the beginning. It's a very intense evening of two hours and 10 minutes. Those are the qualities that I regard highly: the intensity one has on the stage, the powers of creating and molding a character. And Boris is one of the most difficult portrayals on the stage.
'' Attracting leading artists to take on big, challenging roles is a source of pride for the Royal Opera House, says the director of opera, Kasper Holten, who cites the music director, Antonio Pappano, as one of the main reasons the artists choose to make debuts there. ''
We hope that this is a signal that they get really good work conditions here,'' Holten says, ''in which they can truly explore these roles and go further with them. And, of course, for many of them, it has to do with the collaboration with Tony Pappano in the pit. So our fantastic music director helps attract people like Bryn when he takes on a massive new part like Boris, and that is something that we hope to keep unique about the Royal Opera–our ability to attract major artists for their role debuts.''
Terfel agrees. ''Musically, we are driven by Tony Pappano,'' he says, ''who has been here now for 14 years. I've experienced the incredible intensity of his musicianship in every new role, from Gianni Schicchi to Wotan to Scarpia in ''Tosca.''
Holten adds other stars to the list of debuts: ''We had Juan Diego Flórez in his first Orphée on stage ever here in this season, and later in the season Joyce DiDonato is singing Charlotte in ''Werther'' for the first time.'' Massenet's ''Werther'' runs this season, June 19 to July 13, and Gluck's ''Orphée et Eurydice'' ran in September 2015. ''We've also had Jonas Kaufmann debut as both Chevalier des Grieux in ''Manon Lescaut'' [in June 2014] and as Andrea Chénier [in January 2015] here, and he will be making a role debut as Otello next season with Tony Pappano.''
Terfel's first performance at the Royal Opera House was in in 1992 as Masetto in Mozart's ''Don Giovanni,'' and he stresses the personal importance of his relationship with the house and Pappano. ''He undoubtedly gets to know your voice, your frailties, your strengths,'' he says. ''And he knows how to guide an orchestra around a performance as well.''
Says Pappano: ''When you make a debut, you need to know whom you have around you to put all the pieces together, because there are so many questions and unknowns for a singer and for the conductor. So if you're well surrounded, you can answer these questions together. It's incredible to think that this is a new role for Bryn, because he's such a colorist in it, and with such freedom.''
One of the challenges, says Terfel, was the language. ''The hurdle of learning Russian is the first thing,'' he says, and how to make best use of the language's character in singing. ''It's not about memorization, it's about the shapes of the different language in your body. Once that nut is cracked, then you can throw yourself into this magnificent opera. Mussorgsky was painstakingly committed to his language, and some of the scenes are like a recitative going into songs.''
It is the first time he's performed an entire opera in Russian, he says. ''For weeks,'' he says, ''I've been walking around streets saying Russian words and noticing Russian people.'' He's had voice coaches ''in Monte Carlo, Paris, Beaver Creek in Colorado, New York and now here in London'' and ''we have a couple of Russians in the cast, and one person from Lithuania, and they're very supportive. They're giving us nuggets of information and insight into the piece and into its language.''
He continues: ''I enjoyed this element of dissecting a new language. It's rather similar to the Welsh language in its consonants and its soft and hard L's.''
The vocal range in the version being used in the production is a bit different from that in later revisions, he points out. ''Other people who have sung it'' – he cites the Bulgarian basses Boris Christoff (1914-93) and Nicolai Ghiaurov (1929-2004) – had undoubtedly bass voices, dark Russian voices, but I think this version is more guided to the bass-baritone voice. It has the low notes and the high notes.''
''Bryn is family here,'' says Pappano, ''and it's very important that he continue his relationship with the house and with me.''
Says Terfel: ''In an opera house, there is an incredible importance to the family experience. The life and soul of an opera house are its orchestra and its chorus. They turn up here every day, throughout the whole year. There's a community here, and you can have daylong conversations with choristers and orchestral players. It gives an opera house a certain gravitas. You're proud to walk into this room where people take such pride in their work and their development.''
Article issued from the International New York Times, not engaging the redaction of Opera Online, and which we reproduce the content with their kind permission.
Center stage: Teatro alla Scala was produced by the T Brand Studio international department and did not involve the International New York Times reporting or editorial departments.
the 18 of April, 2016
|
Print