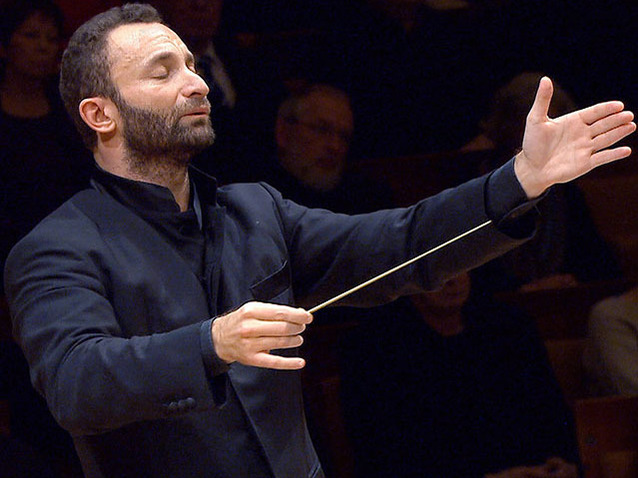 © DR
Opera involves a lot of tedium. There are the singers' moods, the constraints of any major undertaking, often a poor relationship with stage designers, and audiences that forget you as soon as the tenor comes on (see above). Many great conductors, once they have achieved some fame, prefer to devote themselves to the symphonic repertory, coming back to opera for certain prestigious projects as their fancy takes them, and leaving the pit to their less esteemed colleagues. But among today's great conductors there is one exception, for whom opera is instead a calling, or at least a great opportunity for making music with the luxury of several weeks of rehearsals. Born in Russia in 1972, Kirill Petrenko received much of his musical education in Austria, where his violinist father found a position after the fall of the Wall - it became possible to leave the country, but the outbreak of anti-Semitism unleashed by the end of the USSR made this exile a welcome one.
Petrenko's early career was completely traditional: musical director at the age of 27 (in 1999), yes, but in Meiningen, Thuringia: the orchestra, heir to a princely court, had had as its musical directors Hans von Bülow and Richard Strauss, yet it is nonetheless one of the smallest opera houses in Germany; yet the young conductor earned a reputation by staging a complete Ring, as well as for the quality of his intensely prepared performances: in 2002 he went to Berlin, to the Komische Oper, where he remained for six years. The experience was not very satisfying for him, in a house where the musical director has much less influence than the administrator, especially when it is a matter of compromising with the stage directors; but at least he perfected his knowledge of the repertory and recorded his first disks - rare works in the symphonic repertory, not opera. Once his term had come to an end, Petrenko preferred freedom rather than taking a new, permanent position. In 2013 he was appointed to the Bavarian Opera to replace Kent Nagano, which surprised many people: no one knows what diplomatic enticements were offered by Nikolaus Bachler, the director of the house, to convince him, but certainly it was not to play second fiddle.
Upon his arrival in Munich, the ever-discreet Petrenko, who doesn't give interviews and does not allow any editing of his recorded performances, was awaited like a Messiah in Munich. He is able to conduct only if he is completely immersed in the work on the programme: unlike all his colleagues, he is unable to finish a day of opera rehearsals with a symphonic concert, or mix a revival with a new production. The opera world has a long memory: with its extremely demanding nature, its savage self-criticism, its mistrust of the media and recordings, a comparison was inevitably made with Carlos Kleiber, who never agreed to assume the responsibilities of a musical director but conducted in the pit of the Nationaltheater more often than anywhere else for more than twenty years. The comparison is all the more striking as Petrenko had already tackled more of Kleiber's repertory, Die Fledermaus, for example, or Der Rosenkavalier. But just listen to his Rosenkavalier: with Kleiber, we hear nostalgia, Richard Strauss looking to Johann Strauß; with Petrenko, the modernity is there, Richard Strauss also being a contemporary of the Berg of the Three pieces for orchestra op. 6, both of them doing a final inventory of a civilisation on the verge of catastrophe. And we rediscover a Strauss who has not forgotten Salomé and et Elektra, who listens to his own time and who sees in Hofmannsthal's libretto less a landscapist's idyll than the image of a fractured society reflecting the present time. Another essential difference from Kleiber: whereas he conducted only a very limited repertory, dominated by the most classic German repertory, Petrenko's curiosity is much broader: it is quite rare for a major conductor to take an interest in Lucia di Lammermoor, or Tosca, which are often left to the more workaday conductors; and we can only be delighted to see a conductor so rigorous in this choice of performances be so involved in the creation of new works.
Yet after these very traditional opera-conductor career moves, Kirill Petrenko has agreed to succeed Simon Rattle as head of the Berlin Philharmonic, after setting conditions. He will be seen less in the pit, it's true, even if the contacts Rattle made with Berlin operas may still be useful, and even if the orchestra's traditional Easter festival, now at Baden-Baden, always includes a staged opera. While waiting for him to take up his post, Munich audiences and many European opera travellers may, in a few days, be comparing Kirill Petrenko to his nascent legend, for a new Meistersinger staged by David Bösch and dominated by Jonas Kaufmann and Wolfgang Koch.
Dominique Adrian
the 14 of May, 2016
|
Print