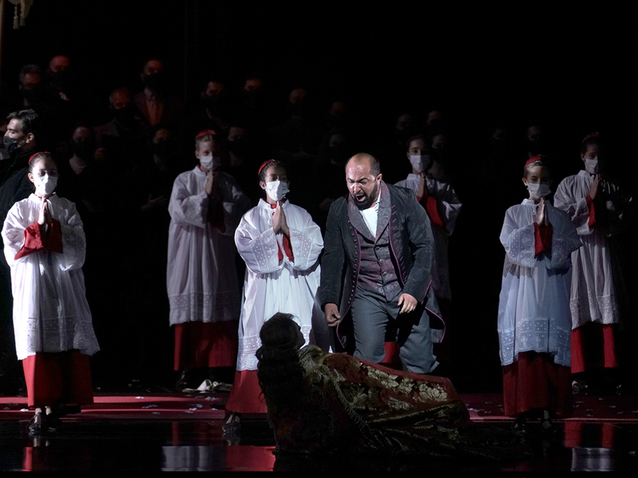 © dr
While Armenian baritone Gevorg Hakobyan will make his Vienna State Opera debut in December in Tosca, we caught up with him for an interview. We talk about her career, her vision of Scarpia and her plans for the future, but also music and theater – and the growing role of directors.
***
After your successful appearance in Termi de Caracala in Rome you are accomplishing your international career with your debut at Wiener Staatsoper in December 2021 as Scarpia in Tosca. How would you describe yourself, your job and career as a professional opera singer? What do you like and dislike?
Gevorg Hakobyan: The opera is a world where I feel fulfilled and satisfied. Here I can fully express and constantly improve myself. Thanks to the music of the great composers, as well as through complexand diverse roles, I discover new worlds, new way of thinking, new colors, and new emotions. And, of course, together with my colleagues, I enjoy the creative process in music and art called rehearsal.
I love the rehearsal period, especially when I working with talented musicians and directors to reveal the musical and dramaturgical material layer by layer, to share energy, and in the end, we enjoy the result, the miracle called the opera performance, together. We generously offer the most precious and mature fruits of our labor, of our talent, and our inner world to the spectators for their enjoyment. As we know, "It is more blessed to give than to receive" and this always comes back to us in the form of love and positive energy from the audience. The thing I dislike is being away from my homeland, which I love infinitely, from my family and friends for a long time. I consider myself very sociable and friendly person. During the long tours the loneliness is simply unbearable. However, that's the rule of life: in order to achieve something great, you need to sacrifice something great. In this regard, the theater where I sing becomes my home at a certain period and it is great when the staff of the theatre also welcome you as a family member.
What were the major steps for you?
The first, was my choice to specialize in opera singing while entering Yerevan Conservatory.  At first, I wanted to enter the department of folk singing. However, Sergey Danielyan, my future vocal professor, after the audition told me that I should become an opera singer, as I had such a powerful voice. So, I followed his advice. I am happy I was his student. He taught me a lot as a professional and, what is the most important, he helped me to believe in myself.
The other important event was the acquaintance with the famous Armenian tenor Gegham Grigoryan, who also had been the student of my professor. After a successful international career, he was appointed the Artistic Director of the National Academic Opera and Ballet Theater of Armenia. Still being a student, at his invitation, I made my first steps on stage at this opera theater, performing leading roles in operas by Armenian composers: "Anoush", "Arshak II", "David Bek", followed by the roles of Amonasro, Tonio, Ibn Hakia, etc.
I started my international career when I was twenty-seven. Shortly after winning the Gold medal and First prize at the First International Pavel Lisitsian Baritone Competition in Moscow (2008), I performed in the Rimsky-Korsakov's "The Tale of the Invisible City of Kitezh" at the Teatro Lirico in Cagliari staged by Eimuntas Nekrošius and conducted by Alexander Vedernikov. Then I was invited to appear as Eugene Onegin in the eponymous opera of Tchaikovsky at the same theater.
Working with the great Lorin Maazel has been an important part of my career. In 2009, at the Palau De Les Arts, under his direction, I performed in almost twenty performances with the roles of Amonasro, Sharples, Alfio. I also appreciate working with conductors Daniel Oren, Valery Gergiev, Tugan Sokhiev, Nicola Luisotti, Carlo Rizzi, Donato Renzetti and other great conductors. I was privileged to work with such directors as Giancarlo del Monaco, Pier Luigi Pizzi, Davide Livermore, Eimuntas Nekrošius, Rimas Tuminas, Yuri Alexandrov. All these fantastic artists along with my wonderful singer-colleges contribute to my growth as an artist and I am very grateful for the opportunity to work around one notion together with them.
 Among the major theaters, I certainly have to mention my debut as Nabucco at the Terme di Caracalla, at the Teatro dell'Opera di Roma, where I performed Scarpia, Alfio and Tonio, and Simon Boccanegra at the Mariinsky Theater as well. I often perform at the Bolshoi, in operas from the Russian repertoire, such as Gryaznoy in The Tsar's Bride and Tomsky in The Queen of Spades, and most recently as Mazeppa and Scarpia. A very dear collaboration for me was with Maestro Placido Domingo when I was his cover in Verdi's "I Due Foscari" at the Valencia Opera House. At the beginning of my career, I sang very often in Italian Opera Houses. Here I learnt to interpret Italian operas in the right way, to understand the spirit of Italian opera, as well as to properly structure the fraseggio, and master the Italian pronunciato.  
I was truly encouraged by my recent debut as Scarpia at the Teatro Real and I am looking very much forward to my house debuts as Scarpia at the Wiener Staatsoper (December 27 and 30) and as Tomsky at the Teatro Liceo in Barcelona.
Is Scarpia one of your favorites? What are the challenges of the role as the evil ruler of Rome? What is your view on his character? How evil is he?
To be honest, my favorite role is the one I'm performing at that very moment. Up to now, I've never performed a role not suitable to my voice or a role where I couldn't be convincing. For this, I must also be thankful to my agents, since there were often tempting offers that I was not yet ready to accept, and they have never forced me to agree.
Scarpia is by far my most performed role; I have appeared in it more than 70 times in various theaters. No offense to the other roles, but to me, Scarpia is the leitmotiv of the "Tosca", both in terms of drama and music. The opera begins with three crushing chords that symbolize Scarpia. Subsequently, Scarpia becomes the impetus for the entire dramaturgical development of the opera; he, in a sense, provides the entire "action" of the opera. On the one hand, Scarpia is a collective image of a totalitarian regime. A society living under such a regime is under tremendous pressure. The ideology and pressure of the regime like air permeate everywhere: – in people's thoughts, decisions, relationships, and stuff of life. The decisions made by the characters of the opera, their actions, and their emotions mostly stem from the fear of regime or a protest against it. On the other hand, Scarpia is an individual, a high-ranking officer who appreciates beauty in art and in women, and who, by the strength of his personality, pursues his goals without compromise and at all costs. He is a skillful manipulator, well aware of human psychology; he is cynical, cruel. He has unlimited power, and, as is known, "power tends to corrupt, and absolute power corrupts absolutely". Musically, it is undoubtedly a Puccini's masterpiece, deeply dramatic, infinitely beautiful, and very theatrical. The musical image of Scarpia is very expressive, it is emphasized, profound, and complex with many colors and shades; one constantly can discover new traits in it. For me, the phenomenon of the music portray of Scarpia is also the way that composer transmits such cruelty and devilry through the fantastically beautiful music. This is Puccini – that's the only answer.
We can endlessly discuss the opera and the character of Scarpia. I hope I was able to at least partially convey my emotions and thoughts about him. Anyway, it is much easier for me to perform than to speak about the role and the opera.
Verismo is playing an important role in your career? What fields do you intend to conquer next?
Indeed, I feel like a fish in the water there - Puccini, Mascagni, Leoncavallo, Giordano. Certainly, Verdi is my composer, too. I miss the role of Simon Boccanegra. I sang it in 2017 at the Mariinsky Theatre. In March 2020, I had the chance to perform this role at the Met. Unfortunately, it was canceled due to the pandemic. Hopefully, I will have the opportunity to fill that gap. On one occasion I started working on the role of Jochanaan of R. Strauss's "Salome"; vocally it suits me very much, and I really like the role itself. One day I will work seriously on it with a coach, the German opera is a new world for me.  
Which role debuts are on your list?
Currently, I am working on Macbeth and Iago. By the end of this year, I am going to release an album with Delos Records, which includes famous Italian and Russian baritone arias, as well as three arias from Armenian operas. The conductors are John Fischer and Constantin Orbelian.
In Europe we speak of German Regietheater? How important is the collaboration with the director for you, do you feel limits in the collaboration?
Working with a director is always an exciting experience for me as an actor. In the opera, Her Majesty is the Music, of course! However, it is performed in the theater; therefore, the director's role is extremely important. The audience comes to the theater not only to hear the opera, but to watch it as well.
When the director succeeds in staging the music, then the music, which is brilliant itself, works in the director's favor; and the spectators find no conflict between what they hear and what they see. The artist also feels comfortable in this production. We need to think about many things at once, and if the music, the drama, and the staging are contradicting one another, the artist cannot feel natural and harmonic on stage. Yet, it is the artist's responsibility to combine, justify, and convince all these.
I'm in favor of experiments, innovations; they are necessary to ensure that the magnificent art of opera, which is already 300 years old, always stays actual. However, the directors, committed to innovative approaches and take on the main role in the production, face a greater challenge. They must be more talented, more proficient, more musical, and have a better taste to be convincing. It is great that in our time there are such directors.
There were periods in the history of opera when the productions were tailored to a particular singer - Enrico Caruso, Corelli, Mario Del Monaco, Maria Callas. Then followed the era of conductors - Toscanini, Karajan, etc. We are now living in the age of directors. I sincerely hope that the next will be the time of a healthy and harmonious symbiosis of those three professions.
Armenia is on the eastern edge of Europe? How did western and eastern culture influence your decision and education as a singer?
As I have already mentioned, my choice to become a singer was greatly influenced by Armenian traditional music. I inherited my passion for it from my mother; she beautifully sings Armenian songs, although she is not a singer.
The history of Armenia is several millennia old, and throughout the time Armenia has always been at the crossroads of different cultures. I believe this enriches people and helps them better understand the essence of other cultures and other people. And that helps me a lot as an artist.  Armenians have another characteristic that greatly benefits an opera singer. Most Armenian singers sing in other languages almost like native speakers. Of course, this is due to many factors. Yet, one of the main reasons is the Armenian alphabet, which contains 39 letters and 36 sounds.
You are teaching yourself in Yerevan. What do you teach? Does these effect your own vocal development?
Since 2010 I have been teaching academic vocal at Yerevan Komitas State Conservatory. I help talented young people to master the challenging profession of an opera singer. Some of my students are already winners of international competitions, and some of them perform with me at the Yerevan Opera Theater. Teaching certainly helps me better comprehend and explore the structure and capabilities of different type of voices and do not repeat the mistakes that singers tend to make. But it also takes a lot of time and energy from the acting singer.
I never thought of teaching at the active period of my career before. I decided to take this step for a single reason: when Sergey Danielyan, my professor, passed away, his class was to be closed. I was on tour in Valencia when the invitation came from the Yerevan conservatory to take the class. I accepted for the sake of preserving our voice school and its professional reputation. Many internationally acclaimed opera singers emerged from Sergey Danielyan's class - tenors Gegham Grigoryan, Hovhannes Ayvazyan, sopranos Lianna Haroutounian, Liana Aleksanyan and others.
Where is your home now and what do you like to do when you have time off?
My home is in Yerevan. My family lives in Yerevan. I am an artist of the Yerevan Opera Theater and during the season I manage to perform on my home stage. I never thought about living anywhere else. Although recently, because of the traveling difficulties in regard to the pandemic, I've started thinking about moving to Europe.
 I love spending my extra time with my family and friends, as I miss them terribly during the tours. When touring, rehearsing, and performing, I prefer passive leisure - I sleep, read a book, watch a good movie, or take short walks around the city sights. It is necessary to save the strength for rehearsals and performances.
Many thanks for your time. 
Interview by Dr. Helmut Pitsch
the 29 of November, 2021
|
Print