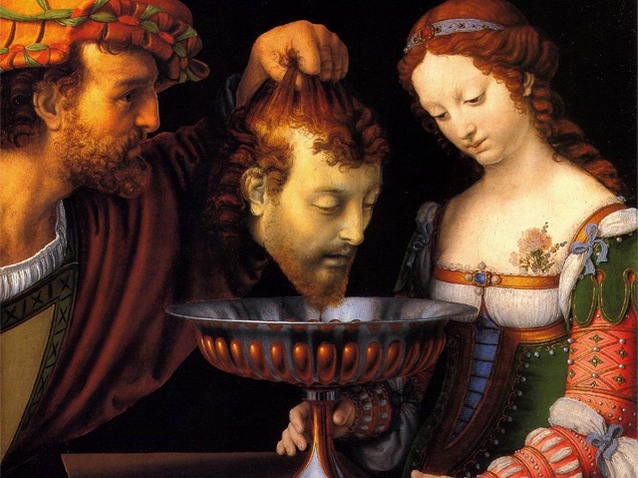 © DR
General informations
Composer:Richard Strauss
Librettist:

Hedwig Lachmann

Creation date:

1905

Creation place:

Germany

Acts number:

5

Reference:

op.54

Original language:

German

Opera House of original production:

Festival de Menton

Original orchestration:

Piccolo, 3 flûtes, 2 hautbois, cor anglais, heckelphone,clarinette en mi bémol, 2 clarinettes en la, 2 clarinettes en si bémol, clarinette basse, 3 bassons, contrebasson ;6 cors d'harmonie, 4 trompettes, 4 trombones, tuba ;4 timbales, une petite timbale,
Work description
The first meandering notes set the tone. Their heady sound depicts an ominous Middle Eastern sky. There is no need for a prelude or overture. Richard Strauss immediately attacks the heart of the matter, as if the story had already started before the curtain rises. Narraboth, captain of the guard, is obsessed with Salome's beauty. It is a dangerous and perverse beauty that gradually permeates the opera with the scent of eroticism and blood. A major figure in the Gospel according to St. Matthew, this version of the biblical Salome is above all the vision of Oscar Wilde. Strauss renders its decadent ethers in a phrasing that combines convoluted refinements and primal force, as in the final scene, the apotheosis of an inevitable climax: a cry of horror that shatters this garden of perversions.
Summary
The action takes place in Tiberias, in Galilee at the beginning of the Common Era. Fleeing a banquet organised by King Herod, her stepfather and husband of her mother Herodias, Princess Salome, finds refuge on the terrace where she hears the voice of the Prophet Jochanaan rising from the cistern, cursing and preaching. Despite Herod's orders that no one should approach Jochanaan, Salome has the prophet brought to her and confesses her burning desire for him –she wants to touch his skin and kiss his lips. Jochanaan curses and rejects her. King Herod has promised Salome whatever she wants if she will only dance for him. Salome requests the head of the prophet on a silver platter. Nothing else will do, not even the riches offered by Herod instead. Once she is presented with the prophet's head, Salome passionately kisses it on the lips, in a scene where her passion and desire border on hysteria. Horrified, Herod has her killed.
Scene 1
The princess Salome, daughter of Herodias becomes tired of the feasting and guests at a banquet offered by Herod, Tetrarch of Judea, and her mother's husband. How can she avoid his lustful gaze? Salome comes out onto the terrace in order to catch a breath of fresh air and finds herself face to face with the young Syrian, Narraboth, captain of the guard, who is obsessed with her beauty. Suddenly the voice of the Prophet Jochanaan (John the Baptist) is heard, rising from his prison in the palace cistern. In the presence of the guards and Salome, who is captivated by his voice, Jochanaan predicts the return of the Messiah.
Scene 2
Salome has defied Herod's orders - no one must go near Jochanaan. She has even managed to convince Narraboth to let him out of the cistern. The prophet stands before Salome, making prophecies and condemning Herod's court - he even curses Herodias. But Salome pays no attention to his words. Filled with an overwhelming desire for him, she confesses she wishes to touch his skin and kiss his lips. Jochanaan continues preaching and rejects Salome, calling her a daughter of Sodom, and is returned to the cistern.
Scene 3
While the prophet's voice continues to be heard, shouting and cursing from the well below, Herod and Herodias enter and find Salome lost in thought. Herod is both aware and in denial of his prisoner's sacred character, but for the moment he is obsessed with Salome. The tetrarch begs her to dance for him - which she accepts to do after making him promise to reward her with whatever she wants. Salome starts the Dance of the Seven Veils, removing them one by one until she lies naked at Herod's feet. Every degree of desire is depicted by the steamy and luxuriant orchestration of Strauss.
Scene 4
Herod is delighted and asks Salome what she wishes for her reward. Salome demands the head of John the Baptist on a silver platter! Herod tries to dissuade her, offering her all sorts of riches instead, even half of his kingdom, rather than concede to this insane request! But Salome remains firm, forcing Herod to give in. Obliged to honour his promise, Herod orders the executioner to bring up the prophet's head.
Scene 5
Salome now has Jochanaan's head. After a monologue to the prophet's bloody and lifeless head, Salome passionately kisses it on the lips. Horrified, Herod has his guards kill Salome.
Excerpt : « Ah ! Ich habe deinen Mund geküsst, Jochanaan »