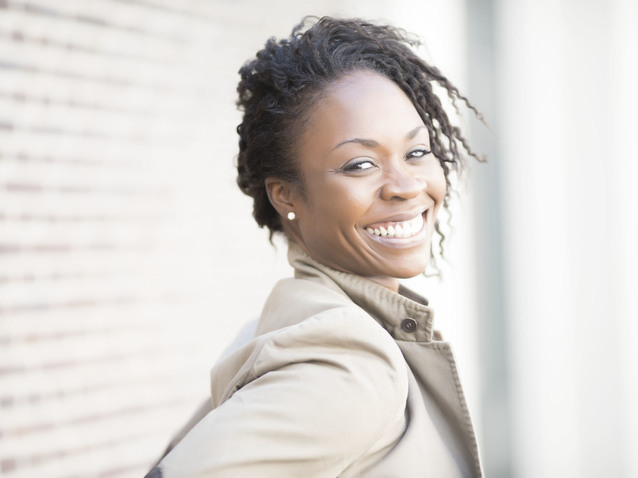 © Marco Borggreve
Soprano Jeanine De Bique, from Trinidad and Tobago, has built her career on Mozart and Haendel, which has made her one of the reference performers of these composers today. In her recently released first album, Mirrors, she puts into perspective Haendel heroines with another version of who they can be in some other composers' works of the same period. She was Rodelinda at the Opéra de Lille, Théâtre de Caen and Théâtre des Champs-Élysées in 2018, and she is about to make her Alcina debut shortly at the Opéra national de Paris. Singing Annio in Peter Sellar's memorable production of La clemenza di Tito at the Salzburg Summer Festival in 2017 was also a major step in her career. We discussed her background and path into baroque music with her.
***
You are making your Alcina debut in Robert Carsen's production at the Opéra national de Paris…
Jeanine De Bique: The production is stunning, and I hope I will bring a new flavour to it. It's very interesting to watch Renée Fleming and Susan Graham as well as the journey of Alcina in this 1999 production. I get food from them. The end of the opera is amazing. I'm really excited to bring my own style and voice to the role, especially after the Opéra national de Paris hasn't done it since 2014.
You come from Trinidad and Tobago, where the carnival is a sum of all arts. Do you think it has unconsciously led you to opera?
My culture is extremely diverse, and I grew up not knowing much about the difference between cultures and people because there was no difference in my country. We are filled with music – calypso, soca, steel pan – and everyone is involved in art of some kind. We used to be an English colony, so we were left with remnants of the era, from art forms to tea. My family continued with some of these traditions and I was exposed to classical music from an early age. For example, I grew up Anglican, and in the hymnal, the music scores were printed. It was my early introduction to classical music. My mother played the guitar, my grandmother sang in the choir, and we grew up playing the piano. I sang calypso when I was a child but classical music was always in my family. We were involved in musical theatre shows but I got the full theater experience when I came to New York, and at age 21 I saw La traviata for the first time. I was studying piano as a soloist, but because of my theatrical background I knew that opera would feed my ability and my desire for art. I almost stayed away from piano because I couldn't really understand being behind the keyboard only expressing what my teacher wanted me to do. I didn't have an individual voice. I had done ballet, drama, African dance, gymnastics, I had played tennis, football, and cricket. I had the natural energy to go to opera.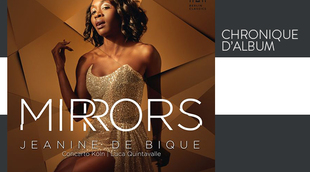 Mirrors, Jeanine de Bique
With your first album, Mirrors did you want to show hidden facets of yourself?
In the beginning, I really wanted to showcase the dance and percussive elements from my culture. I'd never really shown my vulnerable and very exposed sides, except perhaps in Rodelinda at the Opéra de Lille. I can relate to this character very much, not because I am a queen from royalty, but because I am a woman that has faced some form of turbulence in her life. That was one of the few times I was publicly able to do that. I would say that I got to show more in this album.
The baroque heroines you have chosen for the album are marked by the seal of recognition. What are their personal journeys?
Their journeys are so fast because we only have three hours to go through every single emotion during an opera function. Composers like Haendel or Broschi master very well to show a character's life so clear and vivid. Look at Cleopatra: you see her fall in love and then go through fear of losing her love, and then finally actively getting what she wants. There is always more to the story than what we see in the beginning. They are like every other woman, deserving love, wanting love, needing to be loved. They feel that there is something more for them in life, and they have to find a way to get it. Everything has been taken away from Rodelinda: a man invaded her house and told her she would be his queen and carry his child, which is a kind of social rape; her husband abandoned her, hiding somewhere, and waiting to come back in time. She is a mother, daughter, wife, and a lover at once, and we manage to see all of that in less than four hours.
to go further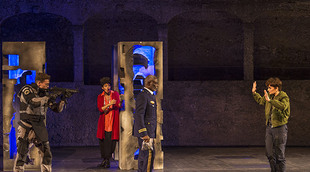 You said once that performing Annio in La clemenza di Tito in Salzburg expressed who you really are. In what way do you think opera can be political and make people identify with the characters?
I think that Baroque opera was significantly political in the way it was designed. Opera talks on stage about what is currently happening in real life. You can imagine the audience watching and understanding what the character is going through, and I still relate to it today as a modern woman. The political statement of representing kings, queens, and the elite class always sends a message. In La clemenza di Tito we were sending a peace message in the way we incorporated Mozart's Mass in C minor, a very silent political message for today in the way we were dressed, or different racial groups were cast. We changed the story, and Tito died in the end, but only after he forgave Sesto. I think the singers don't really have much of a say when it comes to the political message. That's much more about the director's concept. Do I think it's important? Yes, because we have to make opera quite relatable to what we're facing today. I think we should be delicate with how we send a political message. We have to find diplomatic ways of touching people so that it doesn't offend too much while still being true to ourselves, but I do think it's important to bring something fresh and new to this old genre.
How useful is social media as an opera singer?
We were told and taught that agencies are so vital to our careers that I first thought we didn't need social media. Then I realised that social media had the potential to reach to a wider community. When I started my Facebook page, my followers were my friends, and I thought it was interesting to show a bit of the background of the job. People somehow felt very touched by that. Quite a number of people think that what we do is natural, but it comes from very hard work and my admirers (better than followers, politically correct) understand, respect and appreciate classical music even more now. It's very important to continue to feed that because, as musicians, we are ambassadors for the craft. The point is to share our gifts with a wide range of people who do not or would not be introduced to how beautiful this art form is, and that there is still a space for it. They can also be involved in the creative process and share the music with joy and true love.
You appeared in season 2, episode 4, of The OA series on Netflix. Do you think it's a way of bringing opera to more popular media than opera stages?
The director had seen me in a video of La clemenza di Tito that went viral on social media. Aida Garifullina sang Lakmé in the movie Florence Foster Jenkins with Meryl Streep, so I believe that our genre is being sought after more and more in the world of film.Such proposals are an opportunity to create a platform to showcase and expand the genre of classical music amongst a wider audience.
Interview by Thibault Vicq
Alcina | 25 November – 30 December 2021 | Opéra national de Paris, Palais Garnier
Photo credit © Marco Borggreve
the 19 of November, 2021
|
Print